TV
The First Image From The Futurama/Simpsons Crossover Has Been Released
"A show out of ideas teams up with a show out of episodes."
It's been exactly one year since Comedy Central aired Futurama's series finale; as we argued at the time, it was the wrong Matt Groenig show to be waving goodbye to.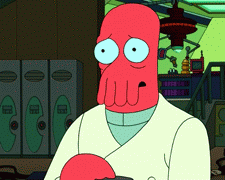 Thankfully, it's not the last we'll see of them. On July 20, it was announced that the gang would be back together for a crossover episode with The Simpsons, which promised to be a whole lot less insufferable/offensive than the Family Guy crossover the show has planned for September 28.  
"[Futurama] were going off the air, so I thought people would really love it if we had one more chance to see those characters," says Al Jean, Simpsons' executive producer. "We're always looking for things that are compatible with us, and I thought, 'Well, what's more compatible?' We do a joke, actually, about how similar Bender and Homer look. Like, they just erased Homer's hair."
The episode is called 'Simpsorama' and will air on November 9, featuring a Simpsons-esque tweak of the title sequence (duh), and voice actors Billy West, John DiMaggio, Katey Sagal, Lauren Tom, Phil LaMarr, Tress MacNeille, and Maurice LaMarche. The tagline in the opening credits? "A show out of ideas teams up with a show out of episodes."
And now EW has the first image and some plot details, too. "A complex, Terminator-esque story that involves Bart blowing his nose on a sandwich that he places in a time capsule. When that mixes with Milhouse's rabbit's foot and some radioactive ooze, it creates a global catastrophe in the future, prompting Bender to travel back in time to kill Bart and prevent this mega-mess."
Here's Bender trying to prevent the mega-mess. They do look kinda alike:
–
h/t: Fox, EW