Culture
Six Interesting And/Or Useful Things To Come From Apple's Big Annual Conference This Morning
Drake is fighting Jay-Z on music streaming, your iPhone might not die anymore, and the ladies actually got to speak this time!
Each year Apple hosts a huge event in which a handful of their top executives descend from their 2.8 million-square-foot Californian fortress that legitimately looks like a spaceship to share some of their genius with us commoners.
Run over four days, the Worldwide Developers Conference is a handy way for them to let us know we need new phones which are now gold or green or bendy, and it's also a sacred tradition for tech nerds. Gathering together beneath the iconically minimalist stage once occupied by the legendary Steve Jobs, around 5,000 Apple fanboys ready themselves for a day of speeches, live-blogging and product trialling before collectively jizzing their pants at the first mention of a new iOS.
Here's the best stuff you missed from the main event this morning:
–
Birdman Parodies Are Apparently Still Cool In Tech-Land
Marking nearly four whole months since everyone else tired of it, the keynote address was kicked off with a spoof of Birdman featuring Bill Hader, Charlyne Yi, and Danny Pudi (Abed from Community). It's like what they do before the Academy Awards but with less wit or timeliness and more obscure jokes about coding.
–
Apple Music Is Finally Launching And Drake Is Here To Sell It
After much anticipation, Apple has announced its long-awaited new music streaming service. After a huge overhaul of the soon-to-be-defunct Beats Music, Apple Music will officially launch on June 30 offering the full 30 million songs in the iTunes library via personalised artist's pages, 24-hour live radio, and human-curated playlists for US$9.99/month. It'll also include your current iTunes library in the same app, and you can search for whatever you want via Siri.
Though most people would rather discreetly click a link and pop in headphones rather than audibly state 'Taylor Swift. Now.' on a crowded train, it seems like there may actually be some benefits in that last bit. With the upgrades of iOS9 also being announced today, we now know that Siri will be a lot smarter. Soon she'll be able to deliver on helpful requests like, 'What are the best '90s rap songs?' or 'Curate all of The OC soundtracks immediately and beam them into my head please'.
This is bad news for the rest of the streaming market. Though they're still holding strong, it seems like Spotify were bracing for this last month when diversifying their content with videos, podcasts and new apps, and Tidal are barely hanging on as it is. Jay-Z's already battled common sense and public opinion; a competitor like Apple is the last thing he needs. What's worse: Apple scored one of the few non-Tidal big-name musicians to promote it.
The Illuminati will have vengeance for this.
–
The Names Of Operating Systems Are Getting More And More Ridiculous
Kodiak. Cheetah. Puma. Jaguar. Panther. Tiger. Leopard. Snow Leopard. Lion. Mountain Lion. Mavericks. Yosemite. And now: El Capitan. That's all the proof I need. Mac OS X systems are rejected porn names.
El Capitan will be released later this year in Australia and it has all the practical, boring stuff you kind of expect: cleaner design, improvements for Mail and Safari, etc. The most exciting developments are that you'll be able to mute individual tabs when browsing and the standard font is changing from Helvetica Neue to San Francisco. So, you know… back to the name:
"How about we call it El Capitan?" *uproarious laughter fades quickly into awkward silence.* "Okay, that's settled then."

— Brian Barrett (@brbarrett) June 8, 2015
Interesting choice of default background image for OS X El Capitán, but sure why not pic.twitter.com/iHX7q8vVUv

— Connor Tomas O'Brien (@mrconnorobrien) June 9, 2015
–
Your iPhone Battery May Actually Last The Whole Day Soon
Other than eerily intelligent Siri, the best thing that's coming out of the new iOS9 is battery life. Apple CEO Tim Cook is promising the update will give you at least an extra hour of use and there will also be a low-power mode that clocks it up to three.
–
Apple Would Also Like To Take Over Your News, Thanks
After finally realising that Newsstand was the app equivalent of a U2 album which no one knew about and/or wanted, the tech giant have axed it in favour of Apple News. Launched in partnership with publishers like The New York Times, ESPN, Buzzfeed, and Wired, the platform in iOS9 will track your reading habits and curate a list of stories for you much like Flipboard.
With Snapchat already taking on TV with Discover and Facebook trying to be the whole internet with Instant Articles, it seems like everyone's trying to get in on the mobile publishing market. No one knows if any of this will actually work, but Apple sure are selling it hard with Rashida Jones' face: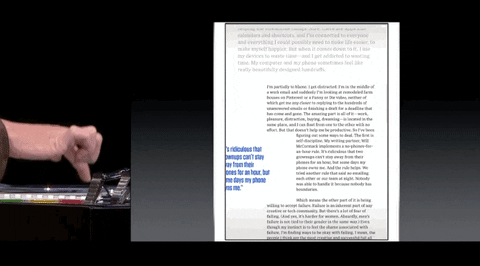 Wow. Apple made an app that gives you up-to-the-minute updates on what's going on with Rashida Jones. #WWDC15 pic.twitter.com/3YPgIKKyia

— Brendon Bigley (@brendonbigley) June 8, 2015
–
Women Announced Some Of This (And That's A Big Deal)
Last year Apple released its very first diversity report which found that 80 percent of its 98,000 US employees were male; a figure which is sadly on par with the global average for all employees in the tech sector.
When speaking to Mashable this week Apple CEO Tim Cook took full responsibility for this. "I think it's our fault — 'our' meaning the whole tech community," he said. "I think in general we haven't done enough to reach out and show young women that it's cool to do it and how much fun it can be."
Now, he's made a small step in the right direction. Today, Vice President of Apple Pay Jennifer Bailey announced the app's expansion into the UK, and senior executive Susan Prescott discussed Apple News. Before that, there had only been six women to ever present at an Apple keynote. The last one was Christy Turlington modelling an Apple Watch. Before that it was a game corporation exec Jen Herman giving a demonstration of Farmville.
Ugh.
TWO, two women who work at Apple have been on stage! pic.twitter.com/ad9DT3WNHI

— Matt Haughey (@mathowie) June 8, 2015
Still working out the glitches on this one I guess:
Tech gender diversity visualized in the que for the restroom at WWDC. pic.twitter.com/zfEgtXY5Zw

— Ben Bajarin (@BenBajarin) June 8, 2015
–
Apple Music will launch June 20. iOS9 will be available in July and El Capitan will be some time later in the year.