TV
RuPaul's Drag Race: Inner Saboteur? I Hardly Know Heur
It may be time to ask... is RuPaul past it?
In the movie Groundhog Day, hipster demi-god Bill Murray is trapped in an endless cycle, reliving the same day over and over again until he gaslights Andie "Riding the Bus with My Sister" Macdowell into falling in love with him. Like Bill Murray, I too feel as though I am stuck on repeat as I watched this week's ep of RuPaul's Drag Race. But unlike Bill Murray, I am not an asshole with an inflated sense of own my self-importance. Or, am I? Read this recap, and find out.
What Is Going On With RuPaul?
I don't like being ageist. After all, I am relatively ancient compared with many of the readers and writers on this fine website, and they still have me back week after week to craft mean and obscure puns about drag queens. However, as I sat back on my E-Z recliner to watch this week's Drag Race ep through the A4 sized magnifying sheet I bought at my local Terry White Chemist (make sure you go when Sandra is there, I don't care for that Belinda), I started to wonder: is RuPaul past it?
Is Ru's bellwether for what the kids like so off that he actually believes that this is the outcome the fans would be rooting for? How else do you explain Kameron making the top four and sending home Miz Cracker? As we've discussed, Kameron is a perfectly nice, but rather vacant queen whose polish and poise is crafted to the point of rendering it unremarkable and robotic.
Then there was the extended pop psychologising in the workroom. If you've ever listened to What's The Tee?, the RuPaul and Michelle Visage podcast, you'd be familiar with Ru's Oprah-esque neoliberal bent (and Michelle's borderline Belle Gibson shtick). The notion of the inner-saboteur has been a recurring theme on the show, one that Ru often deploys to help the self-doubting queens overcome their insecurities. Tellingly, it's often used as means of circumnavigating more systemic barriers.
Online, the raucous RPDR fandom has compared this season with the infamously lacklustre season seven, which was slammed for it's lukewarm challenges and casting choices. I'd say that season ten hasn't been the victim of overwhelmingly bad challenges (excluding Breastworld) nor was the casting off. If anything, the fourteen queens who walked through the door promised to be highly entertaining, while bringing new insights into how the show handles race, trauma, and class.  
Instead, season ten has suffered because too many of the dynamic, interesting queens were eliminated before their time. Monique and The Vixen needed longer redemptive narratives (although Monique forfeited when she didn't know the words to her lip sync. Facts are facts.) It's telling that the biggest recurring joke of the season, Miss Vanjie's exit, was from the queen we saw the least.
*Extreme Carrie Bradshaw voice* I started to wonder, was RuPaul the inner saboteur of RuPaul's Drag Race? (P.S. Happy 20th Birthday, Sex and the City! You are one year older than Aquaria. Fuck.)
The Challenge
After a whimsical detour via a death-drop-meets-IHOP mini challenge featuring Cheyenne Jackson, Ru explained to the queens that this week was all about that inner saboteur, with a dual runway featuring the queens' "evil twin". On paper, this is a great challenge: two looks pads out the runway just when we're getting low on queens, and making it personal would allow for us to learn more about how the queens view themselves, essential as we start to determine which of them will take the crown. Let's take a look at the lewks before getting into the bones of the challenge, which this week suffered from some serious osteopo-Ru-sis.
I've ragged on Kameron enough this week, and as always her ongoing presence in the show all the way to the top four is not so much her fault as it is a series of strange choices from Ru. This week she had the temerity to pull a St Ben de la Creme and explain that it was harder to send someone home than to be sent home. Not that she'd know. Speaking of privilege, can we talk about how Kameron thinks good = white queen and evil = tribal? She's from the South all right.
Look at these looks. What a queen. Asia has managed to remain graceful in the competition whist kicking up her heels (without compromising her Christianity) and show personal growth. She's not the most reality-TV entertaining queen, but she brings a Chad Michaels poise to an otherwise youthful and somewhat bratty season. Her evil twin voiceover was the best of the week, and the corresponding look was out of the park.
I can't comment on Eureka this week, as I am about to commence legal proceedings against her. Her inner saboteur monologue was clearly plagiarised from these weekly recaps. JK miss thing, no RPDR queens read these (I hope, otherwise it's going to make the meet and greets at Drag Con super awkward). This was pretty middle of the road territory for Eureka: her Clueless/Divine homage outfits were flat, and quite cheap, but the idea was strong. Plus the challenge allowed her to stay in character, which is something she excels at.
With this (suitably stunning) double look, Aquaria takes the lead with three wins on the board. This means she is statistically most likely to take the crown, which until recently meant everything. Since the plot twists of season nine and All Stars 3, it means very little. Aquaria is an ice-cold queen who has melted my cynical heart at a suitably glacial pace this season, but I don't know if that's just because we are lacking a clear winner. Regardless, the already-famous club kid from NYC has proven herself. For Ru to say Aquaria's look was in the top ten runways of all time was a high praise dogwhistle.
Oh, Miz Cracker, of all the regrets you should have from this season, not exiting backwards while saying "Miz Cracker…Miz…Cracker…Miz Cracker" should be right up there. Continuing the season-ten-is-season-seven theme, Cracker could easily be compared to Katya, who also bowed out in fifth spot as the well-liked, quirky queen dogged by her own overwhelming insecurities. See you on All Stars!  
So what let this week down? Not the queens, who rose to the challenge and consistently delivered two strong looks each (with varying degrees of success). Rather, it was the editing and showrunning that (like with Breastworld) screwed the pooch. Through the magic of television, the good and evil twins shared the runway, which was an effective device during their voiceovers but by the time it got to judging, things started to feel… a little forced.
Like, we know that these two looks take considerable time to go between. Which meant the judges (including early 2000s Murder Inc alum Ashanti and Queen of the Problematic Faves Lena Dunham) would have been filming multiple runway appraisals while the queens were instructed to mug for the camera as their other twin was judged.
Perhaps the dumbest and hammiest moment in recent RPDR herstory took place when we cut to the good twins backstage, watching on as their evil counterparts learned who would be lip synching and who won. So you know they had to film a bunch of fake-ass reaction shots to edit in once they filmed their first runway, then go get into their evil twin runway.
Whatever insights into the queen's inner personalities we found was hobbled by this onerous and frustratingly dumb edit. I don't know much more about the queens I am supposed to be rooting for, but I do know more about the showrunners. And I don't care for them. It feels like some interesting queens are being held back by producers and editors who've been around the Drag Race set too long. Maybe it's time for some fresh blood behind the scenes, because…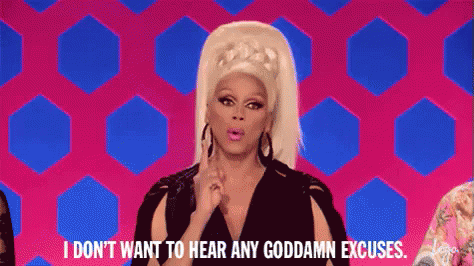 –
RuPaul's Drag Race is fast-tracked from the US on Stan. Read more Drag Race recaps here.
–
Nic Holas has written for The Guardian, Sydney Morning Herald, Archer Magazine, and Hello Mr. You can find him on Twitter @nicheholas, or in his role as co-founder of HIV movement The Institute of Many.