Culture
Original Pizza Shapes Are Back, Praise Be To Original Pizza Shapes
The Great OG Pizza Shapes Famine of 2016 is finally at an end.
This article is here because of Arnott's Pizza Shapes. 
–
Just when it starts to seem like all hope has been lost, something comes along to restore your faith in humanity. Sure the environment is a mess, global politics are in a state of chaos, and Tim Allen memes are taking over the internet at a truly alarming rate. And yet today, none of that seems to matter. Today, we've been served a powerful reminder that when enough people come together to make their voices heard, the universe has no choice but to listen. United, we are strong. Together, we can make a difference.
How do we know this? Because after Australia threatened to riot, Arnott's are bringing Original Pizza Shapes back from the dead.
The triumphant return comes five months after Arnott's decided to change the flavour of a number of their Shapes variants; a controversial decision that threatened to tear the very fabric of Australian society in two. Children rummaged through their school bags in the hope that a lone snack pack might have escaped consumption. Grown men, overcome with emotion, fell to their knees and wept.
Just got to the bottom of a packet of original flavour pizza shapes! pic.twitter.com/hK4vHevlA9

— Glenn Dunks (@glenndunks) July 14, 2016
But no more. Whether through divine intervention, or as part of some brilliant, New Coke-style marketing ploy wherein they took away something we loved only to bring it back, making millions in the process, Arnott's has heard your demands and acquiesced.
"Since the launch of the New Shapes flavours, we've been listening to feedback. Aussies have clearly shown us the love they have for Original Pizza Shapes and we're happy to announce the product will be returning to shelves over the coming weeks. We've been humbled by Australia's passion for Shapes and would like to thank our fans for their patience. We hope to now have the best Shapes range for Shapes-lovers old and new.
Following calls from younger fans and parents, Original flavour Barbecue and Pizza will also be reintroduced to multi-packs."
The biscuit boffins previously announced they would also be retaining Original Barbecue, Original Savoury and Original Chicken Crimpy… because people go crazy for Chicken Crimpy, apparently. Point is, with Original Pizza Shapes having finally been elevated to their rightful place amongst the pantheon of Shapes flavours, the snack-related healing can begin.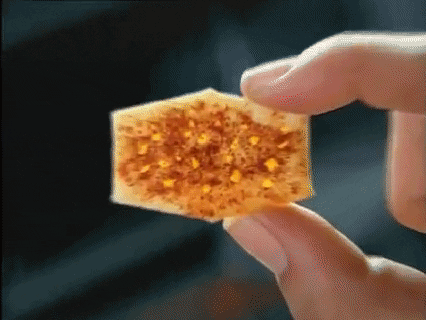 Original Pizza Shapes will be back on supermarket shelves and in lunchboxes around the country in the next few weeks. The boxes will be distinguishable by a thick black band with the worlds "original flavour" — meaning you'll have no one but yourself to blame if you accidentally buy the wrong ones. Six new flavour variants will still be available: Pizza, Barbecue, Cheddar, Cheese and Bacon, Nacho Cheese and Roast Chicken.
Of course the big losers in all of this are the speculators, who have been hoarding boxes of unopened Original Pizza Shapes to sell for an outrageous return on eBay. It probably seemed like a savvy business call at the time, but frankly it's hard to have much sympathy for them.

So there you have it. The Great OG Pizza Shapes Famine of 2016 is finally at an end. We'll be telling our grandkids about this one day.
–