Culture
Ranking The 'Only Murders In The Building' Suspects By How Likely It Is They Killed Tim Kono
Can't stop thinking about Jan and her dry-ass pizza rolls.
Only Murders In The Building is the comedic murder-mystery we need in these dark times.
Poking fun at the true crime podcast wave taking over the word, Only Murders tells the stories of three strangers who are brought together by a murder happening in their own Upper-Westside apartment building, The Arconia.
— Warning: Spoilers for Only Murders In The Building ahead. —
While all very different, Mabel Mora (Selena Gomez), Charles-Haden Savage (Steve Martin), and Oliver Putnam (Martin Short) work together to try and solve the question keeping them all up at night: Who killed Tim Kono?
girls don't want boys, girls wanna know who killed tim kono!#onlymurders

— َ (@barazouai) October 5, 2021
With each new episode, Tim Kono's story is chipped away at while it's documented for the public through a real-time true crime podcast — the very thing that originally brought the trio together. There's false imprisonment, grave robbing, frozen cats, chicken wrap sponsorships, and MLM milk. Basically, Only Murders is a real journey.
But the one thing that keeps Mabel, Charles, and Oliver together on this journey is their determination to find Tim Kono's killer. And like with any good murder-mystery, there are so many twists and turns that once you think you know what's going on, it all changes.
After eight episodes, here's what we know about the killer and Tim Kono's death:
The killer was an Arconia resident as the doorman confirmed only residents were in the building at the time of Tim Kono's murder.
The murderer had access to multiple apartments as they were able to get into both Tim's home and Jan's place. Oliver was known to keep his doors unlocked, so that wouldn't require special access.
The killer also had connections with the police as they were able to stop Tim's toxicology report and prevent his phone from being examined.
Tim Kono was shot, but his toxicology report revealed that acute secobarbital intoxication was his cause of death. This means he had been poisoned before being shot.
So let's rank the Arconia's suspects by how likely it is they killed Tim Kono.
---
#9. Oliver, Charles Or Mabel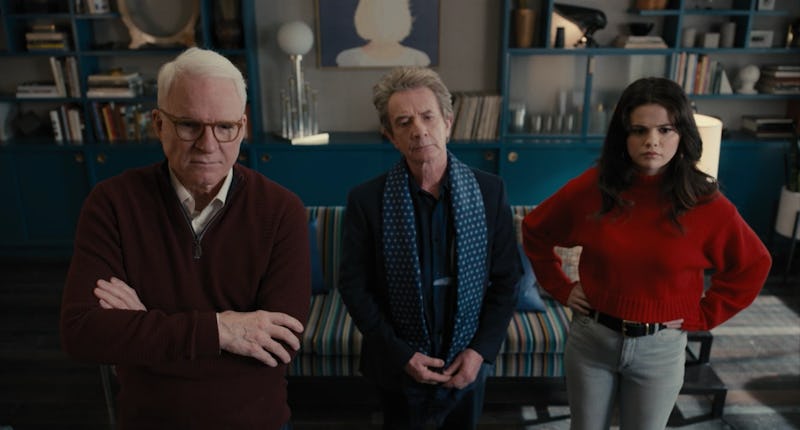 I think it's safe to say that no one in the podcast trio is responsible for Tim Kono's death, Winnie's poisoning or Jan's stabbing.
While Mabel was a little suspect at first considering she omitted the little fact that she had known Tim Kono for years, she did eventually come clean and explain her reasons for lying. Plus, at the end of Episode 8, we saw that Jan was attacked while the main gang was recording the podcast together, so we know they can't be responsible for Jan's fate at least.
---
#8. Tim Kono Himself
Considering how many twists and turns this show has had, it wouldn't be surprising if Tim's death actually was a suicide.
At the end of Episode 8, Oscar watched Tim Kono's apology so perhaps the guilt of wrongly imprisoning his best friend got too overwhelming. But when you consider how deep Tim was into his takedown of the Dimas empire, this theory is a long shot.
---
#7. Ndidi Idoko AKA Tim's Neighbour
If Tim Kono's lobby memorial was anything to go by, absolutely no one in the Arconia liked that man.
But one person who was very vocal about her distaste for Tim was Ndidi Idoko, his next-door neighbour. As soon as Tim died, Ndidi immediately requested his apartment. Unfortunately for us desperate to solve this crime, I just don't think Ndidi would literally kill for an apartment — and she didn't really have the skills to do so either.
Really, the only way Ndidi would've been able to break into Tim's apartment would be if she climbed through the apartments adjoining vents — as Mabel showed could happen between her own apartment and Bunny's — and that's even if their apartments had that same feature.
---
#6. Howard AKA The Cat-Lover
Howard Morris outwardly hated Tim Kono because he would constantly complain about Howard's cat, Evelyn. As he was allergic to cats, Tim even threatened to shoot Evelyn if she continued to enter his apartment. This means Howard knew Tim had a gun in his home, and Tim was famously shot in the head… in his home.
However, after questioning him, Mabel and Charles discovered that Howard had Vasovagal syncope, a condition that made him pass out at the sight of blood making murder a pretty tough task. But since the toxicology report revealed that Tim had been poisoned before being shot, Howard could've very easily killed Tim without having to pull the trigger at all.
Plus, Jan was very skeptical of Howard even before it was revealed that Tim had been poisoned so that could mean something considering she was attacked herself.
---
#5. Sting
When it comes to true crime podcasts, having a celebrity suspect like Sting is a great way to pull people in. Sadly, it's probably unlikely that Sting killed Tim Kono. I mean, the gang's 'Sting is the killer' theory literally stemmed from the singer not liking Oliver's dog, Winnie, and Winnie then getting poisoned.
On the other hand, the group did eventually find a stronger connection between the two, uncovering that Tim Kono worked for Sting as a financial advisor and effectively lost the singer millions of dollars. And while Sting said that he did tell Tim to kill himself but swore he did not murder him, Sting famously has more than enough money to bribe police into stopping an investigation. He also has enough money to pay someone to do his dirty work for him. Dirty work like murder, of course.
The "I'm Watching You" message that Jan found on her door before being stabbed can also loosely link back to lyrics in Sting's 'Every Breath You Take' if you wanted to make that connection too.
---
#4. Tie Die Guy AKA Oscar Torres
Oscar had a clear motive, is an ex-con who was put away for murder, and no one can really confirm his alibi from the night Tim Kono was killed.
After Tim falsely accused Oscar of murder and sent him away to prison, Oscar was rightfully upset after being released. And even though Charles literally put him at Tim Kono's apartment on the night of the murder, Oscar swears he didn't kill Tim. Instead, he says he fled when he heard gunshots, which is a little convenient if you ask me. As was Oscar asking Mabel to drop the investigation when she started getting closer to the truth…
The only thing that really clears Oscar's name is that he was with Mabel, Oliver, and Charles when Jan was stabbed.
---
#3. Jan AKA The Bassoonist
Jan, Charles' new girlfriend, was suspect the second she walked on the scene. I have a sneaking suspicion that Jan and Teddy are romantically involved and Jan tried to strike up a relationship with Charles to distract him and to seek insider information.
She was far too involved in the Tim Kono case, and when Mabel, Oliver, and Charles started getting onto the scent of Teddy and Theo, Jan very clearly tried to steer them away from that theory and towards Howard.
In the preview for Episode 9, we also see Mabel ask why there was a bassoon cleaner in Tim's sex toy box hinting that Jan probably knew way more about Tim and his death than she was leading on. And thanks to Jan's dry pizza rolls, we know that she's a fan of baking and it would be quite easy to poison someone with a baked goods delivery from a "friendly neighbour".
However, we did see at the end of Episode 8 that Jan had been stabbed after being left a threatening note. While it's unconfirmed if she's dead too, it would be weird to stab yourself to avoid a murder being pinned onto you.
---
#2. Teddy Dimas And Theo

All signs really did point to Teddy Dimas and his son, Theo, being responsible for Tim Kono's death — and it made perfect sense.
We found out that Theo was the one responsible for Zoe's death 10 years ago, and that Tim Kono was blackmailed by the Dimas family into lying about what he saw. Since then, Tim Kono had dedicated his life to uncovering the Dimas' grave robbing scam, and had finally clued onto it when he was conveniently murdered.
However, after toxicology reports showed Tim Kono had been poisoned before being shot and video provided the Dimas' with an alibi, it cracked the case right back open. In saying this, as a powerful family, the Dimas' could've very easily just hired someone to kill Tim while they created alibis to distance themselves from the case.
Just like Teddy could've asked his ex-lover Jan to bake some dry-ass, poison pizza rolls for Tim, too.
---
#1. Jose Torres AKA The Superindentent AKA Oscar's Dad
In my opinion, one of the most likely suspects is the Arconia's superintendent, Jose Torres.
Jose Torres had the motive and means to murder Tim Kono. Tim lied about his son's involvement in Zoe's murder, which sent Oscar to prison for a decade. We also know that the Hardy Boys gang copied Jose's keys way back when to gain access to all the apartments when they were younger. This means Jose also has key access to every apartment in the Arconia, which would've made "breaking into" both Tim and Jan's homes very easy.
The only questions that cast doubt on why Jose would be responsible are: 1) Why would Jose kill Tim Kono as his son was getting released from prison, which could cast suspicion on his own son? And 2) Why the hell would Jose attack Jan when Teddy and Theo were already taking the fall for the murder?
Either way, with just two episodes remaining, I can't wait to finally figure out who killed Tim Kono.
---
You can watch Only Murders in the Building on Disney+ now. New episodes drop every Wednesday.
Michelle Rennex is a senior writer at Junkee. She tweets at @michellerennex.