Culture
The Baffling TikTok Of A Girl Dancing To An "Ok Boomer" Song Has Split The Internet
The Oki Boomer girl has somehow injected new cute life into "Ok Boomer".
In the midst of the US presidential primary election, a video of a girl wearing a Bernie 2020 shirt while dancing to the "Oki Boomer" song has gone insanely viral.
I know that's a lot to process but it's all that anyone's been talking about on Twitter for the last week. The video, a TikTok uploaded by Twitch gaming partner @neekolul, has divided the internet.
The video in question was viewed over six million times before it was slapped with a copyright takedown. "Okie BOOMER KEKW #Bernie2020," Neeko tweeted. Thankfully — or not, I still can't decide — the video is still up on TikTok for people to continue to be confused by. 
Dancing to a song called 'Oki Doki Boomer' created by YouTuber Senzawa, the entire video poked fun at the older and less progressive generation of Americans coming into the election season. In her original TikTok, Neeko urged her followers to "like to trigger the BOOMERS" in the caption of her video, and trigger it did.
While Bernie Sanders isn't technically a boomer — he was born in 1941 and the boomer age range is from 1944 to 1964 — his looks definitely fit the mould. But despite his grey hair, Bernie has a heavy youth backing, which is something that boomers absolutely despise.
This massive online rallying behind the presidential candidate in combination with the alleged "slur" against the older demographic has angered these elderly humans online. Most notably, white American @KokopelliAZ tweeted that boomer was just a nice way of saying the n-word even though he's, you know, caucasian.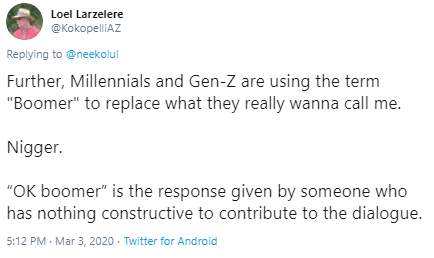 they wanna call you what? pic.twitter.com/cMSPfzH8EG

— Jon (@jons6111) March 5, 2020
Sadly, just after Neeko uploaded her 'Oki Boomer' video onto Twitter, Bernie lost the Super Tuesday primaries to unofficial President of the Boomers, Joe Biden. While not the most terrible outcome, people online started attributing Neeko's kinda-cringe-kinda-cute video to Bernie's loss.
I still can't believe Bernie lost because of a TikTok video. https://t.co/HhIQK12pO4

— ☠️ Lilith Lovett ☠️ (@LilithLovett) March 4, 2020
i think this is the reason why bernie is losing https://t.co/v5GcRcwEEz

— Shibe The Woz 🌴(New Horizons Hype)🌴 (@ShibeAlt_92) March 5, 2020
But for everyone else, they were just left baffled by Neeko's video. Filled with both hate and love for the TikTok, people couldn't decide whether the whole thing was extremely cringeworthy or charming. And honestly? The verdict is still out with new tweets about the confusing video pouring in daily.
you have two wolves inside you. one hates cringe. the other is a huge dyke. https://t.co/WBiG6ix93V

— bobo the clown (@bobo_circus) March 6, 2020
i've watched this video so many times i don't even find it cringey anymore, i've gone numb and i'm in love with her https://t.co/cFayNg03GB

— annika (@subtleferret) March 5, 2020
ok boomer girl is hot and not cringe, it's cringe to think she's cringe

— Liv (@LivPosting) March 6, 2020
the bangs and the curls combo is actually messing with my mind i haven't seen anyone wear this style since trina on victorious https://t.co/ninxWdVoI0

— CHEF SAYS 🥘 LOCKDOWN! (@IittIechef) March 7, 2020
I keep coming back to this video because it makes me feel a mixture of revulsion and arousal that I've never felt before. https://t.co/iGUzJL4gvS

— Bernard B. Ruthers (@BeigeFrequency) March 9, 2020
But turns out that Neeko didn't just make the video to be cute or sledge boomers. Following her 'Oki Boomer' video going viral, Neeko used the newfound attention to further urge young Americans to actually go out and vote. "YOUTH TURN OUT IS IMPORTANT!!," Neekolul wrote. So you heard our new cute overload, if you're American go vote NOW. 
When I find out u haven't voted 😡 YOUTH TURN OUT IS IMPORTANT!! pic.twitter.com/WvorElPY28

— neeko (@neekolul) March 8, 2020