Culture
'Mr Burns' Is The Wild And Loving Theatre Production 'The Simpsons' Deserves
The Simpsons have survived the apocalypse, and just hit Australian theatres.
Of all the mash-ups in the world, a theatrical adaptation of The Simpsons is perhaps one of the last you would expect — especially at two of Australia's biggest theatre companies.
The Simpsons has always woven theatre into its cultural language, from asides on Shakespeare through to an all-singing, all-dancing A Streetcar Named Desire. But theatre has too rarely repaid the favour to look on The Simpsons and the vast cultural space it occupies in our world.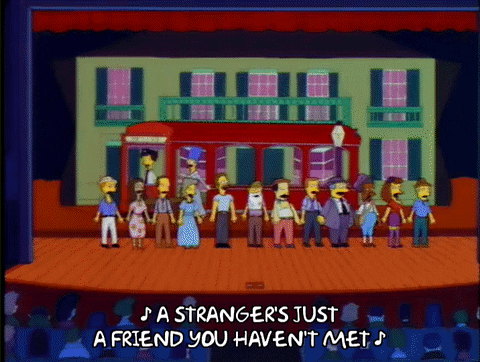 Anne Washburn's Mr Burns, A Post-Electric Play, first performed in 2012 and now being staged by the State Theatre Company of South Australia and Belvoir in Sydney, tries to upend this dichotomy in one fell swoop.
The story starts in an alternate contemporary reality where disaster has struck the US, destroying the nuclear reactors and plunging everyone into darkness and chaos. We meet a group of people gathered around a campfire, retelling the plot of 'Cape Feare' (the episode where Sideshow Bob is released from prison and tries to murder Bart) to distract themselves. The play then shoots us forward seven years, then another 75, to trace how this oral legacy of The Simpsons becomes a defining cultural factor of the new, post-electric world. 
The Simpsons Is Much More Than The Simpsons
Washburn's production works because she truly understands the cultural layering of The Simpsons. With its purposeful intertextuality, The Simpsons is the perfect cultural vehicle to analyse our understanding of the world.
The 1993 episode referenced in the production, 'Cape Feare', is a spoof of the 1991 film Cape Fear, a remake of the 1962 film by the same name, which is an adaptation of the 1957 novel The Executioners. And, like all Simpsons episodes, 'Cape Feare' doesn't stop there. Both explicitly and implicitly, the episode references everything from The Mikado to The Night of The Hunter, both of which are lifted again and placed into Mr Burns, which in turn picks out other cultural references from the ensuing 25 years.
Washburn also understands that a core part of our culture is the way we remix The Simpsons. Lines have entered our vernacular: its stories can be retold around this campfire because we retell it in real life too.
In production continuously from 1989, The Simpsons has seen radical shifts in the way we consume culture. What would have once been "appointment" television re-watched — perhaps — on VHS, can now be watched at anytime online. It exists in YouTube clips and gifs on Twitter, far removed from the notion of "watercooler" conversations of the '90s. But by placing this conversation post-tragedy, Washburn shifts the goal posts: so much of our cultural use of The Simpsons is now online. What happens when that space is taken away?
Over the nearly 30 years the show has been on air, US broadcast viewership numbers have significantly fallen: down from an average of 27 million an episode in 1989, to just 4 million an episode in 2016. Despite this, the show has increasingly twisted its way into our lives. We might not watch it regularly on television, but we instead watch it in short viral clips. It is rare a political event happens in Australia without being in some way illustrated by a Simpsons image.
Mr Burns is built on its own propensity for references: the futuristic musical folds in Ricky Martin, The Flintstones, and The Bible. The creative team in this production build in their own references too. Designer Jonathon Oxlade's masks invoke comedia del'atre; director Imara Savage's staging invoke a Greek chorus; chorographer Lucas Jervies ensures Sia's choreography and Beyonce's hand gestures somehow survive us all.
It's a wild imagining of what parts of our culture we'd take forward if everything were to be destroyed. What better way to do that then with something that is already constantly taking our culture, folding us back on ourselves?
Okay, So It's Not For Everyone
Australian theatre audiences tend to skew old. Not everyone in the audience will know The Simpsons, and certainly no one will understand all of the references. In this, Mr Burns carries with it many of the same joys of The Simpsons: the work is more complex than can be understood on the one viewing.
But here, the show comes into its own. References are mutated and repurposed and, sitting in a theatre full of people, pockets of laughter come from different sections. As Mr Burns traces our culture in the same way as The Simpsons, the theatrical audience creates a real-time mapping of our shared and disparate cultural experiences.
Mr Burns imagines a future where The Simpsons will be as mutatable and adaptable as Shakespeare is now.
In three acts, Washburn takes us through three time points. There is the alternative now, a naturalistic play of strangers gathered by a campfire; the seven years into the future, as we look in on a rehearsal room — glimpses of light hiding a dark capitalistic battleground for copyright and claimed territories; and 75 years after that, when 'Cape Feare' has been freely adapted into a musical, as much about joy as about darkness. In the last act, we become their future audience.
This musical is not simply a retelling of 'Cape Feare'; it is a way for this society to come to grips with the darkness they faced in this "post-electric" world, and to imagine a way forward. By repurposing and remixing text of the original episode, it becomes a parable for surviving tragedy; when Bart Simpson sees his family die, the imagined future audience sees the destruction of a world they never knew. And as Bart leans over the bow of a boat, with tragedy and strength, singing with all of the American exceptionalism the musical form can muster, this future audience is allowed to imagine themselves stepping forward ­– cultural legacy in tow.
Theatre can too often feel divorced from contemporary culture. Ibsen staged because he is "important", Shakespeare staged just because there is a way "Shakespeare should sound like", rather than these texts having anything to say to us today. With Mr Burns, Washburn not only brings theatre into the current cultural conversation by repurposing a beacon of pop culture; she also imagines a future where The Simpsons will be as mutatable and adaptable as Shakespeare is now. In theatre, she argues, it is the now which is the point.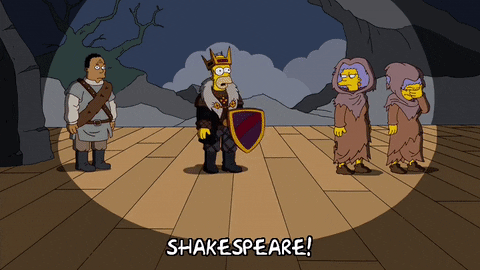 Mr Burns plays at the Space Theatre, Adelaide, until May 13; then Belvoir, Sydney, May 19 to June 25.
–
Jane Howard is an arts journalist and critic working throughout Australia and in the UK with a focus on performance.