TV
Yes, You Can Pay To Watch Netflix Originals. Here's How.
You asked. We delivered. And we made you a handy door-hanger, too.
This article was originally published ahead of Arrested Development's fourth season. Hence the GIFs.

–
In 2006, the seawards at Fox made the huge mistake of cancelling Arrested Development after only three seasons — despite all your efforts to stay up late, tell all your friends to watch it, and post on Myspace about it. You tried, man, you really did — and they canned it anyway. Burger King couldn't even keep the thing afloat.
But then: in April last year, news emerged that Netflix had commissioned a fourth season of Arrested Development, and would drop all fifteen episodes in one batch through their American-only streaming site. Promotion has been gaining momentum over the last few months — we've all seen the trailer, the traveling banana stand, the in-joke explainer, and the more in-depth in-joke explainer — and now we have only days left.
Season Four Of Arrested Development Drops On Sunday May 26, 5pm AEST
The entire season comes out at once, but it comes out only through streaming service Netflix — which is only available in America.
Don't download it illegally. Don't Game Of Thrones this; don't be that guy. We have one simple trick illusion to get you onto Netflix, it's only $7.99 a month, and the first month's free.
It's the most ethically sound way we can find to watch the show as soon as it goes up; you will essentially have chosen free-range eggs over back alley cage eggs. A tenuous metaphor we chose simply to post this:
–
HOW TO SIGN UP TO NETFLIX IN AUSTRALIA
(Even if you're a total derp with computers)
STEP ONE: CHROME
If you are using Internet Explorer, stop. Stop being a chump. Using Firefox or Chrome? Congrats you have just completed Step One.

STEP TWO: MEDIA HINT
Go to Media Hint. It's pretty straight forward: install the extension for which ever browser you are using. Chrome has an extra step, which is illustrated for you when you download the Chrome Extension File (.crx)
(Media Hint also allows you to use Hulu and BBC iPlayer. Keep up to date with what else they support by following their Twitter.)
STEP THREE: NETFLIX
Surf your way over to Netflix, and you will see the site is eagerly awaiting for you sign up and enter your details.
All standard stuff really, except when you get to the point where it asks you to enter a zip code. Here you will need to enter a US zip code. Google any one you want, but I choose to live it large in '90210', and you can too. [UPDATE: A bunch of our readers have let us know that their combo debit/credit cards aren't being accepted. Other cards are fine though!)
STEP FOUR: GO BANANAS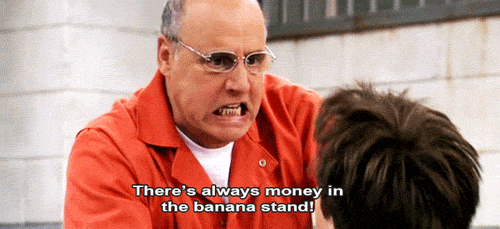 UH… WHY IS THIS AN OKAY THING TO DO?
These delivery systems turn a blind eye to Media Hint, because they are still getting money. For a Netflix-exclusive series like Arrested Development, you paying to watch it is the only way they can get money from you watching it, until a network or cable channel in Australia buys the show up.
Media Hint doesn't impact your bandwidth, and doesn't bombard you with ads unlike other free VPN-type work-arounds. So maybe throw them a bone with a small donation, because to me it is Nobel Prize-worthy work.
HOW TO WATCH THE SHOW
1. WATCH IT ALL IN ORDER
Initially, show-runner Mitch Hurwitz intended the fourth season as not-quite-a-season-at-all, but a mix-and-match of episodes that you could watch in whatever order you choose. Each is dedicated to one character's point of view, and they all cover the same period of time in the characters' lives — mainly because Hurwitz wasn't able to get the whole cast together at once for so long. (In fact, a lot of scenes have been shot using green screen — it's like Tobias Fünke's 'Insert Me Anywhere', but with all the characters.)
But last week, Hurwitz reversed his position.
"I'm really doing everything I can to put out that misconception that it can be watched in any order," Hurwitz told Vulture yesterday. "Although I really did have that ambition at one point." In the same interview, he recommended you not watch the whole thing at once: "Don't feel obligated to watch it all at once. It's a comedy! It's not like Lord of the Rings. Comedy takes a lot out of you."
We'll watch it all at once anyway.
2. WATCH IT ALL AT ONCE
We made you this doorhanger, to dissuade your family/housemates/pets from entering your viewing pod. Print it off on your work printer if you like! We won't judge!
For This To Work, You'll Have To Download The Hi-Res Here
–
Alan Parry is a graphic designer studying a Bachelor of Science at Newcastle University — but most of his time is spent with his dog, Jam Head: wrestling with Jam Head, patting Jam Head, Instagram-ing Jam Head.
The door hanger and feature image were illustrated by Matt Roden; his Tumblr is here.