Culture
Why You Should Say Yes Please To Amy Poehler's 'Yes Please'
You will laugh. You will cry. You will likely do both at once. READ THIS BOOK.
Celebrity memoirs aren't supposed to be moving. Most of the time a celebrity memoir just means that famous folk (or their ghost-writers) are provided with yet another novelty-sized cheque to churn out 250-pages worth of amusing words. They're simply there to impart some minor or major controversy, a mythical origin story and the required pathos to prove the Wizard behind the curtain has been a regular human being all along.
And sure, Amy Poehler's new book Yes Please follows this formula in its own playful and unique way, but her memoir leaves a distinct and undeniable mark.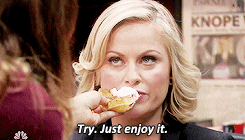 In her opening preamble – 'Writing is Hard: A Preface' – Poehler acknowledges, in her self-deprecating yet candid fashion, that she's ill-equipped to be writing a celebrity memoir. Yes, she knows that Yes Please will be catalogued and inevitably compared to releases from Sarah Silverman, Mindy Kaling and (obvs) Tina Fey. Yes, she knows it's not going to be a best-selling literary revelation like Patti Smith's Just Kids because, in Poehler's words, Just Kids is so "beautiful and poetic and how dare [Smith]." But in Yes Please Poehler certainly brings her own. And as much as her "self-indulgent preface" attempts to lower expectations, the fact that she calls herself on this attempt – "I am a grown woman. I know my own tricks!" – sets Yes Please apart from the rest.
Yes Please is as self-effacing as it is self-affirmative; it's a humorous and touching study of success and everyday-life strains. "I'm slugging away every day, just like you", and you really get that. Poehler is a hardworking writer, producer and performer as well as a mother, daughter, colleague and friend. Yes Please gives us a collection of anecdotes that highlight her work ethic and in constantly thanking her nannies, parents, peers and BFFs, she also constantly checks her privilege.
Don't get me wrong; the anticipated LOLs are all there. But for a book that features a haiku about plastic surgery and some bad-ass colour photos of Poehler in a series of amusing costumes – wigs, glasses and beards – Yes Please deals out some serious feels.
Okay, I know that sounds like I'd downed the Pawnee Kool-Aid before reading, but there's something seriously affecting about Yes Please that I haven't got from other comedic memoirs. I'm not talking that 'sad-clown' cliché shit here either. I'm talking about Poehler's book being what I needed at this exact point in my life.
I read Poehler's book while travelling on a solo long-haul flight. I had boarded the plane overwhelmed with emotion. Giddy, nervous, sad and guilty, I was excited to be heading away for a couple of months to work, but devastated to be leaving my loved ones at a particularly trying time. Surrounded by strangers I smashed through Poehler's book, oscillating between maniac cackling and silently sobbing with each page.
I know that crying on a plane is a thing, that strange psychological mystery we've all discussed at a dinner party or listened to on an episode of This American Life, but my emotional reaction felt real and was real. I felt alone and exposed and vulnerable but Yes Please made me feel like I wasn't any of these things. Poehler proved herself the perfect companion to ease me through an emotional roller coaster ride (more like emotional plane ride tho, amirite? Ugh.)
I could pick lines from the book or each story one by one, but a couple of stand-out chapters were pinpoint triggers. The short essay titled 'The Day I Was Born' personally kicked me off. Bookended by notes from Poehler, it's mostly written by Poehler's mum recounting the day that Amy Poehler came into the world. Following an aside from her dad, Poehler closes the essay with the following advice: "If your parents are still alive, call them today and ask them to describe the day you were born."
Then, in an explicit example of how Yes Please is an incredibly inclusive reading experience, there are two blank pages for the audience to fill in.
This may sound like sentimental tripe to the average cynic (my usual moniker) but when I read 'The Day I Was Born' and flicked to those pages, seat 23A became the spontaneous setting for Blubberfest 2014 and I was the headline act. I had been on edge the whole time, but hadn't anticipated my feelings (ugh, feelings) being intensified by this perfect plane read (and it is a perfect plane read FWIW). This wasn't just cabin pressure, but a combination of written sincerity and the fact that I was leaving behind my own mum who recently had a serious health scare. And I mean super recently.
Literally days before I left for the States, the one who birthed and reared me had undergone intensive spinal surgery. Mum being mum, she hadn't wanted to be bothersome or change my plans, so had insisted  I board the flight I'd booked months earlier. I'm so grateful that surgeons can remove lumps and the nasty evils that menacingly remind us of our own mortality, but very little can alleviate the guilt growing in the pit of your stomach as you leave your frail family and supportive friends thousands of miles behind. Obviously, with a chapter like 'The Day I Was Born' and an appeal to reach out to your family, I didn't stand a chance. Unable to contact my loved ones, I was even less able to hold back my tears. But Poehler helped me feel okay about it; in keeping with the encouraging tone of Yes Please, her own birth story, as well as her tales about her sons, I was reminded that a familial bond is boundless – borders or oceans can't hold it back.
It wasn't all tears, but there was plenty more personal reflection. From glimspes into Poehler's social anxiety to her discussion about being a woman in a male dominated industry, at times I thought this book was written explicitly for me – never more than when I turned to a double-page handwritten list: 'Reasons We Cry on an Airplane'. But with that, and a handful of classic one liners, I was laughing again, because Poehler knows what she's doing. Remember how I mentioned it was the perfect in-flight entertainment? She totally knows it too: the ideal balance of comfort and escapism it helps you forget you're alone trapped in a tin can thousands of miles from the ground.
A number list that got me laughing again. There are heaps of laughs. My favourite essay, 'Let's Build a Park', provided many. An essential for any Parks and Recreation fan, this missive could have purely existed as a behind-the-scenes look at how the show was run through the eyes of its star. Instead, 'Let's Build A Park' sees Poehler's text supplemented by footnote asides from P&R co-creator Michael Schur and soon becomes a hella funny exploration of unadulterated friendship and respect.
There's a stack more in Yes Please, and certain bits and pieces will appeal to some more than others (i.e. the particularly important note, printed in bold that "Short People Do Not Like To Be Picked Up."). There's family photos and shots from her early career alongside some serious, universal themes that cut deep. But Poehler is still a potty-mouth from Boston who claims she's not a very nice person. This is debatable, and while I'll recall some of her funnier stories for a while to come, I definitely won't ever forget how this book affected me.
Close to the end of the Part One: 'Say Whatever You Want' (preceding Part Two: 'Do Whatever You Like' and Part Three: 'Be Whoever You Are'), a bright red page is emblazoned with text that reads: "Forget the facts and remember the feelings." I think that's exactly what we've gotten in the case of Yes Please – a celebrity memoir with feeling.