Culture
Why Does It Feel Like People Don't Really Care About These Olympics?
There hasn't been much lead-up this time around.
Think about the first Olympics you can remember. Like really remember — sitting in front of the TV with your family, seeing the gold medal tally in the papers, writing to the athletes at school and wishing them well (I'm still waiting for my reply, Susie O'Neill).
It sounds sentimental but there's something about the games that anchors memory, even if you were a child with no particular interest in sport. (For me it was the pageantry of the Opening and Closing Ceremonies, those strange hours-long events full of weird, enormous costumes and abridged world histories enacted with such daggy sincerity). The Olympics were a big deal! In retrospect it seemed like that was all people talked about for the two weeks it was on. If the first games that you remember was Sydney in 2000, then it probably holds even greater resonance.
Television has always been an intimate experience and one that's connected to family. You can imagine (or might even remember) families gathering together and watching the Olympics or Princess Diana's funeral. There's a reason why these events are among the highest rated in Australian TV history.
It might surprise you to hear that the Rio Olympics starts this weekend — tomorrow in fact. Aside from hearing horrific reports of pollution, muggings and accommodation that makes backpacker hostels look glam, there doesn't seem to be the same fanfare or gold and green fervour as there has been in the lead up to previous games. Most people don't even know what events are meant to be the highlights (i.e. which events we'll probably win).
This isn't a case of the Olympics only finding a rapt audience in keen children, or the Australian team being less capable than previous games. So, where did all that enthusiasm go? Why don't people seem to care about the Olympics as much as they used to?
–
The Way We Watch Television Has Changed
It's unfair to use the Sydney Olympics as a case study for how invested Australia has been in the games in the past because duh, of course. The last time I remember the Olympics truly dominating the cultural conversation was the 2008 Beijing Games (for good and bad reasons), although even London in 2012 had more of a significant lead-up compared to Rio. It helped that their Opening Ceremony was directed by Danny Boyle and featured James Bond.
If it feels like the Olympics coverage used to inescapable, that's because it kind was. Prior to 2010, the number of free-to-air TV channels in Australia were pretty limited. In the early 2000s digital television began to develop but it wasn't until 2009 that Network Ten, Seven and Nine were allowed to create alternate digital channels like the ABC and SBS had done. Even in 2010, only 75 percent of Australians had made the switch from analogue to digital television.
Until about five or six years ago, there simply weren't that many channels to watch — if you avoided watching the Olympics, then you were left with only four other free-to-air channels who fastidiously updated you on the games anyway. For a while Channel Seven and SBS were both given rights to cover different events. And let's face it, after a month or so of ads trying to convince you as to why the games were so important, you were definitely watching the Olympics.
In addition to new digital channels, the mid-2000s also saw an increase in Foxtel subscribers. The cable service had been available in Australia since 1995, but by 2007 it hit its stride — particularly in relation to international sport — and set pay TV records. Despite experiencing a slip in subscribers with the introduction of other streaming services, Foxtel still has 2.9 million subscribers in Australia.
And then came those sweet, sweet streaming services. Stan launched on Australia Day 2015 and then the big kahuna, Netflix came two months later. By the end of 2015, 2.78 million Australians over 14 had Netflix, equating to more than one million subscribers. This doesn't even count those sneaky users who subscribe to American Netflix with a VPN.
This is all a long way of saying that right now we have more channels to watch in Australia than ever before. This coupled with the 'golden age of television' means we perpetually feel as though we're behind and need to catch up; because there are more channels showing more important and zeitgeisty shows everyday and we don't want to be left out of the conversation. Have you finished Stranger Things, started The Night Of and inhaled all of Preacher? If you haven't seen all three, than you probably have the same TV FOMO malaise that haunts us all in 2016.
Why would I be excited for the Olympics when I have roughly 4,700 hours of TV to catch up on?
This diversity of programming has caused a shift in our attention spans. The traditional model of consuming TV has pretty much dissolved, so it's no surprise that the idea of sitting down in front of a communal screen (with ads!) and watching the Olympics for 16 days doesn't seem so exciting. For people with only a mild interest in the Olympics, who need to get swept up in the drama and nationalistic pride to care, there are just too many other choices. This year an American study concluded that between 2011 and 2016, traditional TV-watching in 18 to 24-year-olds dropped by more than 10 hours a week.
Junkee's own market research this year, found that young Australians watch more streaming services, YouTube and Facebook videos than they do free-to-air TV. Many young people don't even own TVs (and love to brag about this fact).
Aside from this, many people who do own a television are less than impressed with how the last few Olympic games have been covered by free-to-air TV. In 2012, critics lambasted Channel Seven for not showing key moments from the games and argued that pay TV and online coverage had far exceeded the capabilities of commercial television. When there's an alternative to shoddy coverage, people will take the alternative, and this trepidation could explain why people aren't jazzed about the next two weeks of TV.
"It was a case of Channel Seven still living in an analogue world," wrote Greg Jericho for The Drum in 2012. "They tried to pretend that the internet didn't exist."
–
The Magic Of Communal Experience
During the Sydney 2000 Olympics, over 6.5 million people watched both the opening and closing ceremonies live. Isn't that mental? The only TV event that has had even comparable ratings in Australia since was the wedding of Prince William and Kate Middleton in 2011. It's still the third and fourth highest rating TV events in Australia. The games is one of those rare TV event that appeals to every demographic.
Despite the expanse of TV channels/streaming services and the endless ocean of content to wade through, television still generates water cooler conversations through consensus shows, like Game of Thrones. But there aren't that many programs now which you can assume that every member of your family has watched, which is a big change from twenty years ago. Discussing the advent of Breaking Bad for Grantland, TV critic Andy Greenwald wrote about the appeal of this 'everyone is watching' feeling: "We were all swigging from the same water cooler, trading the same outlandish theories… Here, finally, was the television experience the internet had promised us: at once intimate and expansive, private and shared."
The shared experience of watching television with other people is very important (did the Red Wedding happen if you couldn't talk about it on Facebook?). It's related to the reason why people still go to the movies, even with an abundance of screens available to us at home — watching stuff with other people is usually more fun! Knowing people are having the same tactile moment as you is fun! Therein lies the appeal of the Olympics.
The fact that the Olympics bring together so many nations for a thing that is not just globally understood, but is globally enjoyed, is still incredible. How many events are able to capture the imagination and interest of the entire world? A huge reason to get excited about the games was the idea that you were watching something at the same time as millions of other people across the world; you're having a totally dramatic, communal experience that you only got every four years. Then, we got Facebook. And Twitter. And suddenly, the idea that in Melbourne we could watch something at the same time as a grandmother in Texas or a teenager in Dublin didn't seem as special.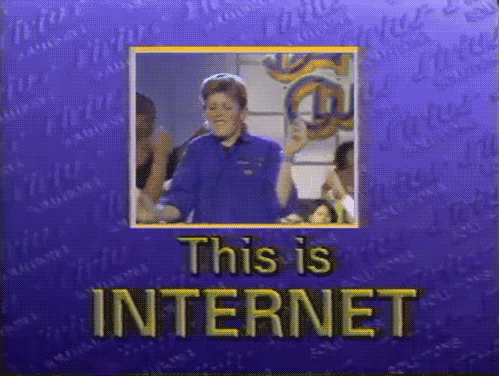 The internet hasn't killed the Olympic buzz, it's just connected the world in a way that makes the communal experience of the games less rare. It's true that these global moments on social media are often by less joyful events (most recently: terror attacks and footage of police shootings) but they are shared. That old buzz and romance of watching the Olympics and knowing that countless other families were doing the same thing at that second, shouldn't be understated.
–
But Don't Forget, The Olympics Are Still Fun!
Maybe we haven't been talking about the games in the lead-up, but this might all change once it's actually on. Australians love sports yarns! And just because Cathy Freeman and Ian Thorpe aren't competing that doesn't mean there aren't any compelling stories to look out for.
We're actually in with a chance of winning a fair few medals this year (and it's the first time in a Summer Olympics that we've had more female athletes partake than men). For the first time ever, a team made up of 43 refugee athletes will compete. Usain Bloody Bolt will probably be spectacular, again. And I'm sorry, but if you don't think the home of Carnivale won't put on an incredible Opening Ceremony, I don't know what to say to you.
(Sorry Kylie, your Carnivale-inspired costume was very good too.)
Maybe we'll starting caring once the weekend rolls around. Who knows? Olympic tweets could be amazing.