Film
Why Do We Love Greta Gerwig? A Look At The Increasingly Complex Work Of Your Mumblecore Spirit Animal
There's a certain glamour to not having your shit together.
Have you ever had a friend like Greta Gerwig? Someone who sweeps you up with her enthusiasm, takes you on adventures and always has you nodding along with her serious conversation as smitten manchildren follow her around like puppies? She's casual and self-deprecating, yet bursting with natural glamour.
Gerwig's latest film released this week, Mistress America, is her second co-written with director Noah Baumbach — also her offscreen partner — and because of this, it feels a lot like an unofficial sequel to 2013's Frances Ha. Though written about different characters, Mistress America seems to catch up with that same free-spirited young woman, several years after her post-college "tailspin". Here, her adorable schtick isn't working as well and the selfishness underlying her exuberance is becoming uncomfortably apparent.
This makes Mistress America less charming and more acerbic than Frances Ha — but it's also a neatly self-referential move for an actress who has made adorability her hallmark. Her characters are charismatic within their on-screen worlds; but Gerwig's press coverage also often emphasises her audience 'likeability' and 'appeal'. Mistress America seems to wonder how many more of these fancy-free screwball characters Gerwig has in her.
–
The Glamour Of Not Having Your Shit Together
We get a hilariously apt introduction to Brooke (Gerwig) as she meets her future stepsister Tracy (Lola Kirke) while walking down a flight of steps in Times Square. She's shouted out Tracy's name too early, and has quite a few more steps to go before she actually reaches her. Everything in Brooke's life seems to be this way — never quite nailing it, and trying to push through with increasingly threadbare bluster.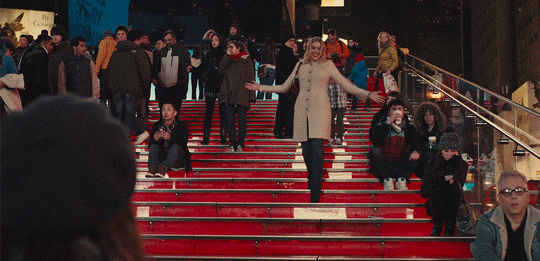 Tracy is the true protagonist of Mistress America. She's a college freshman whose dreams of New York are elusive. Her classmates are unfriendly, her friend/crush Tony (Matthew Shear) gets a paranoid girlfriend (Jasmine Cephas Jones), and the cliquey campus literary society rejects her short fiction. Last seen as a sinister motel grifter who fleeces Amy Dunne in Gone Girl, the smoky-voiced Kirke is too self-possessed to be quite convincing as a loser. But, at a low ebb, Tracy decides to call Brooke, whose father is about to marry Tracy's mother (Law & Order's Kathryn Erbe).
Brooke turns out to be a genial dilettante: a gym instructor (which Gerwig has been in real life), a socialite and an omnivorous entrepreneur full of cool ideas. Convinced her former best friend Mamie-Claire (Heather Lind) has triply wronged her by stealing her idea for a popular T-shirt design, her fiancé Dylan (Michael Chernus) and her two cats, Brooke brings Tracy to Mamie-Claire's upstate New York mansion, hoping to guilt-trip Mamie-Claire and Dylan into investing in her plan for a hip neighbourhood restaurant.
After just one epic evening of hipster carousing with Brooke, Tracy's beguiled, but not because she buys what Brooke's selling. After realising Brooke is all talk, she finds her cheerful self-belief somewhat glamorous precisely because Brooke doesn't have her shit together.
Tracy reveals her naïveté, and her snobbery, by writing a thinly fictionalised Brooke as the tragic heroine of a sanctimonious short story called 'Mistress America'. The film isn't really lampooning Brooke's choices, but rather Tracy's attraction to the stereotype for which Gerwig is so beloved: the adorable but directionless young urbanite. (Failure does seem romantic to callow youths who've barely had a chance to fail at anything yet).
Gerwig has played so many of these characters throughout her career: the unemployed actress in Baghead (2008) workshopping a gonzo horror script; the college graduate torn between simultaneous crushes on two scriptwriters in Hannah Takes the Stairs (2007); and most notably the title character of Frances Ha.
Her role in Baumbach's Greenberg (2010) suggests this love of glamorous failure is the result of a generational shift. Ben Stiller's Roger Greenberg is an unambiguous Gen-X loser. But as a younger underachiever who endures Roger's neurotic nonsense with something close to grace, Gerwig's Florence is luminous. As New York Times critic A.O. Scott observed at the time: "Disappointment — with love, with professional ambition, with the world as a whole — is an experience they share, but while Roger fights against it, Florence seems to accept it as a kind of birthright."
We're drawn to Gerwig because she captures a particularly millennial irony: that haplessness isn't cynical slacking, but rather an overcompensating earnestness. We yearn to be more, but the harder we try, the more pathetic we look.
–
The Romance Of Transparency
Gerwig got her start in the loose DIY filmmaking movement dubbed 'mumblecore' because of its quotidian settings, observational style and improvised dialogue. She isn't a trained actor, and her performances feel natural instead of mannered. She's both hesitant and spontaneous, both solemn and relaxed, in a way that makes her come across as almost transparent; Gerwig offers the seductive suggestion that we're noticing things her character can't see about herself. Like Tracy in Mistress America, we fall in love with the perceptive powers she grants us.
This is especially striking in Nights and Weekends (2008), the film she wrote, directed and starred in with Joe Swanberg, in which they portray a couple in a long-distance relationship. It's observational to the point of seeming voyeuristic.
But, like the disciplined disarray of jazz, there's craft in performing transparency. And Gerwig shows some of her most impeccable comic timing in Whit Stillman's light, knowing satire Damsels in Distress, which reminds me of Jane Austen's Emma. Here, she's Violet: a poised, preppy Ivy League co-ed who sees herself as an unofficial social worker, anointing transfer student Lily (Analeigh Tipton) as her protégé in an ambitious program of suicide prevention outreach that includes soap, tap-dancing and donuts.
Writer-director Stillman's droll, articulate dialogue could be brittle from another actor, but Gerwig's relaxed, natural line readings make the film endearing. She's the perfect actor for Stillman's critique of 'quirkiness', in which seemingly silly and contrived pursuits become earnest paths to contentment.
Violet is no manic pixie; she's a deeply weird, flawed but nonetheless good person. Unlike Mistress America's Brooke — a single-minded hustler burdened with a pitifully diffuse personal brand — Violet doesn't struggle to be cool or original; rather she must combat accusations of being frivolous and self-indulgent. What's adorable is the way she listens to criticism and learns from discouragement. We get the sense she'll do okay.
By contrast, the most barbed scene in Mistress America is when a woman approaches Brooke and Tracy in a bar, introducing herself as someone Brooke bullied in high school. It's clearly a painful episode for the victim. But Brooke claims she doesn't remember it at all. It's a startling moment, because Brooke seems unintentionally callous. Suddenly, we realise why her fantasies will never come true — because they require empathy, not just a charm offensive.
Baumbach and Gerwig are shrewd to veer away from the cutesy playbook to explore other possibilities for Gerwig's loose, limpid and always charismatic acting. I'm intrigued to see how this transfers for her next role in Rebecca Miller's romantic comedy Maggie's Plan to be released next year. Here, Gerwig plays a homewrecker who decides, belatedly, to repair the marriage she ruined. Always willing to add a dimension of critique to her ostensibly happy-go-lucky characters, Gerwig's future roles promise to question whether she really is the perfect friend we imagine her to be.
–
Mistress America is in cinemas now.
–
Mel Campbell is a freelance journalist and cultural critic. She blogs on style, history and culture at Footpath Zeitgeist and tweets from @incrediblemelk.