Film
Why 'Carol' Could Prove To Be 2016's Best And Most Important Movie
The most breathtaking of gifts.
In 2014, long-standing gay publication The Advocate released a list of The Top 175 Essential Films of All Time for LGBT Viewers. By my count, only 40 can legitimately be cited as having queer women central to the storyline. And that's being kind and including Showgirls (1995), home to one of the more… complex lesbian relationships in existence.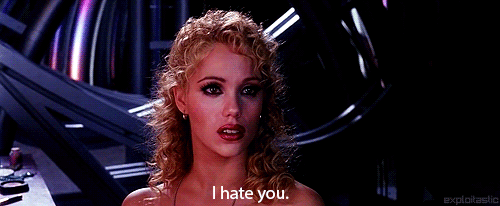 That's hardly surprising when gay men are typically the primary focus of much of the queer cinema coverage we see from festivals and in general release. Of course, that doesn't mean gay women aren't represented in film; it's just that there is typically less interest in them from an industry that is already gendered towards male representation, even in niche areas such as queer film.
For instance, there is little cross-over between The Advocate's list and The 100 Best Lesbian Movies of All Time list published by 'girl-on-girl culture' website Autostraddle. It's obviously disappointing to see entire strands of the queer experience relegated to secondary status, in terms of what's being made as well as what's getting released, but that's par for the course with film in general when men, gay or straight, make up approximately 85 percent of working directors making movies.
So it's been encouraging to see the tides turn, at least momentarily, in 2015 with high profile films like Grandma with Lily Tomlin, Bessie with Queen Latifah, Freeheld with Julianne Moore and Ellen Page, and Desiree Akhavan's delightfully hilarious New York rom-com Appropriate Behaviour. All titles that would no doubt make such lists if polled now, joining such perennial favourites as Rose Troche's Go Fish (1994), The Wachowski's Bound (1996), Jamie Babbit's But I'm a Cheerleader (2000), Cheryl Dunye's The Watermelon Woman (1996), Donna Deitch's Desert Hearts (1985), Lisa Cholodenko's High Art (1998), and Dee Rees' Pariah (2011).
The highest-profile of the high-profile lesbian films of late is Carol, the new film from iconic director Todd Haynes that stars Cate Blanchett and Rooney Mara as two women from different generations discovering love in an era of hostility. I was lucky enough to see it at last year's Adelaide Film Festival in October and haven't shut up about it since, so it is nice to finally see this stunning, sublime film finally sashay into cinemas this week in all of its exceptionally costumed-and-coiffed glory as it instantaneously makes a play for greatest of cinematic LGBT romances.
It's no shock that Carol has been labelled the lesbian Brokeback Mountain for the way it similarly plants major actors in a same-sex romance with enough prestige to win major awards, and with aims at mainstream audience attention. Ten years out from that landmark film and it's both sad that this is still a big deal and yet wonderful that there are still filmmakers willing to take large-scale artistic gambles on queer stories. But Carol is essential. It's the work of a premiere filmmaker whose talents only continue to grow. And considering his first film was an altogether extraordinary biopic of Karen Carpenter made entire out of Barbie dolls, that's saying something.
What helps make Todd Haynes so special as a filmmaker is that he is not one to make the queer invisible like, for example, Dallas Buyers Club. With wider community acceptance of queer issues, Haynes knows audiences are less interested in the radical queer films of his past – such excellent works as Poison (1992) or Velvet Goldmine (1998) – rather, just like what legendary provocateur and fabulously queer Pink Flamingos director John Waters stated in ArtForum, "Maybe the only way to be transgressive these days is to be shockingly tasteful."
Despite the insistence by many that films about gay characters ought not explicitly make homosexuality a defining trait of their characters, Carol is keenly aware that the ability to raise one's head up and proudly forgo denying their romantic and sexual desires was a hard fought battle, and to deny both its characters and its audience the right to see two women powerfully accept their love for one another would be shameful and wrong.
Efforts to wrangle it in as some sort of universal love story as a means to pleasing squeamish straight audiences are admirable, but wrongheaded. Carol quite simply wouldn't exist without the pain and struggle that so often comes with being gay, not least in the 1950s. It's what defines the romance between Blanchett and Mara as something more than mere doe-eyed love, but a defiant proclamation of two people who will spend the rest of their days defending themselves from the judgement of others.
Of course, for all the talk of Carol as a potential awards juggernaut since Rooney Mara beat out her own co-star to win the prestigious Cannes Film Festival's Best Actress prize, Haynes' film has been overshadowed by both Adam McKay's The Big Short and Alejandro G. Inarritu's The Revenant: two movies in which women are all but non-existent. That Haynes, a director of the highest calibre, was overlooked by his own peers of the Director's Guild of America for a nomination in favour of the man who made Anchorman and directed 'The Financial Crisis For Dummies', Adam McKay, says so much about the bias towards films about women and minorities in the industry.
I like THE BIG SHORT and THE REVENANT. But both are prime examples of how three-star movies about men > four-star movies about women.

— Scott Mendelson (@ScottMendelson) January 12, 2016
If other directors don't think what Todd Haynes did in CAROL qualifies as great directing, what does this kind of award even mean?

— Scott Renshaw (@scottrenshaw) January 12, 2016
Many may see the constant harping on about these issues by critics like myself as boring or tired, but we do so not because movies about straight, white men are inherently worse or bad. It's because when movies by or about women and/or minorities consistently get pushed aside for movies that haven't the slightest interest in women and/or minorities, it just makes it harder for films like Carol to be mad. And what a boring world it would be without them. It remains important to be vocal about it, or else Hollywood will just sweep them further under the rug.
That Carol is perhaps the best film we'll see all year makes it the ideal catalyst for continued debate. And if it does ultimately get screwed out of the greater recognition it deserves, then at least we'll have a new canon entry for LGBT cinema and one of the finest examinations of blossoming romance ever produced. It will send your heart soaring as much as the tears flowing, because Carol is the most breathtaking of gifts.
–
Carol is released in cinemas this Thursday.
–
Glenn Dunks is a freelance writer from Melbourne. He also works as an editor and a film festival programmer while tweeting too much @glenndunks.