Culture
When It Comes To Violence Against Women In Australia, Julien Blanc's The Least Of Our Problems
Julien Blanc's gone, but we've got enough work to do on domestic violence without him.
Trigger warning: this article contains descriptions of domestic violence and assault.
–
Last night Mouthbreathers United suffered a crushing defeat in Melbourne, after a swarm of people protesting Julien Blanc's hideous 'Real Social Dynamics' motivational tour — in which you learn Hot Tips on how to pick up women, like choking and sexual assault — forced him and his followers to shut down a seminar they had to hold on a boat in the Yarra River because no earth-bound hotel would take them.
Blanc and co. have since left the country, presumably to make like the Bluths and take their misogynistic freak-show to the sea.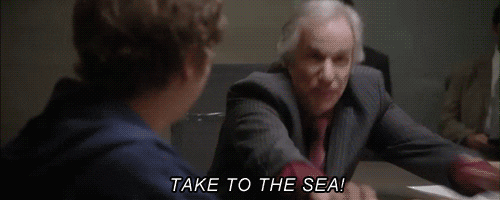 It was undoubtedly a satisfying win for not-terrible human beings everywhere, because Blanc and his cohort are almost cartoonishly disgusting; they literally advocate violence and sexual coercion as pick-up "tactics", and openly regard women as objects to be toyed with, used up and discarded. Vigorously opposing what they stand for, and making it as difficult as possible for them to practise and promote it, is an excellent and necessary thing to do.
Now that Blanc has finally left Australia with his tail between his legs, though, we're left with the reality that women in Australia still face extraordinary levels of domestic violence whether some dudebro YouTube personality is here or not. As Junkee reported on back in September, one in three Australian women will be physically assaulted in their lifetime, while one in five will be sexually assaulted. Unfortunately, large parts of our political leadership either seem indifferent to those statistics, or are doing things that will likely make them worse.
–
Cory Bernardi And Headlocks: Ignoring The Women Who Combat Domestic Violence
Yesterday a parliamentary inquiry into domestic violence heard from DV Connect Queensland, a support hotline for women in abusive relationships. DV Connect CEO Di Mangan told the inquiry that they were being overwhelmed by the sheer number of women calling the hotline seeking help against violent and abusive partners, to the point where they were forced to let calls go unanswered and prioritise those cases where men were breaking their partner's bones.
"Most of them are serious to the point now where you think if someone doesn't have fractures or serious injuries we're actually starting to see them as not so serious. We're beyond capacity in Queensland", the Courier Mail reported Mangan as saying. "I just had to send an email to the workers yesterday, for the first time, (saying): 'and I hate to have to say this to you as a work group but you have to leave calls'".
So the support services in place to help domestic violence victims are demonstrably inadequate — not due to the dedication or ability of the support workers themselves, but because there are far more cases of domestic violence and abuse than that relatively small pool of people can handle. On being confronted with information like that, it's reasonable to expect a federal Senator, no matter what their political stripe, to take the issue seriously — especially if they happen to sit on an inquiry charged with coming up with ways to "eliminate violence against women".
But Liberal Senator Cory Bernardi, who is a member of just such an inquiry, chose yesterday to do the exact opposite.
At around 10:50 yesterday morning another support worker, Barbara Crossing from Women's House Shelta, gave evidence to the inquiry that police responses to domestic violence incidents were frequently hampered because they "often rely on the man's version of events". Crossing gave an example where a man had successfully taken out a suppression order against his wife after she bit him on the arm, and claimed he could only have sustained such an injury if he had been holding her in a headlock.
At this point, things took a seriously nasty turn, with Bernardi jumping in to "clarify" that headlocks can be an acceptable method for police to subdue someone, and that contrary to the very point Crossing was trying to make, the police are the best judges of who is at fault in an instance of domestic violence.
Junkee has obtained audio of the actual exchange. You can read a transcript below:
BERNARDI: Ms Crossing, it is…any law enforcement official would say that putting someone in a headlock can be an appropriate means of subduing an aggressor. It's…it's kind of bold for you to suggest that simply because someone was in a headlock to second-guess a police assessment of a domestic violence dispute.
CROSSING: If you…if you could see that the woman had, you know, quite severe bruising around her head and blood pouring, you know, from her head, would you be making the same statement?
BERNARDI: I'm not given all the evidence, Ms Crossing, but you've just merely said that, you know, it's inappropriate — that's what you've suggested — for anyone to be placed in a headlock. You may be right in this circumstance, but you equally may be wrong. I mean the gross generalisation, I think, is rather unfair.
CROSSING: I would suggest though, that the police taking out — it's called a police protection notice — where they take out a protection order to protect someone, that perhaps they should have done more investigation before doing so.
BERNARDI: So you're second-guessing the police? …You're entitled to your opinion, but I just want to be on the record: there are appropriate circumstances where people being put in a headlock is a way of deterring an aggressor.
LARISSA WATERS (GREENS QLD SENATOR): [unclear]…a way of perpetrating aggression?
BERNARDI: Of course it is. Of course it is, but you can't just put one side of the story and then say 'how do you get put in a headlock?'
WATERS: Well, these women are the experts, so they are entitled to put in their perspective.
BERNARDI: [unclear]…In actual fact they're not, the police are.
Earlier today Bernardi released a statement saying he "never suggested violence in any form was acceptable" and that headlines suggesting he found it appropriate for a man to put his partner in a headlock "do not accurately reflect the exchange".
While it appears Bernardi did not explicitly say "sometimes it's appropriate for a man to put his partner in a headlock", as various outlets are reporting, a male Senator flippantly interrupting a service worker's first-hand testimony of domestic violence to hold forth on his opinions about the impeccable judgment of the police — which that same service worker is telling him is often flawed — gives you an idea of the kind of environment we're dealing with.
Twitter was a little less nuanced in its judgment.
Hey @corybernardi got any other tips on how to treat women? We'd love to hear them.

— Bernard Keane (@BernardKeane) November 7, 2014
I like the bit where @corybernardi reckons we shouldn't second guess police tactics because it's not like they've ever been (fatally) wrong.

— ABC News Intern (@ABCnewsIntern) November 6, 2014
–
Got A Domestic Violence Problem? Shut Down Women's Shelters
But there's more at stake here than some Senator's reputation. Bernardi's comments are unlikely to undo as much progress on domestic violence as the NSW state government's attitude to the same kind of frontline services that are being overwhelmed in Queensland. Back in April, the NSW Liberal government announced it was radically reforming the way it funds women's refuges to favour larger, predominantly Christian charities over smaller, independent sanctuaries — many of which are run by women and provide specialised services for regional and rural, Indigenous or LGBTI victims of domestic violence.
As a result, a large number of those smaller refuges are going to the wall; a few days ago, New Matilda reported that dozens of independent women's shelters like Blue Gum House in the Blue Mountains and Katakudu Women's Housing Inc. on the Central Coast are being forced to close after being denied funding under the government's new tender process. Both refuges have run for over 25 years.
It could have been even worse. a week ago the campaign to keep funding to women's shelters in NSW, Save Our Women's Services, scored a big victory by pressuring the government into securing funding for five Sydney inner-city women's refuges which had previously been facing the pointy end of a $2 million budget cut, courtesy of Community Services Minister Gabrielle Upton. One of those five refuges is the Young People's Refuge in Leichhardt, a facility that provides emergency beds and case management to girls as young as 13.
That's fantastic news, and Save Our Women's Services have done a stellar job in fighting to keep those refuges open. But the fact that they have to fight at all is far more concerning than groups like Real Social Dynamics. We can see Julien Blanc coming a mile away; he's easy to undermine and ignore because he's so relentlessly idiotic he condemns himself to the fringe of the fringe.
State governments and federal Senators can do a lot more damage than Julien Blanc can, and unless we hold them to account when they do, little victories for women's rights like the one last night are going to keep being offset by some very big losses.