Culture
Elisabeth Moss Is So Great In 'Top Of The Lake: China Girl' It Hurts
Elisabeth Moss is sublime.
It should come as no surprise that screenwriter Jane Campion has embraced television. She even went so far as to not so humbly suggest to The Guardian that "The really clever people used to do film. Now, the really clever people do television."
She had previously made her 1990 biopic of flame-haired author Janet Frame for New Zealand television, but despite her undeniable position as one of the most respected and reputable cinematic artists of her time, her particular brand of storytelling has often felt at odds with film. Consider that, after winning an Academy Award and the Palme d'Or for The Piano – still the only female director to win the biggest prize in world cinema – each of her subsequent films received middling to scathing reviews.
Films like The Portrait of a Lady (with Nicole Kidman), Holy Smoke! (with Kate Winslet) and In the Cut (with Meg Ryan) have all received critical rehabilitation of some sort in the years since, but these stellar works, which differ wildly in tone, all have something in common. Campion's deeply feminist works always feature complex, often so-called "unlikable" women, and feature wild flourishes of style and genre that can often discombobulate and confound. That she was seduced back to television makes sense because audiences have shown a willingness to watch more artistically brave works on the small screen than they have in a movie theatre.
Much like she did with Peggy Olsen in Mad Men and Offred in The Handmaid's Tale, Moss finds great depths of complexity in a woman drowning in hostile masculinity and patriarchy. Given new dimensions to play, in particular the emergence of the daughter she gave away for adoption at age 16, as well as an antagonistic working partnership with Game of Thrones' Gwendolyn Christie, this isn't a retread of what we have seen before. Her eyes often appear hollow, and her voice croaks from tiredness. She is exhausted by everyone and everything around her.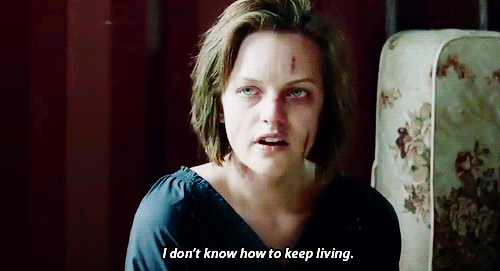 One of Moss' best attributes as an actor is the way she is able to bring something unique to her interactions with different performers. She has the right connection with (Campion's daughter) Alice Englert as her biological daughter, Mary, and shares an obvious lust-filled chemistry with Ewen Leslie, who plays Mary's adoptive father. It's also curious to see the relationship between Moss and Christie play out; the sort of antagonistic pairing of two women that we rarely see without catcalls and whistles.
It's TV, yet more cinematic than most Australian films.
And then, of course, there is Nicole Kidman, who has been central to the series' marketing for obvious reasons, although she appears in it less than one might think. She is typically excellent, but disappointingly underused, as a newly out lesbian feminist who Mary holds in low esteem. With her mass of grey curls, jutting fake teeth, a face made up with moles and sunspots, and costumed in purposefully billowy slacks and dresses, Top of the Lake is yet another piece of her cultural comeback and she is a significant part of China Girl's success. On screen usually when Moss is not, her intensity as a devoted but fraying mother hen means the viewer's eye never strays, while also adding a layer of motherly introspection.
It's frustrating then that the series does ultimately feel somewhat less cohesive than the first. The Christie and Jacobson's characters are often peculiar, their scenes together played in a comedically melodramatic fashion at odds with the rest of the material. Although, perhaps it's a welcome addition to such a dark text in the age of binge viewing. Boring recurring scenes involving an internet café full of repugnant porn trolls are both obvious in their intent and ambiguous in their purpose. And characters often do things that are inexplicable, particularly Mary, which will have audiences screaming at the screen (something I was unable to do considering I saw all six episodes at the Melbourne International Film Festival).
These issues are certainly not enough to distract from the ripping yarn that Campion, Lee and Kleiman have offered up. Thanks especially to its actors, Top of the Lake: China Girl succeeds at putting forward a vision that, along with Big Little Lies (also with Kidman) and Feud: Bette and Joan, shines a spotlight on the horrors inflicted on women. And this time in our own backyard.
—
Top of the Lake: China Girl is now on Foxtel and streaming on Foxtel Now.
—
Glenn Dunks is a freelance writer and critic from Melbourne. He also works as an editor and with film festivals while tweeting too much at @glenndunks.