Culture
The Sci-Fi Star Who Started #Gamergate Is Coming To Australia And People Are Pretty Mad About It
First Julien Blanc, now this.
Last year saw the eruption of #Gamergate, an online campaign of abuse, intimidation and harassment of women working in the video game industry under the ostensible banner of uncovering "corrupton" in gaming journalism. Prominent female gaming figures like Zoe Quinn, Anita Sarkeesian and Brianna Wu were inundated with death threats, threats of violence and rape, hate mail and instances of doxxing; a practise whereby private, identifiable information about a person like a street address or phone number is widely distributed for the purposes of harassment. A number of the women targeted felt so unsafe they left their homes and changed phone numbers.
While the #GamerGate movement existed in an embryonic form throughout the month of August last year, the hashtag itself is credited to American actor Adam Baldwin, who tweeted out links to two YouTube videos critical of Zoe Quinn on August 27. Largely thanks to Baldwin, those videos were widely watched and shared, sparking the harassment of Quinn and other women by some of those using the #Gamergate hashtag.
Hey #GamerGate.me, could you put this image into your archives. The start of the hash tag by @AdamBaldwin pic.twitter.com/tyqzFsXzPL

— Prof. Nick Flor (@ProfessorF) January 21, 2015
Baldwin has courted controversy in the past — in February last year he compared marriage equality to a father marrying his son — but he  is perhaps best known for his roles in Full Metal Jacket and the Joss Whedon series Firefly, where he (somewhat ironically, given the circumstances) played bounty hunter Jayne Cobb, a guy who had some serious problems with women.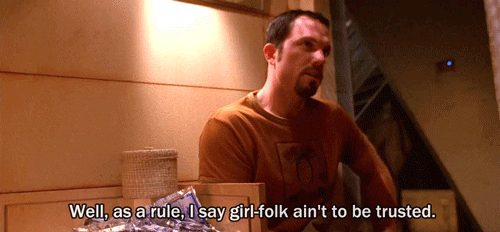 Baldwin has been invited by the Supanova Pop Culture Expo, one of Australia's largest sci-fi, comics and gaming conventions, to attend its Sydney and Perth expos as a guest in April and June, respectively. (Anita Sarkeesian will be in Sydney in March, for the Sydney Opera House's event All About Women.)
Yesterday, a CommunityRun petition calling on Supanova to revoke Baldwin's invitation to its Australian conventions was started and quickly gathered pace, securing almost 2,000 signatures in less than 24 hours and gaining support from Australian feminist organisation Destroy the Joint and Brianna Wu herself, one of the original targets of #Gamergate.
I've thought a lot about this. I need to make a public statement. — Brianna Wu (@Spacekatgal) January 21, 2015
Something geek culture is struggling with is making the culture open to women. I think @adambaldwin is the absolute opposite of this goal.

— Brianna Wu (@Spacekatgal) January 21, 2015
This is very straightforward: Are you comfortable with bullies in geek culture? Because @AdamBaldwin is a sexist bully. He needs to go. — Brianna Wu (@Spacekatgal) January 21, 2015
The petition has sparked heated debate online, with many calling for Baldwin's attendance at Supanova to be cancelled and others coming to his defence.
Much as I love #Firefly, Adam Baldwin is a hateful, misogynist dick. Please sign to ban him from #Supanova 2015 https://t.co/6NsJ1lkwER

— Rajan Kamahl (@RajanKamahl) January 21, 2015
So #aGGros are trying to get Adam Baldwin kicked from #Supanova because he supports #GamerGate. Jayne, introduce them to Vera. — Toby Sweetman (@TobySweetman) January 21, 2015
Baldwin himself tweeted about the petition last night, pointing out that "the Australian Electoral Commission found 'GetUp!' violated S.329 of the Commonwealth Electoral Act" (GetUp! owns CommunityRun). The tweet has since been deleted, but replies to it still exist online.
@AdamBaldwin GetUp! has been a front for left wing weasels from day one. As a left wing weasel, I would know.

— Richard Dive (@romeodeltabravo) January 21, 2015
@AdamBaldwin Yeah "GetUp" was a Labor & Greens things. ALP and the greens are feckless morons.

— JigSaw (@Horseofcourseya) January 21, 2015
Whether the controversy fizzles or turns into another Julien Blanc-style protest remains to be seen, but either way this probably isn't the last we've heard of Adam Baldwin and Supanova.
–
Feature image via Blastr.