Culture
Reclaim Australia, The Dress, #Libspill, Business Fish, And Eleven Other Topical Halloween Costumes That Don't Suck
It's time to get creative.
Halloween is coming! You need a costume, but no one likes the jerk who dresses up like Caitlyn Jenner or the dentist that killed Cecil The Lion.
Here are some much better (equally as relevant) alternatives, courtesy of the Junkee staff and contributors:
–
The Dress
Recommended by: Taryn Frightenvei
What started as an innocuous question about a Tumblr picture on February 26 quickly turned into a global debate so hotly contested that it could viably be the subject of Serial's second season. Was the dress blue and black, or was it white and gold? Friendships were torn apart, calls of "hoax!" rang loud around the internet, science balked, and each outraged Facebook status attempted to outdo the last.
The original BuzzFeed article received over 37 million hits and workplace productivity ground to a halt as people gathered around computer screens to argue. The dress sparked a collective existential crisis that made us question our very own rendering of reality. No one was immune. We're not sure what's better: that Taylor Swift weighed in with her belief that the dress was black and blue, or that Time actually reported on that fact.
GET THE LOOK! 
It's easy to say "wear a black and blue dress" (because the dress is black and blue, duh), but to get the full effect you should cut both a blue dress and white dress in half, stitch them together, and add your own gold and black lace.
Blue bodycon dress: $15, from Vilanya
White bodycon dress: $9.80, from Vilanya
Black and gold frilled lace: $2 per metre from Spotlight
Hemlar fabric glue: $7.99 from Spotlight
–
Further reading: The Blue Dress/White Dress Thing Has Maybe Been Explained (But Who Even Knows In This Crazy World, by Steph Harmon.
–
Business Fish
Recommended by: Alex McHalloween Pun
In five to ten years, Facebook stickers will have entirely replaced text-based language, bringing human communication full circle from the days of hieroglyphs and drawing crude penises on cave walls. It is going to be a much better existence than our current one.
Helping usher in this new state of affairs is Business Fish, the underwater kingdom's foremost advocate of motivational speaking, tailored suits and predatory late-stage capitalism.
BUSINESS FISH DONT LET UR DREAM B DREAM TOMOROW IS YESTERDAY JUST DO IT IMPOSSIBLE NOTHING PLS DREAMS SUCCESS DO IT pic.twitter.com/joXSP1L7Ma

— BUSINESS FISH (@business_fish) August 20, 2015
Channeling the spirit of Business Fish this Halloween will earn you the respect of your friends, the fear of your rivals, and may just be the thing that clinches you that raise on Monday. No one's going to touch your fucking stapler after this. No one.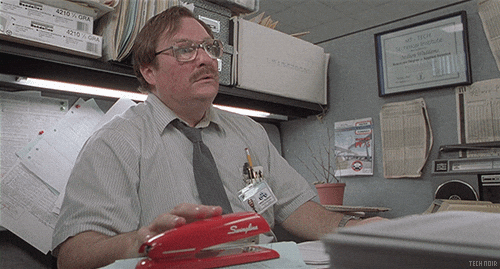 GET THE LOOK!
Grey two-piece single-breasted suit: $159, from ASOS. (Possibly a little junior vice-president for Business Fish, but this is assuming you're operating on a budget.)
Black tie, white business shirt: Any decent menswear retailer. Go simple, conservative, classic. None of this skinny-tie shit; you're a professional.
One (1) large fish: You're gonna want to go with something large enough to hollow out and wear like a hat, with your face fully visible from inside the fish's mouth. Consider a fully-grown tuna or a member of the grouper family. Bear in mind large fish can be extremely heavy, and wearing one on your head may cause permanent spinal damage. Prices and availability vary according to your local fish markets, currents and tides, migration patterns, and proximity to the sea.
–
Further reading: Your Favourite Facebook Sticker Business Fish Now Has His Own Strangely Moving Theme Song, by Meg Watson.
–
Reclaim Australia Protester
Recommended by: Patrick-or-Treat Maghoul

​All Hallow's Eve is the night when all manner of hideous ghouls and beasties come crawling out from places long-forgotten and roam the streets — so why not dress up as the most terrifying and insidious of them all?
Beloved by bigots and evolutionary biologists alike, this costume allows you to say as many hateful and prejudiced things as you like about a group of people who are often discriminated against without anybody thinking you're one of those dreadful racists!
GET THE LOOK!
White foamboard: $17.80, from Eckersley's
Black sharpie: $3.26, from Officeworks
Australia bucket hat: $6.60, from eBay
–
Further reading: Who Are Reclaim Australia, What Are They Protesting, And Should We Even Care?, by Meg Watson
–
Nutella Donut Milkshake
Recommended by: AndwoooOOooooOOOOh Dead-vins Why not scare the fuck out of everyone this year by going as a life size version of the worst food trend of 2015?
It's the viral millshake that even its creator doesn't understand the popularity of! Truly terrifying!
GET THE LOOK!
Multiply this nutella churro donut hole recipe by about 50: $200
Fashion some perspex into a jar shape: $50, from Sydney Perspex
30L of milk: $30, from Coles 
1kg of Nutella: $40, from Ferrero
BONUS POINTS: Spend an extra $100 on timber and serve yourself on an enormous wooden paddle! So 2015!
–
Sam & Sasha's Bachelorette Mural
Recommended by: Gremlin Bastow
Bring a touch of artfulness to your Halloween party by dressing as this memorable moment from Australia's most hilarious reality show.
In the grand scheme of sexy art-and-craft moments, it wasn't quite Demi Moore and Patrick Swayze on the pottery wheel in Ghost, but The Bachelorette's feted couple Sam and Sasha gave it their all when sent on a date to create a mural that would be auctioned off for charity.
On a giant white canvas they illustrated their love for each other: a few hand prints, a wonky heart, and a lot of brown smears that reminded me a bit of the sequence in Hunger where Michael Fassbender wipes his poo on the walls of his Maze prison cell. Ahh, young love!
GET THE LOOK!
White unisex bodysuit: $34.99 from eBay
Large (30" x 40") canvas: $37.95 from Eckersley's
Poster paints: $9.98 from Officeworks
Contact lenses in the wrong prescription (for Sasha's dead-eyed stare): $22 from Specsavers
–
Further reading: The Bachelor Recap: A Pre-Finale Catch-Up On One Of The Year's Best Reality Shows, by Sinead Stubbins
–
The Flag New Zealand Should Have Chosen
Recommended by: Scary Blood Clotson
After decades of debate on the matter, the NZ government decided to finally get the ball rolling on changing their national flag this year — and, in truly democratic nature, they did it via a public submissions process.
If you were a local taxpayer, this was pretty bad news; the whole project was estimated to cost around $20 million and was met with apathy from much of the population. If you were anyone else, it was great; the internet was inundated with legitimate contenders called 'Happy Kiwi', 'Fush and Chups' and 'Bicycle of NZ'. (They were exactly what they sound like).
With the selection now whittled down to a final five — including none of the above offerings — Halloween's the perfect time to pay tribute to your fallen favourite. Mine: 'Fire The Lazar'.
GET THE LOOK!
A fine layer of kiwifruit fluff glued evenly all over your naked body: 60c per kiwifruit from Coles. You may need a few hundred.
Small laser pointers firmly affixed to either side of your head: $19.99 each from Dick Smith
Long beak: This is your opportunity to get creative. Should you fashion it from cardboard and elastic? A giant stick from the garden? Should you gaffa tape a full-sized sword to your face? It's impossible to know for sure. The kiwi is a mysterious creature.
Silver ferns: More options! Make a large one out of cardboard and use it as a cape? Pick some real ferns and fashion some kind of head-dress? Or, alternatively, enforce a strict fern-heavy dress code for every other party guests?
Complete darkness to suit your nocturnal lifestyle: Free! Emphatically smash the fuck out of all nearby lightbulbs with your beak
–
Further reading: New Zealand Is Taking Public Submissions For A New Flag And Everyone Has Truly Outdone Themselves, by Meg Watson
–
The Bronnycopter
Recommended by: Slick Carcass


Remember a few months ago when former Speaker Bronwyn Bishop caused a terrible kerfuffle by paying $5,227 of taxpayer money to hire a helicopter to take her to a Liberal Party fundraiser?
And then, with impeccable comic timing, everyone noticed that her Facebook profile cover photo was an aerial photo of her ritzy northern beaches electorate — presumably taken from another helicopter?
This Halloween, help everyone recall their schadenfreude at her ensuing resignation, with the Bronnycopter Outfit — as inspired by this clever little Bronnycopter game by Sydney-based design whiz @rickysullivan. All you need is a power suit, lots of hairspray, one of those hilarious propeller hats, and a deeply ingrained sense of entitlement.
GET THE LOOK!
'90s power suit: $40-ish, from Etsy
String of (fake) pearls: $2, from your local $2 shop
Lots and lots of ultra-hold hairspray: $6.50, from your local chemist
Propeller hat: $16.50, from Amazon
–
Further reading: Outgoing Speaker Bronwyn Bishop, Seamlessly Inserted Into Arrested Development, by Hannah Hawkins
–
Geert Wilders
Recommended by: Alyx Gored Man
White nationalism! There's nothing scarier. In fact, history's successful racists are so terrifying, they're pretty much off-limits as Halloween costumes. That's why, if you want to dress as a racist, you should dress as the racist of
tomorrow
— Dutch politician Geert Wilders.
Wilders' hobbies include comparing the Quran to Mein Kampf, and asserting the superiority of "Western"culture above all others. He recently visited Australia to launch a new political party, the Australian Racist Liberty Alliance. Wilders' extremist hair makes him a perfect Halloween pick — and if you've ever dressed as Draco Malfoy, you don't even have to buy a new costume!
Plus, this could be a once-in-a-lifetime chance. If Wilders brand of hatred continues to gain traction, further ruining the lives of thousands of refugees, then dressing as him could soon become just as offensive as the beliefs he espouses.
GET THE LOOK!
Frozen Elsa wig with the ponytail cut off:
$30, from
eBay
Crumpled directions to a nondescript hotel in a far-flung corner of suburban Perth: Home-made
–
Further reading: Australia's Boat Turnback Policy Is So Great It's Been Copied By An Anti-Islam Dutch Politician, by Alex McKinnon
–
Hotline Bling
It was around this time last year that Kim Kardashian "broke the internet" with her nude (and racially appropriated) Paper magazine cover. But, if she had as much pop cultural savvy as she is often credited with, Kim would have insisted that the cover drop before Halloween, making it one of the more topical — and risque — costume choices of the year.
Drake didn't quite succeed in crashing in the interwebs (he was competing with Marty McFly's trip to the future, after all), but his video for 'Hotline Bling' has become instantly memeable — and, thus, instantly costumeable.
GET THE LOOK!
Grey turtleneck: US$22.85, from AliExpress (as opposed to the $540 from Acne that Drake wears in the video)
Grey trackies: $39.95, from Lowes
Nike ACG Manoas: US$89.99, from Footlocker (also the same kicks as Drake's).
–
The AACTA Tie
Recommended by: Sliming Miweirdo
Baffle trick or treaters with 'The AACTA Tie'!
This custom neckpiece honours the Australian Academy of Cinema and Television Arts' decision to split their 2015 Best Picture prize between The Babadook and The Water Diviner. Beginning with a suitably indecisive half-windsor knot, the AACTA Tie lists the actual percentage of weighted votes given to the six nominees in descending order, from Tracks all the way to true solo victor, The Babadook.
Of course, a single tie does not a Halloween costume make — just as a single, non-Russell Crowe directed movie does not a deserving prize-winner make (by AACTA's logic). Complement it with The Babadook's signature stovepipe hat and trenchcoat, the latter's pockets stuffed with all the ballots that placed The Water Diviner last out of all the nominated films (from voters whose preferential votes were disregarded when AACTA decided to keep running the numbers until Rusty could collect a prize too).
GET THE LOOK!
Customised polyester AACTA tie: $22, from Ties 'n' Cuffs
Stovepipe hat: $12.32, from eBay
Trenchcoat: $53.73, from eBay
That persistent sensation of cultural cringe: Free!
–
Further reading: The Best (And Most Underseen) Australian Films Of 2014, by Lauren Carroll Harris
–
Final Edition of Zoo Weekly
Recommended by: Rotten Egg Watson
After nine years spent lurking under a dense mat of pubes to the side of every 18-year-old boy's first sharehouse toilet, Zoo Weekly finally called it quits in Australia last month. And wow, it had been a long time coming.
Zoo was one of the last remaining lads mags in the marketplace and its print sales had been plummeting for years. Since bros had already discovered boobs were available on the internet, no one had any need for it. And, after countless scandals over sexism and/or defamation combined with the resultant public backlash, it had been rendered the most embarrassing thing to buy from the I-Hate-Myself impulse shelves of the supermarket — the ones which are already stacked with 2 for 1 Mars bars and glossy pictures of Jennifer Aniston makeup-less face.
In an effort to rise above all this and prove their inherent worth to the world, Zoo used their last issue to flip everyone off, give a final fuck you to the "prudes" who supposedly shut them down, and call a transgender woman a "shim".
I don't care what else is on this list — if your costume even hints that this steaming, undead piece of shit is coming back, you'll be the scariest thing at every party.
GET THE LOOK!
Navy blue Bonds singlet stained with a little bit of vomit: $12, from Big W; vomit is free!
Footy shorts stained with a lot of jizz: $50, from Collingwood FC; jizz is free! (If you don't have a penis, I refuse to give you any more directions here).
A motocross helmet you refuse to explain or justify all night (optional): $167.78, from Motosport
Six-pack of Melbourne Bitter: $17.79, from Dan Murphys (if you need help with the vomit)
Red nailpolish: $2.98, from Priceline
A constant shit-eating grin and raised fingers: Priceless
–
Further reading: We Bought Our First And Last Issue Of Zoo Weekly Just To Give It The Finger, by Meg Watson
–
Dutton Dressed As Lambie
Recommended by: Grisly Zachariah
Forced pun, or a legitimate costume idea? Definitely forced pun.
Nonetheless, 2015 was the year that Australia's systemic racism became a national talking point (instead of something we habitually deny/ignore). At the forefront was Immigration Minister/Pizza Delivery Guy Who Showed Up To Government House When the Cabinet Was Being Sworn In, Peter Dutton.
Dutton's hardline stance on asylum seekers and Not Hating People has been the scariest thing Australia has seen this year, so it's perfect for Halloween. Perhaps too perfect. Which is why it's a good idea to dilute it with a touch of Jacqui Lambie, whose own brand of "halal money funds terrorism!" bigoted rhetoric sounds positively adorable in comparison.
GET THE LOOK!
Ill-fitting Dutton suit: $30, from op shop
Yellow Lambie scarf: $10, from op shop
Lambie earrings: $10, from your nephew who's into arts and crafts this week
Lambie wig: $20, from party supply shop
Shame removal potion: $39.95, from most liquor stores
Added lols: Have a friend carry a boom mic above you at all times.
–
Further reading: An Exhaustice, Deeply Sombre Round-Up Of People Making Fun Of Peter Dutton, by Alex McKinnon
–
Banksy's Ego
Recommended by: Blood Clotson
Taking a break from his busy schedule of toppling the government by etching the word 'peace' into train station bathrooms* and dressing as a pig and shitting himself in the street*, UK street artist Banksy opened his very own theme park this year to mixed reviews.
Though the structures and attractions have now been dismantled and donated to France to be used on desperately-needed refugee shelters, the Dismaland park confused and frustrated many over its month-long run. It featured menacing elderly people, the Grim Reaper, staged car crashes, and various models of children's characters either seriously maimed or dead, and exactly zero fun.
Though it may sound like there's plenty of Halloween material to work with there already, the most hellish costume you can get out of it is Banksy's ego — the terrifying piece of relentless teenage angst that thought an elaborate installation about Capitalism Being Bad was still interesting or relevant in 2015.
GET THE LOOK!
Black hoodie, to hide your precious identity from the adoring fans: $44.95, from Bonds
Pink tutu, to symbolise child-like innocence: $19.99, from PartyCity
Heavy smudged black eyeliner, to symbolise your dark inner world: $7.46, from Priceline
Five decapitated Barbie heads, to fashion a necklace with: $0, steal them from your little sister's bedroom in the night to teach her a lesson about the world
A pair of Dorothy's ruby red slippers, coloured by hundreds of tiny USSR flags: $29 ballet flats from Big W; print flags yourself, comrade
A black sharpie, in case you feel poetic throughout the night: $2, from OfficeWorks
A pocket of ice cubes etched with the words "greed", "joy" and "pain": $0 (if you have an ice tray, something sharp to etch with, and a quick route to the party)
Grass clippings to glue to your hands and please the sheeple that try to greet you: Officeworks has $4.48 ordinary superglue or $8.48 "heavy duty, super strong and super fast" stuff for extraordinary artists. Get the latter.
* There's no proof he's done either of these things.. But there's also no proof he hasn't.
–
Further reading: Banksy Has Unveiled His New Theme Park, Dismaland: The Unhappiest Place On Earth, by Meg Watson
–
Nick And Sarah Jensen
Recommended by: Ste-Phantom of the Harm-Opera
In June this year, a pair of Canberra-based devout Christians who really had no reason or right to weigh in on the marriage of people they don't know told Australia that if gay marriage became legal, they would get a divorce.
"My wife and I, as a matter of conscience, refuse to recognise the government's regulation of marriage if its definition includes the solemnisation of same sex couples," Nick Jensen wrote in Canberra's City News. To which marriage equality advocates responded with a resounding, "lol, okay sure go for it?"
Be thankful if gay marriage forces you to divorce, you're married to a moron.

— Dave Hughes (@DHughesy) June 11, 2015
The pair then received a scathing reply piece penned by Nick's brother Soren, and were publicly un-invited to a friend's engagement party; since then, a Facebook event — Celebrating Nick & Sarah Jensen's DIVORCE! — has clocked up over 182,000 attendees.
Of course, gay marriage still isn't legal in Australia, and Nick Jensen — as far as we know — is still married to Sarah. But do them the honour of remembering their uninteresting and unthreatening stance against gay marriage by frocking up for Halloween as a pair of irrelevant loudmouths whose opinions ultimately won't make a difference!
GET THE LOOK!
1) Pick a partner
2) Think of two insufferable people you know whose outdated and irrelevant opinions you just really don't care about
3) Dress like them
–
Further reading: Someone's Made A Grind Profile For The Guy Who's Getting Divorced Over Marriage Equality, by Meg Watson
–
The #LibSpill
Recommended by: Alex McSpookyGhostFunTime
September's leadership change saw the political demise of Tony Abbott and the long-awaited rise of Malcolm Turnbull, prompting an outpouring of schadenfreude and a tinge of sadness that the leader of the world's twelfth largest economy won't be munching on raw onions like a hungry donkey anymore.
Abbott may be gone, but that fateful evening when he was finally rolled will live on in the nation's memory forever, or at least until the next leadership spill in 18 months. This costume's more of a group effort and, like a certain ambitious government frontbencher, you'll have to lay a good amount of groundwork in order to pull it off. Text your mates, see who's keen.
GET THE LOOK!
A jar of Andrew Bolt's tears: Up to 18 times more refreshing than regular water, Andrew Bolt's tears are highly prized by elite athletes, soldiers and incorrigible union thugs hellbent on destroying this once-great country. Collect in a jar labelled "Elections Are Won In The Centre" at the full moon for best effect.
A bag of onions to hang out in tribute: #PutOutYourOnions was the social media movement of a generation. Can also serve as an impromptu weapon to fend off potential leadership rivals.
Some disaffected Liberal backbenchers to form your #squad: Kevin Andrews and Eric Abetz should be around; they've got a fair bit of time on their hands these days.
An overly excited ABC reporter to narrate your every move: I dunno if you can hire Greg Jennett by the hour, but by God you should try. He's like a happy little ferret!
Like, 90 blue ties: You can probably get a bulk order at Lowes for a discount?
–
Further reading: 2 Spill 2 Furious: Junkee Liveblogs The Libspill
–