TV
'The Kettering Incident' Is Kinda Like 'Twin Peaks' In Tasmania, And It's Excellent
Australian Gothic that repositions 'Twin Peaks' to the arse-end of the world.
Television, if you believe the hype, is currently going through a golden age. An era of heightened creativity among a broadening landscape that has allowed for some of the finest filmed entertainments of all time to come our way through the device that not too long ago, was looked down upon. Its nickname was the idiot box, after all.
Naturally, it's hard for an industry like Australia's to keep up. Just like in film, Australian television content creators have to work twice as hard with a tenth as much for a micro percentage of the reward. We have less money, a smaller population, less networks and talent, and a government that doesn't exactly make it easy for artists to work as artists. But it's impossible to deny that some of that international acclaim hasn't rubbed off on local producers, writers, and directors. Especially when watching something like The Kettering Incident, an instantly fascinating slice of Australian Gothic that repositions Twin Peaks to the arse-end of the world and would be an impressive work of long-form drama no matter where it came from.
–
Aliens at the Arse-End of the World
Created, written, and produced by Tasmanian local Vicki Madden alongside Vincent Sheehan and featuring writing and directing credits for some of Australian film and TV great modern names like Cate Shortland, Tony Krawitz, Andrew Knight, and Rowan Woods, The Kettering Incident is probably the most confident and instantly impactful work of Aussie television in years.
Having previewed the first three episodes of this eight-part mini-series, I am hooked on the story of Dr Anna Macy (The Great Gatsby and The Night Manager's Elizabeth Debicki) who returns to her home town in Tasmania where she was once blamed for the disappearance of a young girl that she suggested was an alien abduction. It's not too long after her out-of-the-blue return that another young girl goes missing and suspicion immediately mounts on the emotionally damaged Anna, who again begins to suspect otherworldly foul play after noticing lights in the forest and peculiar ailments in some of the locals.
Madden and Sheehan were inspired by the same statistic as Wolf Creek's Greg McLean: 35,000 people are reported missing in Australia. That's one every 15 minutes. Much like the two Wolf Creek movies and the recent TV series capitalised on the unnerving and unending expanse of the desert, Kettering capitalises on Tasmania's visually rich yet haunted landscape to full effect. Haunted as it is by the ghosts of aboriginal genocide, as well as the slow 21st century death at the hands of a dwindling forestry industry, there is a claustrophobic darkness here that ought to set viewers on edge despite the absence of anything we would consider horror. As Anna slowly pieces together what happened to her and to the missing girls, the show becomes surprisingly complex in its examination of modern Australia as human tragedy. Unease at a changing nation (green protesters figure prominently), and fear of the unknown other clash and threaten to implode, sucking everybody down with it.
–
No Black Coffee and Cherry Pie Here
Even from the description, it's easy to spot how indebted The Kettering Incident is to the world of David Lynch and Mark Frost's iconic, pioneering Twin Peaks. While stripped of that soon-to-be-revived '90s series' soap opera, quirky humour, and self-consciously stylised camp aesthetic, the Australian mini-series should appeal to fans who were hooked by the murder mystery of Laura Palmer, its oft cryptic, surreal, and serious take on the mysteries of the universe, and its chilly, small logging town milieu where everybody has secrets to hide (typically involving sex and/or drugs) and nobody can be trusted.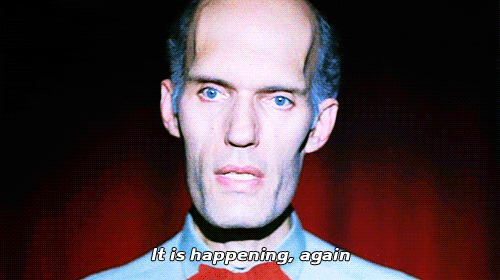 Keen fans of Twin Peaks will even be able to spot direct visual and dialogue references to the show. If somebody had enough time on their hand to interlace Twin Peaks' famous ethereal synthesised music over the top of Kettering's foggy, green and grey-hued imagery, the two would no doubt sync up perfectly.
With shades of other Twin Peaks imitators like The X-Files, and the less-kooky parts of Bates Motel, this Australian concoction is the best advertisement yet that 2017 is a perfect time to reboot of Lynch's series, yet remains fascinating and full of its own surprises (including a recurring use of "Crimson and Clover" that puts it into an entirely new light).
–
The Revival of the Aussie Mini-Series
Speaking of revivals, the mini-series was once a proud beacon among a local TV industry that struggled for prestige beyond Police Rescue and GP. And while the free-to-air commercial networks are still content to produce critically dubious ratings magnets like Molly and The House of Hancock that look like Lifetime movies and sensationalised true-crime investigations like Catching Milat, elsewhere Aussie TV makers have hit a world-class groove once more, taking advantage of the industry's global expansion and advances in streaming to produce an onslaught of drama series that can hold a candle to the rest of the world with short-form series like The Code on the ABC, Secret City and The Devil's Playground on Foxtel, and Wolf Creek on Stan. Even the excellent 1995 two-parter Blue Murder is coming back for a sequel.
The one that The Kettering Incident will most likely remind viewers of is Jane Campion's exceptional Top of the Lake. That series, also an Australia/UK co-production, also just happened to also be about the unveiling of secrets amid a small antipodean town (this time in New Zealand). A sequel is currently being filmed starring Elisabeth Moss and Nicole Kidman.
Kidman, of course, was once the darling of the Australian mini-series, having appeared in two of the highest profile: Vietnam and Bangkok Hilton. It's a sign that Australian TV has reached a point of international strength that stars like Kidman and Debicki – not to mention Jacki Weaver in Secret City, Guy Pearce in Jack Irish, Toni Collette in The Devil's Playground and more – are signing on with recurring frequency to star in these local offerings.
The prestige of the Australian mini-series is back, it's just that the rest of the world has caught up. The Kettering Incident is one of the very best yet and a must watch.
–
The Kettering Incident premieres tonight on Foxtel Showcase.