TV
It's Not Too Late To Watch: 'The Good Wife'
'The Good Wife' is not just a lawyerly show about lawyerly people. It's perfect television.
When The Good Wife debuted in 2009 it looked, frankly, like it was going to be pretty run of the mill and boring.
The posters showed lawyerly type people in lawyerly type places wearing lawyerly type clothes. We'd already had a popular show centred around a law firm (The Practice) and by then even the myriad Law & Order spin-offs were beginning to wind down. The genre was fatigued, I thought, with nothing much new to offer.
So I gave it a miss.
Cut to nine years later. Who knew you could blitz through 152 episodes in a matter of weeks? Turns out The Good Wife, while yes, is a lawyerly show about lawyerly people, is also a strange perfect storm of weirdness, drama, comedy, cameos and depressingly evergreen issues.
Here's why it's not too late to jump in and get altogether too invested in the trials (sorry) and tribulations of Florrick and Friends.
Before There Was Liza, We Had Alicia
After putting a promising law career on hold for fourteen years in order to get married and raise two kids, Alicia Florrick suddenly finds herself blinking, to the side of screen, as her politician husband apologises to the world for a double whammy corruption and sex scandal.
With him falling from grace (and landing in prison) it now falls to Alicia to support the family — and so she returns to work at a top Chicago law firm.
It's a weird thing to say perhaps, but one of the best things about this show (in addition to Christine Baranski and Alan Cumming) is how tidy and planned it is. The writers wanted it to go for seven seasons, and it did. This means that the show works not only on an episode-by-episode level, but that longer-term storylines get to have payoffs too (though there are one or two GAPING plot holes).
Each episode (with a few exceptions) focuses on a specific case, while in the background a whole bunch of epic relationship drama unfolds, explodes, gets tidied up, then explodes again. Drop by for the single episode with Christina Ricci as an offensive comedian! Did you enjoy the lads at the NSA storyline? Surprise! They're back!
Or stay for the whole star-crossed lovers thing, if that's your bag.
Feel Nostalgic For A Time In Your Recent Past
Prepare to feel weird because in terms of its content, The Good Wife manages to capture the zeitgeist without feeling out of date, while also reminding you of the promise the future… once held.
Later seasons just blatantly assume that Hillary is a shoo in for president ¯\_(ツ)_/¯ and one episode has everyone laughing about how silly Bitcoin is and how it will never amount to anything (ack, if only we'd known, maybe we could all be riding around on solid gold leopards by now).
The Good Wife also taps into concerns and (at the time) current events, many of which are still sadly relevant – including Black Lives Matter, issues of privacy, the lag between the law and the internet, police corruption, racial profiling, sexual harassment and the precursors to the #MeToo movement. They even have a pseudo-Snowden – and get real meta about referring to him as such.
Cameo City
Here are some images from The Good Wife you've probably seen in gif form, even if you have never once sat down to an episode:
Christine Baranski, best person playing the best character, doing a prolonged laugh.
Alicia in a lift. Alicia and some guy in a lift. Alicia having drinks. Alicia and friend having drinks.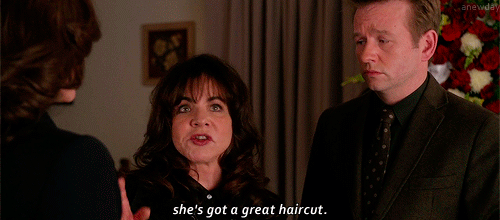 About two seasons in, I had one of those Connect The Crime Scene Images With Pieces Of Red String moments as snippets of pop culture references from all across the internet suddenly ~**made sense**~ and I twigged that they'd come from this show.
In addition to being a ridiculous cameo magnet (the list of impressive guest stars is too long to write out in full but includes Michael J. Fox, Mike Colter, Morena Baccarin, Christina Ricci, Amy Sedaris, America Ferrera, Matthew Perry etc etc) it also seems to be a better wrap up to Gilmore Girls than their actual reunion series was, with Matt Czuchry playing a lead, as well as Edward Herrmann and Kelly Bishop having recurring roles.
What You've Probably Osmosed
This is a show that has one of those episodes – the kind that makes it into top ten lists of episodes that stick with you. It happens in Season Five's 'Dramatics, Your Honour', showing how you can implode what viewers thought was a pillar holding up the show and still survive (and, debatably, even thrive).
It also has Chris Noth in fine form playing a douche – i.e. Alicia's husband, Peter. It has clothes that you would never wear but will still make you want to rob a bank to afford. And it has a love triangle that I was entirely indifferent about, but maybe that's just a problem with me.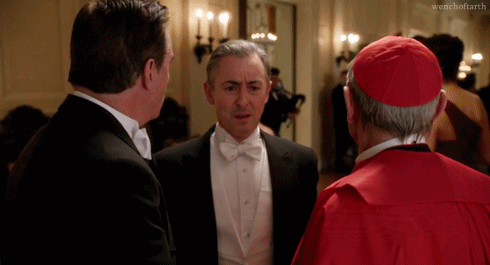 There's also good news if you do find yourself powering through all of it – it has a spin-off, aptly titled The Good Fight.
Where To Start
This is one where it's best to start at the beginning and just buckle in.
Sure, you can dip in and out purely for the cases, but there are so many personal dramas and mini plotlines that play out over multiple seasons, you'll find yourself scratching your head at how penguins are being used to beat an opposing lawyer in a later season, and feel like you're the only one not getting an in-joke if you haven't seen, say, the episode where we meet Colin Sweeney, (potential murderer) when he is referenced or appears in a later episode.
Where To Watch The Good Wife
All seven seasons are available on both Netflix and Stan.
—
Elizabeth Flux is a freelance writer and editor with a focus on film and pop culture. She previously edited Voiceworks magazine, and her work has been published in The Lifted Brow, Kill Your Darlings, Metro, Broadsheet and more. She tweets terrible puns @ElizabethFlux.