Life
The feels you'll understand if you're single on Valentine's Day
Whether you're recently single or have a few consistent years of being single on Valentine's Day, it's rarely a fun day for the solo among us. While you might be feeling sorry for yourself or experiencing the bitter feels at seeing rejoicing couples, it's also a day of celebration for singles – a day to celebrate the alternative unofficial holidays of Galentine's Day and Anti-Valentines Day. If you're single, this is the rollercoaster of emotions you'll probs feel today
Feeling salty that your bae Netflix is recommending romantic movies
If today was your day to avoid the outside world and all the messages of love everywhere, settling in with Netflix might not have been the best choice when you have special recommendations for Valentine's Day. While you don't mind the occasional cheesy rom-com to laugh at with friends, today is not the day to watch Valentine's Day or P.S I Love You when you're at home by yourself.
Instead, if you want to feel better about yourself, try watching the Netflix Original Michael Bolton's Big, Sexy Valentine's Day Special. Or maybe How To Be Single. They'll make you feel a whole lot better about being single today.
Even more annoying is the social media #humblebrags
No matter how hard you try, it seems like you can't avoid it. Even if you refuse to go outside and acknolwedge the annoying excuse for a holiday, you'll still see it if you're on social media. You've probs seen your Snapchat and Instagram flooded with photos of roses, chocolates and giant teddy bears (gross).
Even worse is if you had to actually go outside today and go to work – then you actually have to witness the annoying co-workers receiving their flowers. While all the coupled-up lovebirds try to out-brag each other with the thoughtful gifts they received, you have to awkwardly avoid the conversation.
Overwhelmed by the OTT pink and red decorations
Even if it has zero relevance, every shopping centre, store and general public areas will most likely get a bit of a sickening pink and red makeover for this one day of the year. You can't avoid the giant love hearts, cupids or pink lips today. The perk you can gain from this is some stores are having a Valentine's Day sale – that you can get on board with.
The feels of witnessing happy couple PDA…
Need we say more? If you're single and want to avoid seeing couples going OTT with PDA, you might want to stay clear of any romantic date spots. Thankfully, there's a solution. In response to the hype and popularity of Valentine's Day, you might find a few pubs and bars in your area are getting on board with an Anti-Valentine's Day themed party or event.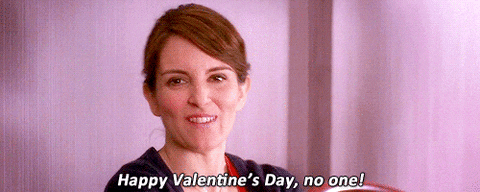 #Blessed if you have single gals to celebrate Galentine's Day with
Technically speaking, Galentine's Day is celebrated on February 13, as Leslie Knope was hoping it could be it's own national holiday. But if you are single on Valentine's Day, gather the single gals to celebrate your very special friendship love. The day doesn't have to be negative – unless, of course, you'd like to bring an Anti-Valentine piñata or an ex-boyfriend memories burning ritual to the occasion.