TV
The Australian Contestant For Eurovision Has Been Announced, And Twitter Is Not Happy About It
Big news.
On February 11, SBS made a huge announcement: for the first time ever, Australia got a wild card entry to compete in the Grand Final of the 2015 Eurovision Song Contest, to be broadcast in May.
It made no geographical sense, but that didn't seem to matter; the nation would wait with sparkle-spangled breath to find out who would be representing us in this grand and auspicious event.
Kylie Minogue ruled herself out, but backed Samantha Jade, and Anthony Callea also denied rumours. Jessica Mauboy was another hot contender (she performed during last year's intermission), Casey Donovan was in the running, Meg Washington hinted at her desire to be picked, and I imagine most editors around Australia received a similar text message from Brendan Maclean:
This morning, each nation announces their contestant — and, at a press conference held at the Sydney Opera House, SBS Eurovision hosts Julia Zemiro and Sam Pang, along with SBS Managing Director Michael Ebeid and director of Blink TV Paul Clarke,  announced ours: Former Australian Idol winner, former X Factor host and ham-about-town, Guy Sebastian.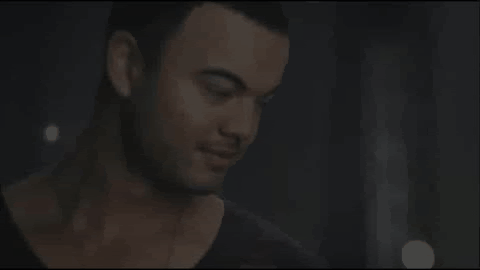 According to Clarke, the selection panel only had a few weeks notice to pick our representative, so opened submissions up to anyone who had a song written after September 2014, approaching major labels too. "We were offered some very interesting people, but I think everyone will be really delighted with the outcome today."
"I was pumped — I mean it's Eurovision," Sebastian said at the conference. "It's not every day you get to perform in front of that kind of audience. 200 million!" He's not yet sure what song he'll be bringing: "I can't sing something that's been released prior to September, so it doesn't leave me with a lot! Something off my album that I haven't previously released a single of, which narrows it down a little bit, or I could write something in the next few days," he said. "I want it to be epic … I want it to represent us as a nation well, and be fun, or emotional. Either be super fun, or a big ballad that showcases my voice. I don't want to fall between."
Unfortunately, Twitter isn't as happy.
#BREAKING NORTHERN TERRITORY IS SECEDING FROM AUSTRALIA AFTER GUY SEBASTIAN WAS ANNOUNCED AS EUROVISION ENTRANT

— The NT News (@TheNTNews) March 4, 2015
Guy Sebastian? What is @SBS trying to ensure that Australia never gets invited back to #Eurovision, @michaelebeid?

— Kate Doak (@katedoak) March 4, 2015
GUY SEBASTIAN! This is an outrage #Eurovision

— Elle Hunt (@mlle_elle) March 4, 2015
Guy Sebastian to be Australia's #eurovision entrant. Can I just check is it still 2003?

— Nic Christensen (@nicchristensen) March 4, 2015
Now Australia knows how it feels to be embarrassed by a lame, mediocre entry repping us at #Eurovision. Before, we just felt schadenfreude.

— Mel Campbell (@incrediblemelk) March 4, 2015
Eurovision 2015 will take place on May 19, 21 and 23 in Vienna, Austria, following Conchita Wurst's win last year. It will be broadcast on SBS.