TV
Top Ten New TV Shows We're Looking Forward To In 2015
2014 was a great year for TV. This year looks set to be better.
How are your eyeballs? With the down-time that comes over the New Year's break, you've got little excuse for not having stuffed them full of the new favourites (True Detective, Transparent, Broad City) and returning gems (The Americans, Please Like Me, Orange is the New Black) that filled screens last year.
Maybe you were planning to give them a little detox break; to look at whatever the visual equivalent of green juice is (it is probably just a picture of green juice). Alas, alack, television doesn't care about your fat and weary eyebs, your stretched lids and wilting lashes. What with the internet working out how to make quality content, there is no stopping the deluge.
So open wide and binge on local political sitcoms, gritty superhero tales, goofball apocalypses and razor sharp media satires, and more. Here are the ten new shows we're most excited about this year.
–
Better Call Saul
Star Talent: Vince Gilligan (creator of Breaking Bad), Bob Odenkirk (Breaking Bad, Mr Show), Michael McKean (Spinal Tap, Best in Show)
USA Release: AMC; February 8 (coming soon to Stan Australia)
This is the show with the most promise, and the biggest chance to flop. Spinning off crooked lawyer Saul Goodman from Breaking Bad, it's set in the past, and has a slightly lighter tone than its predecessor. While we're all for taking a break from the glowers and gunfire of Walter White's now finished tale, will the series' primary source of comic relief be able to anchor a whole show? Will case-of-the-week tales feed the masses who are hungry for another propulsive long-burner like BB?
With competent fixer Mike (Jonathan Banks) and Saul's brother (Michael McKean) along for the ride, this might just end up the bumbling noir take on Grumpy Old Men we never knew we needed.
Tune In: If you're hankering for more Breaking Bad. (And who knows: while Walt and Jesse aren't showing up for season one, maybe Hank will?)
–
Marvel's Daredevil
Star Talent: Marvel Studios (potentially all the entertainment you'll be absorbing in the future if they continue multi-platform dominance), Vincent D'onofrio (Full Metal Jacket, the upcoming Jurassic World), Rosario Dawson (Sin City, Deathproof)
Release: Netflix; April 10
Banish thoughts of a rubber suited Ben Affleck from your mind! Marvel promises that this take on Daredevil — a blind, acrobatic ninja lawyer with heightened senses (yep, comic books are silly) — will be dark, gritty and realistic, in the vein of The Wire.
It's the first of Netflix's five Marvel series to be released over the next couple of years, and while ostensibly taking place in the same universe as The Avengers and Guardians of the Galaxy, it promises a more street-level take on super heroics.
We're excited to see Vincent D'onofrio as the classic gargantuan gangster Kingpin, and if the series is anything like this (unaffiliated, but tonally on=point) trailer that film-maker Joe Carnahan made a couple of years ago, it could be more exciting than the current crop of small-screen super heroes.
Tune In: To see whether Marvel can create some unique product.
–
Unbreakable Kimmy Schmidt
Star Talent: Tina Fey (30 Rock, Saturday Night Live), Ellie Kemper (The Office [US edition])
Release: Netflix; March 6
This is the first series from Tina Fey and her 30 Rock production and writing partner, Robert Carlock. It stars the irrepressible Ellie Kemper — who is ditzily perfect in everything she does — as a woman who is rescued from a cult, and arrives in New York City. You can probably expect some gee-shucks naïveté, which will be met and tempered by another 30 Rock alum, Jane Krakowski, as an Upper West Side mother who hires Kimmy.
The series will play on Netflix, where it landed after being rejected by NBC, the network that commissioned it. What does this little bit of insider baseball gossip mean? Only that the show no longer has 22-minute parameters — so look to see it progress through the first and already-commissioned second season, into something a little more interesting than your standard sitcom.
Tune In: To see something that might just resemble an episode of 30 Rock, if Kenneth's sister came to town and hung out with Jenna's more with-it twin.
–
Wolf Hall
Star Power: Hillary Mantel (Man Booker Prize winner), Damien Lewis (Homeland)
UK Release: BBC2; later this year
English author Hillary Mantel's multi-award winning series did for historical fiction what the A Song Of Ice And Fire series did for fantasy, opening it up the genre to new audiences and critical acclaim. We'll see whether the BBC adaptation can find a similar fan base as HBO's Game of Thrones — although it's hard not to notice the difference that a few million in pay cable dollars can do for your ye olde sets, costumes and lighting).
Despite its slightly shabby appearance, the mini series is working with the themes that modern-day TV is built on: power struggles, greed, and back room deals abound as Thomas Cromwell, a lower class schemer, moves his way up the ladder in Henry VIII's court.
Damien Lewis plays Henry, and every English actor that's not already decked out in a doublet and ruffles in Westeros will undoubtedly stop by for a bit of "thee-ing" and "thou-ing" in Wolf Hall. Should be fun!
Tune In: If you love GoT's plots and schemes, but tune out whenever the dragons show up.
–
The Ex-P.M.
Star Talent: Shaun Micallef (Mad as Hell, The Micallef P(r)ogram(me))
Release: ABC; later this year
Shaun Micallef will once again attempt that elusive Golden Fleece of local broadcasting: the Australian sitcom.
In The Ex-P.M, Micallef takes the titular role as a past Prime Minister with time on his hands and a legacy to bolster (or maybe ruin, depending on how cynical the humour in the show turns out to be). With politics currently a laugh-until-you-cry (or cry-until-you-laugh?) business in Australia these days, it seems ripe and ready to be skewered on a weekly basis, in sitcom format. It's working for Veep right now, anyway.
Is it too much to ask for Micallef regular Roz Hammond to show up as an Annabelle Crabb-like figure? It's been ages since we've seen Shaun make blunder-filled mayhem in the kitchen.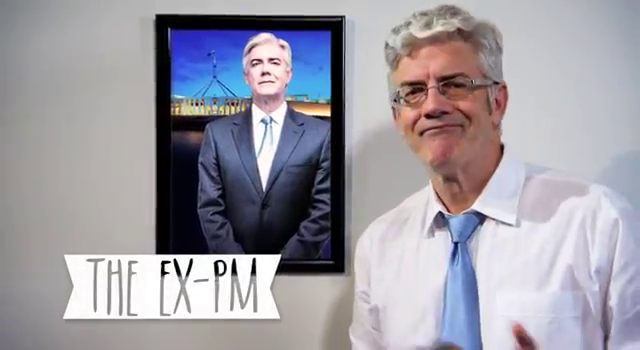 Tune In: If you've ever wondered what Paul Keating does to fill his days, and hoped that it was some humorous boggle-eyed lunacy.
–
Grace and Frankie
Star Talent: Lily Tomlin (The West Wing, I Heart Huckabees), Jane Fonda (The Newsroom, Barbarella), Martin Sheen (The West Wing, The Departed), Sam Waterson (The Newsroom, Law and Order)
Release: Netflix; May 8
Seemingly taking the best elderly actors from Aaron Sorkin programs, Grace and Frankie is a comedy about two old friends who announce their long-time affair to their families. Martin Sheen and Sam Waterson play the lovers, and Lily Tomlin and Jane Fonda are the frenemy wives who get thrown together in the aftermath.
Adorably, Fonda and Tomlin appear to have remained close friends since filming 9 to 5 in 1980, making them the Fey/Poehler of the elder generation. Maybe your parents will want help setting up a tumblr to capture all the cute gifs of them hanging out and squabbling on the show?
Netflix, who brought us the every-walk-of-life cast of Orange is the New Black, seems committed to diversity in its programming – exploring the love lives of characters over 50 is rare, rarer still when they're same sex couples. The increasingly queer friendly TV landscape looks to expend even further.
Tune In: If you've reached the level of maturity where you think it's actually totally cool if your grandparents are still getting some.
–
The Last Man On Earth
Star Talent: Chris Miller and Phil Lord (The Lego Movie, 21 Jump St, Cloudy with a Chance of Meatballs), Will Forte (Saturday Night Live, Nebraska)
US Release: Fox; March 1
Created by that VIP comedy team of Chris Miller and Phil Lord, this sitcom seems to make no sense.
Will Forte is the last man on Earth. He wanders around. Somehow, perhaps via flashback, he encounters Mad Men's January Jones and Bob's Burgers' Kristen Schall. There's been no word yet on whether the show lives up to the title, or if it's just a gimmick to get us watching, but Forte should deliver some trademark weirdness.
Beyond that, people who can make flat-out hilarious feature films from old TV shows and building blocks deserve at least one episode's worth of attention.
Tune in: If your favourite scenes from MacGruber were the ones when Forte was alone onscreen.
–
Babylon
Star Talent: Danny Boyle (Slumdog Millionaire, Trainspotting), Brit Marling (Another Earth), James Nesbitt (The Hobbit: An Unexpected Journey, The Missing)
Release: BBC; the first season has played in the UK, and is currently screening in the US
Directed by Danny Boyle, Babylon's pilot was seen by a lucky few last year at the Melbourne International Film Festival, back when it was simply a stand-alone film. It's now been expanded into a full six-part series, and looks to be a dark and daring investigation of the intersection of media and the police. With laughs.
After delivering a TED talk on transparency and social media, Brit Marling's American character is hired by the British police department to improve their image. It turns out that maybe filming and broadcasting everything they do isn't quite the answer. James Nesbitt looks to be a bundle of enraged sarcasm, but you'd expect no less from a show made by the creators of The Thick Of It – and having the writers of Peep Show on board should mean some interesting ideas on observation and unreliable narrators are thrown into the crime and politics mix.
Tune in: If you loved the darkly comedic cynacism of Black Mirror, but were like "I wish some of this terrible stuff were happening right now".
–
Maximum Choppage
Star Talent: Lawrence Leung (Offsring, Lawrence Leung's Unbelievable).
Release: ABC2, early this year.
Sydney-based comedian Lawrence Leung's new comedy on ABC2 looks to have it all. Action. Kung Fu. Karaoke. The fear of disappointing one's parents when they think you are destined to save the world, but really you just graduated from art school and don't know what to do.
Set in Cabramatta and promising different genre riffs with each episode, Maximum Choppage seems a little like the fan-favourite blow out episodes of Community, or a Scott Pilgrim were it set in Sydney's outer west. With karaoke.
Tune in: If you've ever driven through your old home suburb and thought that what the place needed was maybe a few slow-mo martial arts scenes.
–
True Detective Season Two
Star Talent: Nic Pizzolatto (True Detective), Colin Farrell (In Bruges), Taylor Kitsch (Friday Night Lights, Battleship), Rachel McAdams (Mean Girls, The Notebook), Vince Vaughn (Wedding Crashers, Mr and Mrs Smith).
Release: HBO and Showcase, later this year.
This one's a cheat – you're right, it's not a new show. But with a new cast, plot, and director, plus writer Nik Pizzolatto having seemingly heard some of the feminist criticism levelled at him, it'll be worth checking in on the new iteration. And if it is anything like last year, 'checking in' will lead to insane deep dives on Wikipedia and one hundred what-might-happen articles online.
Will Colin Farrell's Irish garble make philosophical nonsense sound as poetic as McConaughey's Texan drawl? Can Taylor 'Riggins' Kitsch recapture some of his early career buzz? Will Vince Vaughn deliver something closer to Swingers, or Fred Claus? Will Rachel McAdams get something to do?
We're excited to see whether the Chinatown-esque plot includes any Southern bayou boogey-men, and just how deep down the rabbit hole of transport conspiracies and ambient psychospheres the show will send us this year.
Tune in: If you've finished reading all the extra articles on Serial and need the 'obsession' slot in your life filled.
–
Matt Roden helps kids tell stories at the Sydney Story Factory, and co-hosts FBi Radio's film & TV show, Short Cuts, at 10am each Saturday. His illustration and design work can be seen here.
Feature image by Matt Roden.