Culture
Students Protesting Christopher Pyne's University Reforms Have Been Pepper Sprayed By Police In Sydney
Not great.
Education Minister Christopher Pyne is no stranger to student protests; his proposed deregulation of university fees has sparked a series of highly-publicised actions designed to garner opposition to the reforms, including the now-famous Q&A interruption that made his face do these things:
–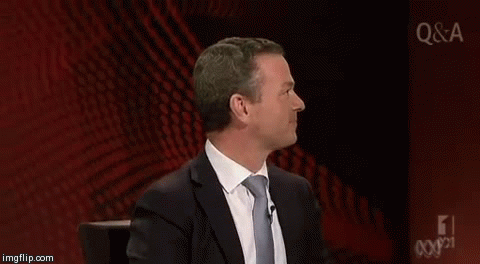 Earlier this morning Pyne was due to give the inaugural Hedley Beare Memorial Lecture, hosted by education peak body ACEL Australia, at the Sydney Masonic Centre in the CBD. About 40 students from various groups opposed to uni fee deregulation were there to meet him, and tried to enter the building.
#hedleylecture #acelchat Pyne: It is fitting to launch the Govt response to TEMAG at ACEL event! pic.twitter.com/zXhfB84edu

— ACEL (@acelaustralia) February 13, 2015
Police responded with pepper spray, resulting in a number of students being treated on-site by paramedics. The ABC has released video of the incident.
STUDENTS PEPPER SPRAYED AT #ACELCHAT #HEDLEYLECTURE pic.twitter.com/Gt6QfWL4I7

— rafiiiii (@rafialarm) February 13, 2015
Students trying to enter the Sydney Masonic centre where Christopher Pyne is speaking say they were pepper sprayed pic.twitter.com/Me0ey0C6cc

— Rebecca Barrett (@becjbarr) February 13, 2015
BREAKING: Police have used tear gas on students during a protest against Pyne's education reforms this morning pic.twitter.com/1NxRVjSr2c

— Honi Soit (@honi_soit) February 13, 2015
"We were having a demonstration near the car entrance to the building, about half an hour of speakers — I spoke," said UNSW SRC president Billy Bruffey. "When Christopher Pyne snuck in a side door on Castlereagh Street we walked in, and were confronted by an Inspector of NSW Police. We tried to push through but they blocked the entrance. The Inspector told us to 'get back,' and when we wouldn't he yelled 'get back, get back,' pulled out his pepper spray and used it on maybe five of us. I got hit on my shoulder and shirt, and then I inhaled it."
"This is the first protest I've been to where police used their mace against protesters. No one was being threatening towards officers, it was an open space; he just used it to clear us from the area," Bruffey said. NSW Police have not yet released a statement on the incident.
–
Feature image via Rebecca Barrett/Twitter.