TV
Christopher Pyne Deploys Entire Arsenal Of Smug Facial Expressions During #QandA Protest
Katie Noonan sent in from the sidelines to calm the tension.
When Education Minister Christopher Pyne is on the Q&A panel, you know it's going to be a good show. And by good, I mean insufferably smug.
In last night's episode he was joined by former Speaker of the House and Labor MP Anna Burke; migration lawyer and social justice advocate Pallavi Sinha; John Roskam, the executive director of right wing think-tank the Institute of Public Affairs; and Mark Trevorrow, aka comedian Bob Downe.
Of course I'll be trying singlehandedly to bring down the Abbott Govt tonight on #QandA but forgive me if I don't quite pull it off.

— Mark Trevorrow (@BobDowne4Real) May 5, 2014
After Pyne fielded a few questions about education funding and deregulation, Tom Harman, an audience member who identified himself as a member of the Socialist Alternative and the Education Action Group of Macquarie University, took the floor. "You've favourably spoken of deregulation of universities along US lines, in terms of setting the sector free. As a student this proposal worries me, because student debt in the USA totals over $1 trillion, and the president there has described it as an economic crisis."
Here, he brought up the Commission of Audit, and pretended to spit. "Wouldn't you agree that emulating the American model rather than freeing students would limit access to education for the poor and disadvantage?"
"Well I haven't said that we should have a system like the United States," Pyne countered.
"Well you have. That's a lie. I'm actually quoting here," the questioner quipped, countering Pyne's smug with a bit of his own:
"Well it's not a lie. Actually," Pyne whined.
"Well you can tell that to the SMH," the questioner retorted.
"Why don't we let the Minister answer the question," Tony Jones scolded.
"Well, can he do that?" provoked the questioner.
"Well I haven't actually been given an opportunity," Pyne snarked.
"Well go on," the student said, butter-wouldn't-melt. "I'm giving you the opportunity."
Christopher Pyne's face did this:
The audience was already getting rowdy as Tony Jones threw to the next question. Mr Pyne was addressed by Ridah Hassan, who identified herself as Education Officer of Sydney University's SRC.
It was the second question in a row from a member of the Socialist Alternative.
This is unfair on Pyne because the socialists are disguised as ordinary people. #qanda

— Ben Cubby (@bencubby) May 5, 2014
"An overwhelming number of students at Sydney Uni and the rest of the Group of Eight – the top 8 universities – come from wealthy private school backgrounds," began Hassan. "How can you defend the deregulation of fees turning universities more into business than providers of education for all. Because I truly believe education should be for all, and not just for the rich."
After Tony Jones deflected the question to Anna Burke, a banner unfurled behind her head. The banner was facing the wrong way as it dropped, eliciting yet more smugness from the Minister of Smug.
"IT'S ROUND THE WRONG WAY" he laughed smugly in poor Bob Downe's face.
"No cuts / No fees / No corporate universities" the protesters chanted, as Tony Jones turned to face them with his hand on his hip, scowling like a disappointed dad. "Okay guys, you're doing yourselves no favours."
If anyone is left alive now reading this, the revolution has begun and it started in Ultimo. #qanda — Joe Hildebrand (@Joe_Hildebrand) May 5, 2014
The camera continued to linger on Pyne, whose face was struggling to reach an equilibrium with itself.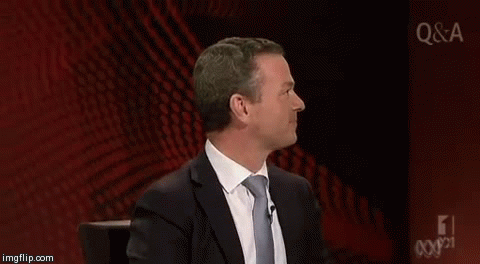 "Chris Pyne get out / We know what you're all about / Cuts, job losses / Money for the bosses," the protesters continued.
THE YOOF ARE REBELLING #qanda

— Julia Baird (@bairdjulia) May 5, 2014
"Does this mean you won't have me again?" he laughed.
The protest continued for an awkward amount of time.
"Katie Noonan?", Tony Jones shrugged.
And so they cut to a clip of Katie Noonan singing Gotye's 'Heart's A Mess': the calmest cover the world has ever known. As the audience swooned to her honey-like swells, the protesters were thrown out of the building.
This is a nice question from Katie Noonan. #qanda

— Simon (@simonnicholson) May 5, 2014
"That is not what we want to happen on this program, that is not what democracy is all about and those students should understand that," Tony Jones said, after the live broadcast resumed.
But Twitter was not so sure.
Democracy (noun): Political system where Tony Jones never loses control of his #qanda studio audience. — Dr_Tad (@Dr_Tad) May 5, 2014
Weird notion of democracy, TJ. #qanda

— ABC News Intern (@ABCnewsIntern) May 5, 2014
Watch the protest below, or the (very abridged) episode on iView.