Culture
Some Poor American Bloke Named Peter Dutton Is Getting OUR Peter Dutton's Hate Mail On Twitter
Pictured: Peter Dutton. Also pictured: Peter Dutton.
[Update May 19, 2016]: Immigration Minister Peter Dutton is now copping deserved heat for saying refugees "won't be numerate or literate in their own language, let alone English" and will somehow both abuse the welfare system and take Australian jobs. It's another weird day for US Peter Dutton:
@myfuturesuper @smh I say illiterate Australians can't be bothered to write the correct Twitter address.

— peterdutton (@peterdutton) May 18, 2016
–
[Update, January 5, 2016]: With Peter Dutton under fire for his "mad fucking witch" text to Samantha Maiden, Peter Duttons around the world are again fielding misdirected tweets from enraged Australians. Given that, we're reposting this as a friendly reminder to check before you tweet, or better yet, never tweet at all.
–
Unless you're that Liberal MP who's terrified of glitter bombs, there's probably no one in Parliament who's more reluctant to answer their fan mail than the Minister for Immigration, Border Protection and Looking Like a Baby Peter Dutton.
Fortunately for him, some sucker in New York City is doing it for him.
@jillethelmurray Why would you not belive it? I'm just some guy from NYC.

— peterdutton (@peterdutton) August 31, 2015
@TerryWalls7 I'm not safe from confused Australians… — peterdutton (@peterdutton) March 20, 2015
New York-based photographer Peter Dutton — who has incredible patience — has been copping flak for being an Australian MP for months, and has largely taken it in good humour.
But his Twitter feed reads like a man slowly falling into a pit of despair, as Australians continue to heap dozens of tweets a week on him.
@peterdutton haha wrong guy – sorry – should be the Australian MP sending refugees home to death

— I have a room (@aroom4myfriend) February 23, 2015
@shamaroo @MGliksmanMDPhD Wrong guy. Out, out you demons of stupidity, indeed. — peterdutton (@peterdutton) February 19, 2015
@peterdutton Sorry! My bad. pic.twitter.com/Ctpt6gJ80L

— David Scott Aubrey (@davidakaclean) September 3, 2015
Among his many haters are tweets directed to him by GetUp, the ABC, and that weird new propaganda wing of the Labor Party, the Labor Herald. At one stage the desperate New Yorker even tried starting his own hashtag, #youhavethewrongguy, but it didn't work. He's probably better off just legally changing his name rather than expecting the internet to ever change its habits.
@amworldtodaypm @unanoble Leave me alone. You have the wrong guy. — peterdutton (@peterdutton) August 31, 2015
@rranwa @amworldtodaypm @susanamet No, you go. #youhavethewrongguy

— peterdutton (@peterdutton) August 31, 2015
American Peter Dutton told Junkee the REAL Minister for Immigration has contacted him and told him not to bother passing on the fan mail.
"He was very nice to me, so of course I have nothing against him. Plus he has an awesome name," said American Dutton.
So the Minister who nearly invaded Melbourne has left a better impression on this guy than everyday Australians. Think on your sins, Australia.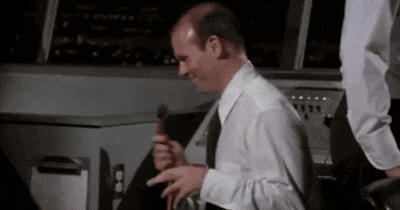 –
Jake Evans is a writer, Sydneysider and a Hemingway obsessive. He can be found amongst the #qanda trails, and at @jcobevans