Film
The 16 Best Films Of 2016
The best one-liner of the year: "Wouldst thou like to live deliciously?"
Back in July, I offered my favourite ten films of the year so far. Now we're staggering to 2016's finishing line like Leonardo DiCaprio in The Revenant, ravaged by the year's harshness but seeking vengeance for its wrongs.
In a world now run by "bad hombres", at least we had The Nice Guys. (We'll always have Brooklyn.) And decaying morality looks glamorous in such sleek parables as Ben Wheatley's High-Rise, Nicolas Winding Refn's The Neon Demon and Tom Ford's Nocturnal Animals.
American studio comedy continued to disappoint, but its dreary attempts to depict zany hedonism were at least partly offset by the unexpectedly funny and feminist Bad Neighbours 2. Meanwhile, Deadpool remains the best of this year's superhero films.
But now to my favourites, beginning with what, for me, was the standout film of 2016…
---
American Honey
The salesperson is the avatar of American capitalism, from the worn-out hucksters in Death of a Salesman and Glengarry Glen Ross to last year's home-shopping bauble Joy and this year's fox-in-the-henhouse parable The Founder. But while Hollywood obsesses over self-made success and spectacular hubris, foreign observer Andrea Arnold captures the sweetness of more modest American dreams: to "make money, get turnt" and "find love in a hopeless place".
A musical fantasy spun from post-industrial detritus, American Honey is powerfully gestural, unfolding in a dance between nature and human industry. It tests the boundaries of realism in a way that leaves self-conscious genre throwbacks like La La Land for dead, effortlessly capturing the way everyday experience becomes a music video when your favourite songs come on. Arnold uses music the way her young characters do: to open up euphoric possibility and to capture the swagger and swoon of desire and belonging.
---
Sing Street
I'm realising now that many of my favourite films this year have been about that sweet spot where fantasy meets reality, and where striving is more beautiful and pleasurable than actual success. When I reviewed this film, I said that "something of the real world hovers around Sing Street in a way that feels wistful: as if the characters can recognise they're fantasising but have made a defiant decision to go with it, as if they can outrun disappointment."
Sing Street's dorkiness is precisely what makes it so delightful. "Rock'n'roll is a risk," says Conor's older brother and mentor, Brendan. "You risk being laughed at." Because writer-director John Carney never tries to be cool, Sing Street is gentle and empathetic. It reminds us that while we've all been teen tryhards like Conor, we can still aspire to the fearlessness with which he reaches out to others and experiments with who he wants to be. And the soundtrack is one of the year's best.
---
The Witch
We're in a renaissance of folk horror: films that explore the demons and witches conjured when ordinary people succumb to superstition and paranoia. While Anna Biller's wonderfully sly The Love Witch mined the tropes of this genre's '60s and '70s heyday to suggest that sexualised hyper-femininity leads only to murderous disappointment, The Witch's Robert Eggers offers a different genre subversion by treating his 17th-century New England folktale with unwavering historical realism.
Eggers offers no refuge in irony or allegory, making this story truly unsettling in the way of the best horror films. Jarin Blaschke's digital cinematography in ambient lighting is just as evocative as Emmanuel Lubezki's more lauded work on The Revenant, and The Witch features mesmerising performances and the one-liner of the year in Black Phillip's "Wouldst thou like to live deliciously?"
---
Carol
Even leaving aside its political urgency, Todd Haynes' romantic drama is exquisitely composed and impeccably acted. Appropriately for a film whose protagonist, Therese (Rooney Mara), is a photographer, it's stuffed with memorable, emotionally charged images that aren't sharp and shouty, but instead unfurl into the spaces of everyday life like sighs.
Because the eye has to travel, there's an almost overwhelming abundance of beauty, thanks to production designer Judy Becker and costume designer Sandy Powell. And so many shots involve windows and mirrors: spaces in which we become visible, and gaze at ourselves and others. This is cinema at its purest and most seductive.
---
Sunset Song
It's a measure of this film's meditative power that when you tell people the plot – basically, "everything miserable that can happen to Scottish farm girl Chris Guthrie (Agyness Deyn) happens" – it seems like the worst film ever. I've previously championed the unlikely appeal of grim movies, but Sunset Song isn't luminous because of its grimness; rather, it celebrates the transcendent possibilities of nature, which defies human cruelties.
Chris is nourished by the shifting moods of her gorgeous homeland, and director Terence Davies paints Scotland's fields and forests with the same expressionistic zest of Mike Leigh's wonderful Mr Turner – but where Leigh finds wry humour, Davies finds romantic sorrow. Chris's rapturous response to the titular sunset song – played on bagpipes, on the hill above her – became the film's promotional image because it looks like a prayer. Pain eases, and loveliness endures.
---
Paterson
Another wonderfully meditative film. I was worried Jim Jarmusch's drama would be too slow and deliberately abstruse, like previous Jarmusch films I haven't enjoyed. But Paterson is a quiet delight, a manifesto for the joys of everyday creativity. It's fascinated by rhythms of daily repetition and by twins, couples and copies, suggesting that each day generates new ideas, new observations, and different ways to be. And like Sunset Song, it champions place and belonging.
Adam Driver and Golshifteh Farahani are beautifully cast as a couple who initially appear mismatched – he's a laconic bus driver and private poet; she's a restless dilettante who crafts in black and white – but who understand and complement one another perfectly. I could have watched several weeks of Paterson's life, and listened to Driver recite poetry all day. If you're ever worried your work doesn't matter, this film is balm for the soul.
---
Hunt for the Wilderpeople
Taika Waititi's rollicking adventure is kids' moviemaking at its best. Waititi should have adapted The BFG, not Spielberg, because he gets that kids love to mix the dark and profane with the flat-out silly. Wilderpeople doesn't shy from loss and abandonment, and its sentimental moments are honest and well earned. I was singing 'Trifecta' (aka Ricky Baker's birthday song) for days afterwards.
Julian Dennison and Sam Neill are adorable as mismatched travelling companions, but for me the MVP is Rachel House as Paula the social worker, who rivals Tommy Lee Jones in The Fugitive (or, indeed, the Terminator) in her maniacal dedication to duty. God, I laughed my head off at this. Why are Australian comedies so bad?
---
Goldstone
The year's best Australian film. Ivan Sen seems to be crafting his answer to Mad Max in Detective Jay Swan (Aaron Pedersen): an enigmatic cop whose own damaged past is inextricable from the desert crime and corruption he's trying to take down. As an Indigenous policeman, Swan moves restlessly between two worlds: never quite at home anywhere, but ever alert to suffering and disempowerment.
Sen's striking visual language is as recognisable as Dr George Miller's. In Goldstone he revisits imagery I remember from 2013's Mystery Road: figures silhouetted against sunsets; birdseye views of cars navigating dusty roads; gun battles from high ridges; grotesque, kitsch interiors. Goldstone is often blunt and coarse, yet it's full of enigmatic, dreamlike moments and lyrical landscapes. It left me hungry for many more movies about Swan's self-redemptive outback justice.
---
Love and Friendship
Whit Stillman's films already have the satirical fizz of Jane Austen's fiction, so it was nothing short of delightful to watch him expertly adapt her early (and more vicious) epistolary novella Lady Susan into this deadpan screwball comedy, with a wickedly committed lead performance by Kate Beckinsale.
Austen adaptations can choke on their own picturesqueness, but Love and Friendship is refreshingly silly. Tom Bennett had me shrieking with laughter every time he appeared onscreen as jolly simpleton Sir James Martin. This isn't quite the same 'comfort viewing' as, say, the BBC's Pride and Prejudice, but it remains one of those rare, satisfying films in which every character gets precisely what they deserve.
---
Hail, Caesar!
While genre pastiche is Joel and Ethan Coen's key working method, this delightful collection of vignettes and McGuffins will never please those who prefer the Coens in grim and mordant mood. Perhaps in years to come, Hail, Caesar! won't be seen as one of their 'great' films. But it is a great commentary on the way cinema uses sensory pleasure as a mechanism to deliver ideology.
Hail, Caesar! is meltingly pleasurable to watch. The backstage action at Capitol Pictures both blurs into and exposes as false the emotional textures of the films being made: hard-edged noir; charming song-and-dance setpieces; drawing-room farce; self-righteous religious epiphany. This film conveys complex and ugly ideas of capitalist exploitation and socialist hypocrisy in ways that appear simple and joyful. That's showbusiness, and there's no business like it.
---
The Handmaiden
2016 was a great year for visual verve in film, and Park Chan-wook is one of world cinema's most accomplished stylists. It's important to emphasise, however, that his style never becomes self-indulgent in the way of, say, Nicolas Winding Refn – it always tells the story. Here, his focus on the distinction between looking and touching, between intellect and sensuality, animates a plot line that pivots on erotic deception and a radical twist that reconfigures what we've just seen.
Having adored Sarah Waters' novel Fingersmith, I was curious how Park would transpose its 19th-century English setting to 1930s Korea. But the layers of class that Waters delicately peeled away are intelligently likened here to Japanese cultural imperialism. It's an imaginative adaptation that creates its own unforgettable imagery of gothic eroticism.
---
Elle
In the wonderfully poised Isabelle Huppert, veteran provocateur Paul Verhoeven found an ideal co-conspirator for this ruthlessly hilarious piss-take on European art cinema. As I observed on its cinema release, "Elle is a brilliant film because it's truly amoral. It never reproaches Michèle for her actions, nor allows its audiences to pity or be titillated by her ordeal. Instead, it asks us to consider how our emotional responses to the narrative depiction of sexual violence are themselves conditioned by rape culture."
I found it feminist, in a bracing way, because it refuses to buy into crappy clichés that 'strong female characters' are defined against men's aggression, or galvanised by a need to fight back. Elle insists on women's autonomy, and decouples the idea of winning a game from the urge to dominate and humiliate an opponent.
---
A Bigger Splash
More stylish, evocative and unexpectedly funny sexual power games are on offer in Tilda Swinton's second collaboration with director Luca Guadagnino (I Am Love). But in place of Elle's fraught grappling is a more languorous exploration of physical presence. Harry's (Ralph Fiennes) shameless body provides the exuberant displacement of the title, troubling the calm waters of Marianne (Swinton) and her lover Paul (Matthias Schoenarts).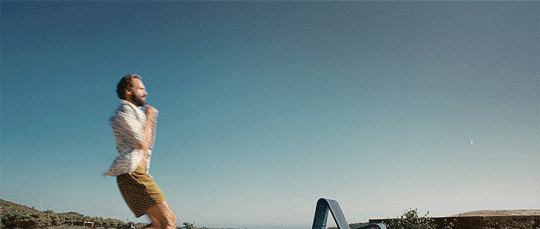 Sly and totally without vanity, Fiennes is the best I've seen him in years. Meanwhile, Dakota Johnson is ambiguously gestural as Harry's nubile maybe-daughter Penelope, who's just learning to use her body as a malicious erotic weapon. She slides through water, but ends the film miserably drenched, while Marianne and Paul laugh beneath an unexpected umbrella.
---
Midnight Special
The spell that Jeff Nichols' wonderful, mysterious family drama cast on me still hasn't vanished. And, having adored Adam Driver's performance in Paterson, I'm freshly appreciating his supporting turn here as methodical FBI agent Sevier. But as I feared, Midnight Special was widely, reductively interpreted as mere '80s kiddie-adventure pastiche, retreating into the long, upside-down shadow cast by TV's Stranger Things.
What I still love about Midnight Special is that it's an original, personal vision, not a reboot, sequel or adaptation – though Nichols has said he'd love to create his own franchise. And in a pop-culture landscape obsessed with strip-mining narratives for their significance, Midnight Special is refreshingly enigmatic. It's a deep well of feeling – yearning, comfort, wonder and bewilderment – that invites and rewards equally deep consideration while resisting definitive interpretations. And its soundtrack is just wonderful.
---
Arrival
The open, microexpressive face of Amy Adams is a language cinemagoers already speak, which softens the hard science of Denis Villeneuve's linguistic voyage into what makes us human. Arrival is, for me, a twin of Midnight Special, in that I came away from it feeling profoundly, meltingly moved – and not just by Bradford Young's gorgeously lit and subjectively framed cinematography, or by Jóhann Jóhannsson's astonishing soundtrack, which harmonises machines with voices in the same way as the characters we're watching.
Arrival was widely compared to Contact, but my mind leapt to Christopher Nolan's Interstellar, in which human connection also proves vital in unlocking the secrets of the universe. Arrival's narrative structure is ingenious and deeply affecting, but it lacks the self-conscious cleverness of Nolan's films, whose puzzle solving pursues the thrill of the prestige. Here, the intellectual and emotional payoff are inextricable – Dr Louise Banks can't understand the alien language until she understands herself.
---
Green Room
Oh my god, RIP Anton Yelchin. Yelchin's death was horrifying in a way Jeremy Saulnier's elegantly brutal horror film can never match, because in Green Room Yelchin was only pretending to battle murderous Nazis in a remote woodland bunker.
Green Room feels both filmic and realistic – Saulnier works with familiar slasher-genre tropes only to ruthlessly toy with pacing and plot. And it's full of disconcertingly quiet moments amid the intense gore. I'll remember Yelchin biking through a crisp morning. Not in a car. Just endlessly pedalling into the future with Alia Shawkat riding pillion.
—
Mel Campbell is a freelance journalist and cultural critic. She blogs on style, history and culture at Footpath Zeitgeist and tweets at @incrediblemelk.