Film
Scott Ludlam, Parliament's Biggest Nerd, Reviews 'Star Wars: The Force Awakens'
Spoiler-free!
Last week, the Sydney Morning Herald named WA Greens Senator Scott Ludlam as "the biggest nerd in politics", or "The One Nerd to Rule Them All". Given the timing of his newly-bestowed pedigree, we asked Ludlam to give us his take on the biggest nerd event of the year: the new Star Wars movie.
–
Such is the power of the Force, that the latest episode of a franchise that has seen more bad than good films is the most hyped movie for years. If you are one of the many that score it 3-3, may I suggest the 1978 Star Wars Holiday Special to break the tie.
Still carrying the wounds of the excruciating prequels, it was with some trepidation that I took my team to a Friday screening of The Force Awakens. We needn't have worried. This is a good piece of work. No matter how much you try to temper expectations, the puppet strings of pure nostalgia made us all dance.
It's superbly cast, the story is fun, the dialogue is (mostly) good, and the performances are great. In saying that, you can only experience that first magical moment of being swept up into this universe once, and that happened a long time ago.
But this film ensures that a whole new generation will be swept up this time. Kids will be play-acting being Rey (Daisy Ridley) or Poe (Oscar Isaacs) for years to come, and keeping George Lucas flush with that sweet merchandise cheddar.
Fans with a longer history have seen this film before. It sits pretty squarely at the crossroads of sequel and reboot; recent Hollywood history has produced numerous remakes that have less in common with the original source film than this one has with A New Hope.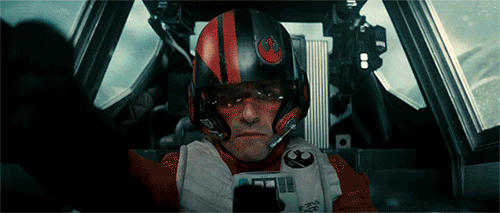 That's no bad thing here, though. It captures that same sense of adventure. The scale is magnificently brought to life. Even accounting for the disadvantage a prequel has of trying to further develop characters whose fates are already known, the audience is drawn in to care more for the characters in the first few minutes of this film than they were for the entirety of the three that came before. A new generation of actors are given room to move even as they are drawn against a backdrop of characters with a much older lineage.
It's very clear that the actors played their scenes together, on real sets, not a soundstage or green screen. The effects add value; they're no smoke-and-mirrors distraction from other shortcomings. There's great chemistry all around, none more so than between Rey and Finn (John Boyega).
And there's jokes. Good jokes. Not a lot of slapstick. BB8 steals several scenes and rolls away with them, and the other characters crack wise, emote and connect.
While the film leans heavily on tropes from the original trilogy, it does so knowingly, without the audience needing to be fully versed in the history of Star Wars. References to the earlier films are layered densely and carefully, but there are enough new kinks and surprises that it doesn't feel entirely derivative.
Maybe with the ghosts of the prequels off its back, the final two films in the saga will strike out in their own original direction, but for now at least two generations of fans can rest easier in the knowledge that this unique cultural phenomenon is in safer hands. JJ Abrams played it pretty safe, but that was what was needed. In the attention to detail, in the occasional quiet moments of grandeur where you're transported to dusty frontier worlds and let your guard down, it's clear that this film has been constructed almost as an act of reverence.
There has been an awakening. I have felt it.
–
Scott Ludlam is an Australian Greens Senator for Western Australia and spokesperson for Communications.