Music
Savage Garden's 'Affirmation' Is The Best Policy Platform Of The 2016 Election
Vote 1 Darren Hayes for PM.
The federal election campaign rolls on, and both major parties have proven thoroughly uninspiring thus far. Malcolm Turnbull's biggest policy announcement was a cut to the company tax rate that will primarily benefit foreign investors, because his image as a hyper-rich former corporate banker needed some reinforcing, apparently.
Bill Shorten and Labor have done a bit better, spruiking their '100 Positive Policies' to anyone who'll listen, but they're still frequently managing to bottle it by doing things like backflipping on their commitment to scrap the tampon tax and doubling down on asylum seeker boat turnbacks.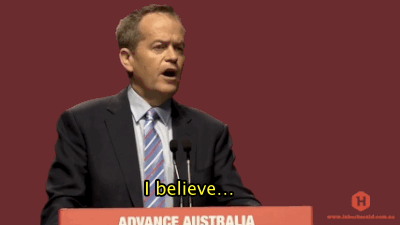 It all makes you wish for more from our leaders — a suite of common-sense policies informed by a coherent political philosophy that articulates a broader vision of where this country should be headed. But where, in our current debased and timid political environment, are we to find such boldness and clarity of purpose? Where will the election platform that inspires Australia to embrace its potential come from?
I'll tell you where, Australia. Savage Garden's 2000 smash hit single 'Affirmation', that's where.
I know what you're thinking: "why should a federal election be defined by an obscure 16-year-old song by a long-defunct Australian power-pop duo?" Several reasons, actually, the first of which is: shut up. Shut up and let me have this.
But more importantly, when read as a policy document, 'Affirmation' is surprisingly cogent and detailed. It contains bold, progressive policies that will resonate with Australians disillusioned with our political and economic status quo, while appealing to traditional values of personal responsibility and the importance of family that your grandparents would be proud to get behind.
To begin, let's examine the vision 'Affirmation' sets out in its chorus  — its core promises, if you will.
"I believe in Karma, what you give is what you get returned
I believe you can't appreciate real love until you've been burned
I believe the grass is no more greener on the other side
I believe you don't know what you've got until you say goodbye"
Like the election slogans of the major parties, these are very vague sentiments; more statements of philosophy than a series of concrete measures. But 'Affirmation' does present a compelling worldview in these four lines. More relatable than "Jobs and Growth"; more assertive than "Growth with Fairness"; at 47 words, a lot better than any three-word slogan Tony Abbott ever came up with. This election manifesto leaves voters in no doubt about what values drive vocalist Darren Hayes and instrumentalist Daniel Jones, at least at the time they were preparing for their Affirmation world tour with Vanessa Amorosi.
But any election platform needs specifics, letting voters know what policies they're voting for and which issues will be a priority in government. Here, too, 'Affirmation' provides. Let's take a look at some of their key proposals.
–
Savage Garden On Marriage Equality And Equal Rights
"I believe you can't control or choose your sexuality"
Marriage equality has been a political football for way too long. Savage Garden promise to get it done and get it done quickly. Even better, this unequivocal endorsement of the Safe Schools program is going to have an empowering effect on LGBTI kids in schools everywhere. Under a Savage Garden  government, the Australian Christian Lobby will have a decidedly unpleasant time.
–
On The Economy
"I believe the struggle for financial freedom is unfair
I believe the only ones who disagree are millionaires"
Here, Hayes and Jones put forward an unapologetically egalitarian, transformative economic plan, upending the neoliberal consensus that has stifled Australian political debate for 25 years. Like Bernie Sanders in America, Jeremy Corbyn in the UK and Podemos in Spain, Savage Garden are tapping into a deep uneasiness with the politics of austerity and trickle-down economics that have defined the 21st Century's progressive movements, and showing there can be another way. The One Percent fear a Savage Garden economic revolution, and they bloody well should.
–
On Religion And Separating Church And State
"I believe that God does not endorse TV evangelists"
This is a brave stance to take. Churches in Australia have long been able to claim tax-exempt status, even hyper-profitable ones like Hillsong. Taking on cashed-up faith institutions will see the duo behind such classics as 'Truly Madly Deeply' and 'To the Moon and Back' make some powerful opponents, but could play well with voters traditionally suspicious of religious interference in Australia's secular state. It's good to see political leadership that's not afraid to take on vested interests.
–
Health, Education And Family Values
"I believe that family is worth more than money or gold"
Rather than make permanent enemies of Australia's many faith communities, however, Savage Garden have cannily appealed to more conservative voters by placing families at the centre of their campaign strategy. Appealing to parents' desire to stay home with the family more rather than work their lives away, Savage Garden's comprehensive policies on universal family leave, childcare support and primary education should see plenty of people otherwise reluctant to vote for the pair who won an unprecedented 10 ARIA Awards in 1997 give them the nod.
"I believe that junk food tastes so good because it's bad for you
…I believe that beauty magazines promote low self-esteem"
Likewise, pledging to enact binding restrictions on advertising will see Jones and Hayes pick up scores of votes from parents concerned at the impact of junk food ads that target their kids. Their stance against sexist and outdated portrayals of women in media, meanwhile, will appeal to younger voters and progressives. Putting together a voting coalition this diverse isn't as iconic as releasing two US Billboard Top 10 albums in a row, but it's a formidable achievement nonetheless.
–
There are a number of issues 'Affirmation' doesn't touch on — it doesn't tell us how Savage Garden feel about submarine defence spending, for example, or raising the superannuation rate from its existing level of 9.5 percent. But with three weeks still to go in the campaign, this is a comprehensive, courageous policy manifesto any major party should be proud to adopt as its own.
The choice is clear. This July 2, stand with Australia on a mountain. Bathe with Australia in the sea.