Culture
Rose McGowan Is "Profoundly Sorry" For Going White Feminist In Her Fight Against Weinstein
Some women of colour have had big problems with the #ROSEARMY.
Rose McGowan has been lighting up Twitter for the past two weeks (and long before) in her crusade against alleged sexual predator Harvey Weinstein and our wider world of male abusers. McGowan's tweets have been so strong and influential that her brief suspension from Twitter is what inspired the weekend's divisive #WomenBoycottTwitter movement — which gave many women pause because of how it ignored the systemic abuse on Twitter that women of colour have previously endured.
But one tweet has justifiably landed McGowan in a bit of hot water. In it, McGowan compared the plight of women to people of colour, and invited readers to "REPLACE THE WORD 'WOMEN' w/ the 'N' word" in a series of off-colour jokes made by comedian James Corden.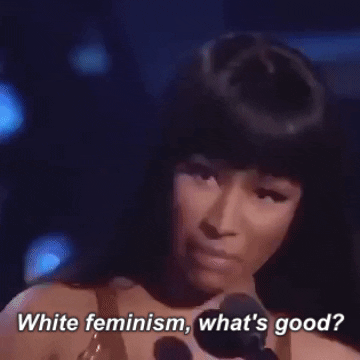 The problem here was that McGowan centred her fight for women on one specific group: white women. And we happen to be a group that is centred in feminism quite enough already.
In sharing the poorly phrased and thoughtless tweet (which also ironically pins blame on "white male privilege"), McGowan seemed to forget that lots of women are both female and people of colour! It erased those women of colour (and the sexist and racist harassment they endure) from our fight for safety. This is not solidarity.
HEY ROSE MCGOWAN I CAN'T REPLACE THE WORD WOMEN WITH THE N-WORD CUZ I- AND MILLIONS MORE- ARE BOTH!

THIS IS WHAT WE MEAN BY WHITE FEMINISM! pic.twitter.com/2Nl53JSYjz

— Chelpacabra (@IfIWereMagneto) October 15, 2017
Understandably, people are not very happy about the tweet, which was quickly deleted by McGowan after the backlash began.
rose mcgowan: "replace woman with the n word"
maam. im a woman who gets called a nigger. youre canceled.

— alienated antillana (@bad_dominicana) October 15, 2017
You lost me when you said replace the word "women" with the "n word" . @rosemcgowan pic.twitter.com/dIghRjbosv

— Allie✨ (@allieofthedollz) October 15, 2017
the fact that rose mcgowan can type out "woman" but not the n word should tell her everything she needs to know about that topic

— flabberghosted ellie (@spikejonzes) October 15, 2017
Note to self: do not smoke a J late at night and make weird analogies pic.twitter.com/DzCTGz9YtT

— rose mcgowan (@rosemcgowan) October 15, 2017
McGowan has copped to her mistake and apologised via Twitter. She got a decent dressing down and she learned from it. Everyone is very worked up this week, which is completely understandable, and sometimes we need to just think before we run our mouths.
And, please, to anyone POC I offended with my stupidity lapse, know that I am profoundly sorry. I hear you.

— rose mcgowan (@rosemcgowan) October 16, 2017
I don't like privilege competition, so don't do a Rose McGowan and try to compare your trauma to someone else's in a misguided attempt at proving you are the most hard done by. Instead, let's try lifting up and supporting the voices of other oppressed people, instead of excluding them from our own narratives of survival.