TV
Inside The Madness Of 'Pickle Rick' With The Creators Of 'Rick And Morty'
Pickle Rick is already iconic.
Back in July last year, Rick and Morty fans were given one of their very first glimpses of season three via a bizarre animated storyboard featuring Rick as a pickle murdering the shit out of a bunch of rats. It was weird and upsetting and extremely gruesome, so naturally people were pretty into it.
Well, it turns out that sequence was the entire storyline of this week's episode, the appropriately titled 'Pickle Rick'.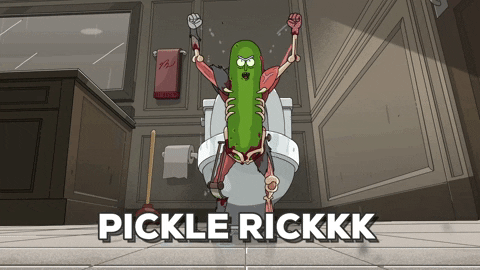 As to why Rick was a pickle, well… look, honestly, it's best to not ask to many questions. For what it's worth, the episode has gotten rave reviews from critics, with Den of Geek going so far as to declare that "the trajectory of the human race has been forever leading, inexorably, to this moment."
It's safe to say that at this point folks seem to be on board with pretty much anything the show does – and it kind of feels like Dan Harmon, Justin Roiland, and the rest of the creative team know it.
"It's a gritty episode," says Harmon in a behind-the-scenes video shared by Adult Swim shortly before 'Pickle Rick' went to air. "It's super violent, it's very personal, and Susan Sarandon is in it. Probably because her kid's a fan."
The promo clip also goes into the intricacies of Rick's rat suit, which again is one of those things that viewers are just going to have to go accept.
"In this one, Rick has a rat butt on his crotch" says character designer Maximus Pauson, a man who has perhaps the single greatest job in the world.
"Of course, you've got to have testicles," he adds.
Best fight scenes on tv last night, ranked:

1. Pickle Rick v. The Rats
2. Daenerys v. The Lannister Army#gameofthrones #RickandMorty

— Boosh (@alex_buscemi) August 7, 2017
My wife (watching Rick and Morty): "That makes no sense, he must have the strength of a human…a pickle wouldn't be that strong in a fight"

— Jonathan Hansen (@HANSEN_SOGROOVY) August 8, 2017
?CONSPIRACY THEORY ALERT ?

HBO leaked GoT early cause they knew it wasn't as good as Pickle Rick pic.twitter.com/JRArHdXIFs

— down w/the thiccness (@ManVsParty) August 7, 2017
Gotta say, I just love living in the age of prestige TV. Goooooood stuff.