Culture
Rethinking Sex Ed In Australia: Is It Time To Bring Porn To The Classroom?
A Danish sexologist is lobbying for pornography to be taught in the classroom, to give young people the tools they need to separate fantasy from reality. Could it work in Australia?
Porn has always been a part of school life. Indeed for many of us, school was where we were first introduced to it.
At my high school, it was sold between periods by a kid called Ryan, whose locker doubled as a warehouse for commercial quantities of triple X VHS tapes and magazines.
He probably didn't realise it, but as well as being a successful entrepreneur, Ryan was effectively running our school's sex education program. Apart from a couple of coy, coded PE classes on "health and wellbeing", our teachers left most discussions about sex to recess, where people like Ryan were in charge of the syllabus.
Today though, Ryan's business model is defunct. Kids now have access to a free cornucopia of online bump and grind, much of which makes Ron Jeremy's back catalogue look like out-takes from Anne of Green Gables.
Yet by contrast, the official sex education most Australian high school students still receive has changed little since the days of Puberty Blues. For a start, there's still no national sex ed curriculum, and the most recent set of draft guidelines for one were described as "dreadful" by sexual health advocates and organisations.
And with research now putting the average age of a child's first exposure to porn at eleven years old, many parents and commentators are more panicked than ever at the effect this material could potentially be having on their kids' psychosexual development. There have even been fevered reports of children as young as twelve becoming addicted to porn, and morphing into damaged, abusive "porn zombies".
But apart from padlocking smartphones and installing the latest Net Nanny filtering software, some more novel approaches to the problem have begun to emerge.
Recently, a Danish sexologist controversially called for porn to be shown in school classrooms and deconstructed by trained teachers, as a way to help teenagers distinguish between porn acts and images, and the reality of adult sexual relationships.
Speaking on Danish national television, Professor Christian Graugaard of Aalborg University said it was time to do away with tedious and outdated sex education classes, that consisted mainly of "rolling a condom onto a cucumber". Instead, he said, we should be helping teenagers to become "critical consumers" of porn, capable of telling fantasy from reality.
Rather than focusing purely on basic biology and and STIs, he argues teachers should also be trying to dissuade teens from copying the types of activities found in hardcore porn, which he described as "a recipe for broken necks and disappointment." He also makes the case that not all porn is necessarily bad, and that some of it can have "entertaining and educational properties", promote diversity of gender, sexuality and body types, and even feminism.
Teaching Porn In School: Could It Work Back Home?
The idea of using RedTube as a teaching aid has received slightly less acclaim outside of sexually liberal Scandinavia. "You can't show porn in a classroom," says Dr Gail Dines, the UK-based author of Pornland, and one of the world's foremost anti-pornography campaigners. "First of all, it's illegal to deliver porn to under eighteen-year-olds. Secondly, you don't know if you've got sexual abuse victims in the class, or what you might be triggering [by showing them porn]. It's one thing to do it in a college, where students can choose not to go. But in high schools, students are captive, and I think it's a form of abuse."
Dines also strenuously rejects Graugaard's claim that kids of that age have the ability to "differentiate between pornography and the reality of sexual relationships", and critically assess porn. "To think that somehow you can magically conjure up a second brain in a kid that can file away 'Oh this is reality and this is not' — images don't work like that, they never have," she says.
Others think persistently conservative attitudes to sex education in countries like ours make Graugaard's idea a non-starter.
"It'll never happen in a country like Australia," says Lauren Rosewarne, a gender politics expert from Melbourne University, who has written a number of articles on this subject. "We can't even get masturbation spoken of in the curriculum in a meaningful way, let alone getting parents to agree to showing porn. It's just not in our culture to do that, given there's still a strong puritanical streak running through it."
Also, she points out, it would be a teacher's worst nightmare trying to control a bunch of hormone-fuelled high schoolers watching skin flicks in a classroom — to say nothing of how one would choose the right "material" to give an overview of what's out there online. And of course, the whole thing would be hella awks for everyone involved.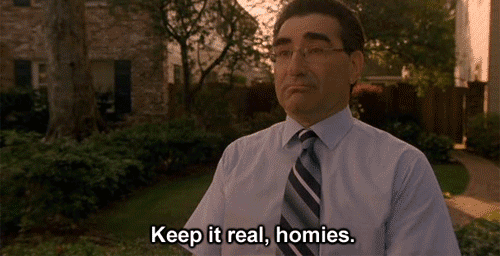 Teaching Porn Without Pics?
Both Rosewarne and Dines agree that there is a real need to talk about porn with high school students in the classroom — even if showing them actual footage is a bridge too far. The tropes of porn, Rosewarne argues, are now so embedded in our advertising and cinema, that it'd be possible to teach such a class simply with some Rihanna clips, or your average underwear billboard. "But there's still a huge line between that stuff and hardcore gonzo porn," says Dines. "Miley Cyrus licking whatever she licks with her tongue sticking out [is] still nothing close to going onto your average porn site, where the first image is a woman almost vomiting from being gagged."
Dines takes the view that any discussion about porn would have to take place in single-gendered classes, and should emphasise the idea that most porn is a form of "torture" for the female participants. "The average woman in porn only lasts three months because of what happens to their bodies," she says (recent informal research places it closer to six to 18 months).
But here in Australia, classroom discussions about porn, in any form, don't look like they'll be part of mainstream sex education any time soon. We're still a long way behind the UK, for instance, where a House of Commons select committee recently called for pornography, sexting, homophobic bullying and sexual consent to be added to a compulsory sex and relationships education (SRE) curriculum. The new UK guidelines call for these concepts to be taught to kids in all schools from the age of five. They also recommend that teachers shouldn't try to stop students watching online porn, but instead help them to understand the difference between "distorted images of sex" and actual relationships.
Porn World vs Real World
Australian adolescent sexuality expert Maree Crabbe has been working in this field for over 20 years. She co-produced and directed the documentary Love and Sex in an Age of Pornography, and is the leader of community education project Reality and Risk, which creates teaching resources for secondary schools that address the impact of pornography on young people.
A sample exercise is called 'Porn World vs Real World', in which students are presented with a series of statements about things like sexual health, consent or pleasure, and are asked to attribute them to the "porn" or "real" worlds (they can also choose "both" or "neither").
"It's not a right or wrong activity; it's about having the conversation," Crabbe says. "So as a group they'd then discuss, for instance, 'Do most women have pubic hair? In Porn World, Real World, Both or Neither?' And it might be both, depending on what [era] you're talking about!"
Reality and Risk's teaching aids also include exercises on resisting unwanted pressure to have porn-style sex, to consume porn, or to engage in "sexting" — a past-time believed so prevalent amongst young people that the Commonwealth Government put a committee together to try to understand and address it.
Fiona Patten, founder of the sex industry lobby group the Eros Association, leader of the Australian Sex Party, and a newly elected Victorian Upper House MP, argues that a more contemporary sex ed curriculum could have the effect of making porn less attractive to teens.
She cites a recent study that looked at the porn consumption of German versus American adolescents, which found that the Germans' porn consumption was considerably lower – a result attributed to that country's "very explicit and elaborate" sex education program.
"So you had these informed kids who weren't needing to investigate sex via the internet," says Patten. "They were getting lots of good information within a school curriculum, and they weren't needing to go and research via Hustler.com."
Gail Dines rails against free porn sites, which she claims are a marketing tool with much the same goal as big tobacco: to get young users hooked for life. She argues that the way to combat the problem is to "make porn uncool".
"Kids hate to feel like they're being manipulated," she says. "When I was growing up, it was cool to smoke. When my son was growing up, it was the most uncool thing in the world. We need to take the same approach to porn."
–
Tim Boots is a freelance writer and journalist based in Melbourne. His work's appeared in The Sydney Morning Herald, New Matilda and Mildred, and he blogs at Draughts.