Culture
Reddit Is Locking Out All Its Users After A Disastrous 'Ask Me Anything'
Reddit is revolting.
Wretched hive of the internet (and also the internet's self-proclaimed 'front page') reddit is falling to pieces today, turning a large number of its most popular pages private in protest of the abrupt firing of one its employees.
The site regularly receives more than 162 million users a month, who search its almost 10,000 active communities — or 'subreddits' — to find news, cat gifs and sad attempts at DIY projects to then pass on to Facebook or Tumblr or Buzzfeed for internet points.
But when the company reportedly fired its celebrity liaison Victoria Taylor — who has been responsible for the vast majority of the popular Ask Me Anything subreddit, and frequently makes appearances within it alongside everyone from president Barack Obama to Bill Murray — users became enraged. As one AMA moderator 'karmanaut' explained, Victoria played a vital role in the forum: "The admins didn't realize how much we rely on Victoria. Part of it is proof, of course: we know it's legitimate when she's sitting right there next to the person and can make them provide proof… Part of it is also that Victoria is an essential lifeline of communication. When something goes wrong in an AMA, we can call and get it fixed immediately."
In protest, the moderators of several popular subreddits, including AMA, have locked out their users, leaving their members to navigate the internet themselves, afraid and alone.
Reddit broke Reddit. Now Internetting is hard.

— Hemant Mehta (@hemantmehta) July 3, 2015
"Today, we're more or less forced to get involved as a show of solidarity with the other moderators of this website, people who dedicate countless hours of time to trying to help these communities operate," said one moderator of the subreddit Listen to This.
"We're not endorsing the actions of other moderation teams or taking a side on censorship or justice or any of the other drama on reddit. That's not what this is about. We're simply standing with the other moderators to say that this website has problems, and it is high fucking time that someone took them seriously."
The drama began after the controversial US civil rights activist Reverend Jesse Jackson (the same Rev who once called New York City a "Hymietown" city of Jews) appeared yesterday on Ask Me Anything and was thrown some pretty het up questions, to which he gave the kind of mundane answers you'd expect a guy who's a Reverend and also an ex-presidential candidate to give.
Confused by the Rev's nonsensical answers, users suspected that Victoria was editing them before she read them out to Jackson. Today news emerged that Victoria had been sacked, though there is no official statement yet from reddit in response to moderator protests.
Meanwhile, this image has climbed up to the #2 spot on reddit.com, under the title "Oh Victoria :("
What Happens Now?
Reddit is so prone to hysteria and Sopranos-level drama that subreddit scandals even have their own dedicated subreddit (so meta), which we can actually link you to because it's not part of the huge swathes of the site that have gone private.
This is only the latest in a string of reddit 'controversies'. Last month its CEO Ellen Pao became the target of users' ire after banning several subreddits for harassment, including 'Fat People Hate': a subreddit designed to harass and hate on overweight people. Instead of considering this a totally reasonable decision, they branded her 'Chairman Pao'.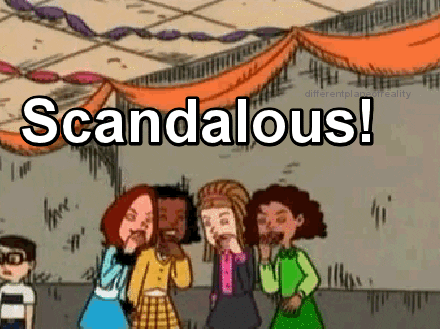 So basically, this is just another day on reddit. Carry on.
Or not.
If reddit collapses, does new media just go away?

— Matthew Panzarino (@panzer) July 3, 2015