TV
The Success Of Catfish, And Why Reality TV Is Way Better Without Reality
Yes, Catfish is mostly a lie. But it's still the most entertaining reality show on TV.
Judging by its piss-weak ratings, not many of us have been tuning into Nine's latest attempt at reality success, When Love Comes To Town. I don't know who at the network thought re-purposing Farmer Wants A Wife into a rural touring spectacle would be an entertaining idea, but I hope they're not too bummed out by dole queues, 'cause they're probably about to be fucking fired.
That shitty show is the latest example of an unnecessarily tedious trend in locally-produced reality TV. While established hits like My Kitchen Rules, The Voice and Masterchef continue successfully plodding on, and Real Housewives Of Melbourne has deservedly become a cult favourite, much of our trashy reality programming has affected the term in the literal sense (what up, What Really Happens In Bali), rather than the figurative kind we can all get behind.
Why is our reality TV so cringeworthy and bland? Can't we recruit some people who know how to make this kinda shit? Where's our RuPaul's Drag Race? Where's our Catfish?
You Seriously Like Catfish?
Yes, Catfish is amazing. Now in its third season, the MTV series — based on the 2010 full-length festival hit of the same name – has remained surprisingly entertaining, despite the fact that every goddamn episode is pretty much the exact same thing: hosts Nev and Max help some lovesick fool track down the true identity of their online paramour, who is usually not the Maxim model/boy band member they foolishly, foolishly believed they were.
The elements that make up each episode have rarely strayed since the show began back in 2012. There's always an opening Skype chat with that week's victim; there's a montage of the dudes turning into private dicks and running reverse image searches (and, it turns out, highly unreliable phone number traces); and eventually we get our catfishee-catfisher confrontation. Considering there are only so many variable outcomes that can result from such scenarios (ie: the person is lying, or the person is honest… and sadly ugly), it's quite impressive that this show is still on-air and endlessly entertaining.
For starters, the relationship between naively romantic host Nev and his cynical silver fox of a sidekick Max is the kind of relationship that's prime for slash-fiction. Whether they're wrestling in hotel rooms, coyly tussling on airplanes, or picking each other's outfits, the chemistry is tighter than any unrequited love plot you'd see in, say, The New Girl or Mad Men. Unfortunately, they're both married (to women), so it's all just a case of clever MTV editing. In any case, Nev does most of the chatting and investigative legwork, while Max holds a completely unnecessary camera and rolls his eyes a lot — so the dynamic remains watchable even without the bedroom overtones.
There are also some useful lessons about humanity in each episode. For example, no matter how many years you've been lovingly sharing personal stories of pain and triumph with your online friend, they'll dump yo' ass if they find out you're actually a schlubby fatso and not, say, the real Lil Bow Wow, like you always said you were. It's always nice to be reminded of such things, lest you get too cheery with the world and your fellow human beings.
Max and Nev aren't afraid to call 'Shithead!' on kids who are sociopathically messing with strangers for their own cruel gain, like that dude Skylar in season two who reeled in a sweet young girl for months just to "practice his game".
Needless to say, some of the show's more ridiculous scenarios – like last season's infamous 'Artis & Jess' episode, where a maniacal catfisher hooked some sad married dude into a six-month online relationship by pretending to be a hot girl in order to exact vengeance on the cheating spouses of the world (or something) – have earned online calls of "Fake!" and "This show is bullshit!", to which the only response is "No shit, idiots. It's MTV."
–
The Grand Tradition Of MTV Reality Television 
MTV pretty much invented the reality genre as we know it back in '92, with its ground-breaking, proto Big Brother series, The Real World (somehow, currently in its 29th season). I stopped watching the show sometime around 1998, but still remember personalities like Kevin, the militant black poet from New York; Puck, the insane dude from San Francisco (who was famously evicted from the show); and Jon, that weird country music loser from Los Angeles.
Besides the fact that sticking a bunch of extroverted youth archetypes into a house full of cameras for a few weeks is obviously a strange basis for something called 'the real world', MTV spent the subsequent years dealing with constant speculation over its contrived 'reality' programming. That other groundbreaking series Laguna Beach (2004-06), and its Lauren-Stephen-Kristen teenage love triangle, seemed more scripted than a soap opera, leading MTV to awesomely address the issue with an amazingly WTF, po-mo ending to its spin-off, The Hills.
As the show's star Kristin Cavallari rode off in a limo towards the airport to board some waiting plane "to Europe", her on-off lover Brody Jenner stood behind waving sadly, as a weepy version of Natasha Bedingfield's 'Unwritten' tugged heartstrings. MTV's cameras – so used to resting on a forlorn, pondering face as it contemplated love and loneliness amidst the sun-drenched Californian landscape – instead zoomed out to reveal spotlights, stage props and Jenner high-fiving a whole film crew, a sly wink at its audience saying, "Pfft, we got you."
It's kinda ridiculous then that Catfish is still being plagued by accusations of falseness. How much clearer than that Hills finale do MTV have to be before viewers start understanding that they take 'creative license' with their reality shows' truthiness?
The Truth Behind Catfish
Vulture recently ran an intriguing look into the way Catfish is made. As expected, the show's producers already know an episode's outcome before shooting even begins — clearances are sought, people are notified, connections are made. Goofily, Nev and Max still have to do the detective legwork, partly to give the whole search a sense of verisimilitude and partly 'cause there'd probably be nothing to watch without it. "There have been very, very long days where Nev and Max are trying to figure it out, and we can't help them," the show's executive producer told the website. "We've condensed what's taken them ten hours in some instances into five or six minutes, but we try to show that it was difficult."
Does knowing this make the show any less entertaining? Not really. So it's partly falsified, who cares? So far this season, we've already seen some intriguing surprises, most notably a nutcase who catfished her own cousin for three years as some elaborate revenge plot because he once mocked her weight in front of the whole family.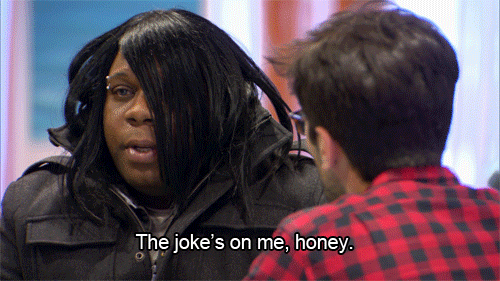 It's perhaps a lesson that only our most successful reality shows seem to understand: no one actually cares to see reality. Lay the groundwork, throw in some well-structured manipulations, go nuts with the editing, maybe add an emotional soundtrack as a finishing touch so we all know when we're supposed to jeer or cry. Like MTV's other classic programs, Catfish might go easy on the 'reality', but ends up as affecting entertainment.
–
Season three of Catfish airs on MTV on Tuesday nights at 8:30pm.
–
Rob Moran is the former editor of Junkee. He has contributed to various publications including Daily Life, CLEO, Rolling Stone and Vice.