Film
'Fifty Shades Darker' Review: Let's Talk About (Very Odd And Funny) Sex, Baby!
This sequel might have doubled down on the silly.
Fifty Shades of Grey felt like a boat being pulled in several different directions.
Dakota Johnson's disarmingly comedic performance as literature-loving ingénue Anastasia Steele worked across director Sam Taylor-Johnson's focus on chic interiors and arty sex montages. But this was at war with author EL James's fawning commodity fetishism and cringingly reductive depiction of BDSM as a signifier of both psychic trauma (for Christian Grey) and sexual awakening (for Anastasia, his contracted submissive). Caught in the crossfire, Jamie Dornan seemed genuinely uncertain how to play the controlling young tycoon.
Now James has snatched the tiller of her precious franchise from Taylor-Johnson and screenwriter Kelly Marcel, in the same way Anastasia gleefully steers Christian's luxury yacht yelling, "I'm the captain!". Having hired her own husband, Niall Leonard, as screenwriter, and reliable journeyman James Foley as director, James wallows in her own vision for Fifty Shades Darker.
Foley keeps the palette of the earlier film, but settles into the kind of framing and cutting I remember from 1980s erotic thrillers. This sequel definitely fails to be 'darker', but it has become enjoyably unmoored from realism to inhabit a soap-opera world of scowls, nebulous threats and unalloyed wealth porn.
Darker is also funnier than Grey: both intentionally, as Dornan discovers a goofiness to match Johnson's deadpan wit; and inadvertently, as it consists largely of grandiose gestures and tin-eared dialogue. At one point, Anastasia tells Christian, "I was being romantic and then you go and distract me with your kinky fuckery."
I guess it's straight to the point.
Anastasia In Wonderland
Bookish Anastasia is now working for a publishing house, and Darker seems uncertain about what this actually involves. But she's the PA to commissioning editor and habitual workplace sexual harasser Jack Hyde (Eric Johnson). His name alone should've been a red flag; but it takes Ana half the movie to figure out what her co-worker Hannah (Ashleigh LaThrop) instantly side-eyes.
Hannah is a person of colour, which in the Fifty Shades universe means she understands the rules but doesn't benefit from them. Likewise, Ana's photographer friend José (Victor Rasuk) helplessly watches a rich white dude effortlessly woo the girl he's been gnawingly crushing on. And Christian's colleague Ros (Robinne Lee), who does most of the actual work at Grey Enterprises while Christian's busy texting Ana in a bid to control her life, gets to crash in a helicopter.
Fifty Shades Darker is being marketed as a 'serious' psychological thriller. It introduces two female antagonists for Ana: Leila (Bella Heathcote), Christian's broken former submissive; and Elena (Kim Basinger), the 'Mrs Robinson' figure who groomed Christian and still believes she knows him best. But this film isn't interested in real violence. Foley shoots a sinister scene in an underground car park as if to reveal a murder — but the 'victim' is only Ana's vandalised car. And there's no dramatic heft whatsoever to the helicopter crash, which of course Christian must survive in order to make Fifty Shades Freed.
One delightfully campy confrontation between Elena and Christian's mum Grace (Marcia Gay Harden) even reminded me of Krystle and Alexis Carrington's cat-fights from '80s soap Dynasty. These sagas are often set among the super-rich, because extreme wealth entitles people to create their own consequence-free wonderlands. Their choices don't have to make sense. They only say I have the power.
Ana strives to understand the rules of this world, but loses them easily. One minute she'll be insisting that she and Christian "take it slow"; the next she's whispering urgently, "I want you… all of you". She'll insist on "No more secrets!" then tell her reticent boyfriend, "You don't have to talk about it." She'll demand her own space — "Stop crowding me!" then rush to comfort him: "I'm here!" She'll say, "You don't own me," then pant, "I'm yours!"
I felt the film's fabric of reality tearing as I marvelled at the way Ana's hair is always lusciously smooth and shiny, even during and after sex. She wanders Seattle for hours in the rain and her hair does not even get wet. Insulated from ordinary life by Christian's wealth, she's well and truly down the rabbit hole.
The Sounds of Softcore
And now to the sex!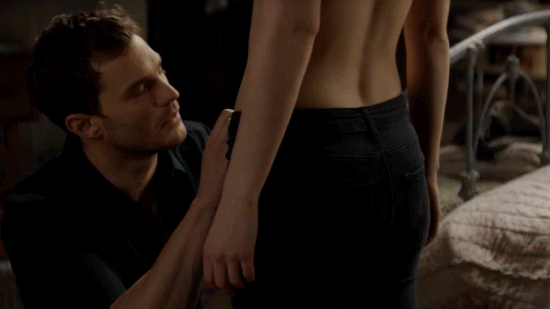 It says a lot about contemporary Hollywood's distaste for 'love scenes' that Foley's lingering pans up and down both Johnson's and Dornan's bodies felt excessive and retro to me. But Foley lacks Taylor-Johnson's eye for detail, which reminded us we were seeing actual human flesh. The actors' hairless skin looks prosthetically satiny, like Ana's silver ballgown.
The repetitive choreography of these sex scenes, and the deterministic needle-drop soundtrack that accompanies them, really emphasises how unadventurous the sex itself is, despite the use of various gadgets from Christian's playroom. It annoyed me to see Johnson's head repeatedly tip backwards in ecstasy as if an unseen hand is tugging her hair, or Dornan's hand squeeze Johnson's breast as if honking an old-fashioned bicycle horn.
Beyoncé's downtempo cover of her own 'Crazy in Love' on the Fifty Shades of Grey soundtrack has set a template in this franchise for dour, overwrought cover songs and passionless mid-tempo jams by well-known pop stars and carefully chosen indie-adjacent artists. During the yacht scene we hear 'I Don't Wanna Live Forever' by Zayn and Taylor Swift, which isn't so much a duet as two separate vocal tracks played simultaneously.
Halsey's 'Not Afraid Anymore' exemplifies the kind of song used in the sex montages: slow, grinding, electronic, and pre-programmed with obvious drops that the film, let me assure you, does not hesitate to synchronise with Christian's majestic penetrations. And the melancholic ballads that allow Ana and Christian to brood on their relationship — the equivalent of Pretty Woman's 'It Must Have Been Love' — make the characters look like weak sooks.
"Even Superwoman sometimes needed Superman's soul," wails Sia as Ana wanders, dry-haired, through the rain. The independence Ana had won at the end of the previous film is instantly undercut by introducing her here via a woeful cover of Coldplay's 'The Scientist' by Corinne Bailey Rae — a song that's already a sad-sack cliché.
The most hilarious soundtrack choices don't appear on the official OST, because they're straight from EL James's personal inspo playlist. As Ana arrives at Christian's house from work, the super-chill song playing on his home stereo is Jeff Buckley's 'Lover, You Should've Come Over'. You may henceforth refer to wristies as 'moondances', seeing as Van Morrison's well-worn jazz-rock song plays in a crowded elevator scene as Christian sticks it to an underpants-less Ana. And as a clearly appreciative Ana watches a shirtless Christian grab some impressive air on a pommel horse in his home gym, he's listening to the Police song 'So Lonely'. Really!
For better or worse, this is EL James's world, and there's something weirdly compelling about someone so committed to her own melodramatic fantasies that she's determined to put them onscreen exactly as she wants. Now, like poor Anastasia, we're just along for the ride.
–
Fifty Shades Darker is in cinemas now.
–
Mel Campbell is a freelance journalist and cultural critic. She blogs on style, history and culture at Footpath Zeitgeist and tweets at @incrediblemelk.