Culture
Emoji Are Finally Introducing Differently Coloured People
[Red dress emoji.]
In a win for racial diversity and cross-cultural dirty text messages being suggestively crafted everywhere, the Emoji app is finally updating the colour scheme of your favourite Emoji faces, which until now have only included these guys.
Huffington Post reported that the Unicode Consortium (the guys in charge of setting standards for characters and text across all of your software platforms) have released a new working draft of Emoji's and standards and, buried deep within it, they've finally answered calls for more diverse representation of race.
Earlier this year, thousands of people signed a petition asking that Apple, "recognise people of colour as people…and Emoji's".  In March, Katie Cotton, Apple's vice-president of worldwide corporate communications, told MTV, "There needs to be more diversity in the Emoji character set, and we have been working closely with the Unicode Consortium in an effort to update the standard."
Section 2.2 of the new report, titled 'Diversity', states, "People all over the world want to have Emoji that reflect more human diversity, especially for skin tone. The Unicode Emoji characters for people and body parts are meant to be generic, yet following the precedents set by the original Japanese carrier images, they are often shown with a light skin tone instead of a more generic (inhuman) appearance, such as a yellow/orange color or a silhouette".
To combat this whitewash, Unicode Version 8.0 will be released with an option that allows users  to change the skin tone of each Emoji human and body part.
They provided a visual guide:


The updates, based on the skin colour grading system the Fitzpatrick scale, range from the classic Simpsons yellow, to Scottish Backpacker, to the time Kramer overdid it on a tanning bed.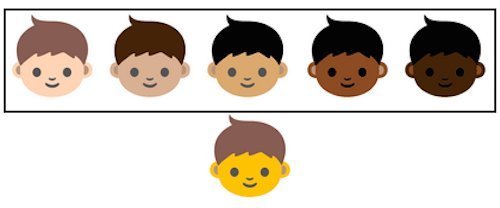 Interracial Emoji parties can be expected June 2015.
–
Bindi interns at Junkee. Based in Sydney, she is studying media/communications at UNSW and tweets from @BindiDonnelly