Film
A Deep Dive Into The Absurd Legacy Of The Room With The Disaster Artist's Greg Sestero
"Making a film is really hard as it is. Even if you're with sane people..."
Who could have imagined a film often coined "the worst movie ever made" would inspire such a level of fandom to create its own spin-off? But cult drama-turned-comedy The Room is just that special.
The 2003 movie — which was initially intended to be a serious drama and launch its lead into Hollywood stardom — would go on to become the film industry's weirdest inside joke. Its sheer absurdity combined with an incoherent storyline and script made it unmissable viewing. It truly needs to be seen to be believed.
If you're a regular at midnight screenings at local indie cinemas, the movie will probably be permanently imprinted in your brain; its ridiculous scenes played out repeatedly among your mates, and nonsensical dialogue exchanged almost automatically. From the football in tuxedos sequence, to iconic lines like "You're tearing me apart, Lisa"' and "I just like to watch you guys!", the film has taken on a life of its own over the past 14 years. Its director, writer and star Tommy Wiseau is a cult icon.
One actor who was captivated by The Room and Wiseau himself was James Franco, so much so that he bought the rights to The Disaster Artist — a book by The Room co-star Greg Sestero — back in 2014. The book relayed Sestero's often rocky relationship with Wiseau and the making of the film that inspired it all. Now, its film adaptation is about to hit cinemas.
We sat down with Sestero, to talk about Wiseau and the strangeness of watching actors recreate his own lived experiences before his eyes.
---
Junkee: Just starting out, could you explain your relationship with Tommy Wiseau? It's spanned decades!
Greg Sestero: It's been two decades. We met at an acting class in San Francisco. Totally opposite types. I was at a very low point because I had been trying to become an actor, I had been trying to move to LA, and every time I just got shot down. I was kind of really ready to give up. He had been trying to become an actor for years before meeting me, and [had been] taking film classes in LA and acting classes and living there. He had kind of given up as well.
We met. I watched him perform a Shakespearean sonnet. I just thought he was so unhinged and out there, unlike anybody I'd ever seen, especially in an acting class. I was drawn try to do a scene with him because I feel like acting classes can be really boring and really predictable.
It seemed as the film went on, your relationship with him kind of broke down. How did that all change? How did you end up being friends with him again?
I did The Room. I didn't plan on being in it. I just planned on helping [Tommy] make it. He was like, "If you don't act in The Room it'll be the biggest mistake you've ever made." I was like, "Yeah. Whatever, man."
We emerged back as friends when The Room started to pick up and became this cult sensation. It was almost like The Room was our kid and it was like you're brought back together through that.
You're like the co-parents?
Yeah, right? We were brought back through that. Making a film is really hard as it is. Even if you're with sane people who are level-headed it still just destroys you, so dealing with someone like Tommy… you needed some time to heal from that.
Do you think your up-and-down relationship with Tommy translated well in the film. James and Dave Franco are brothers so maybe that helped?
Yeah. It was a brilliant choice. A lot of people initially were like, "James and Dave look alike". I knew it was going to work because I knew that James would totally transform into Tommy. You needed to have that chemistry between the two characters that they have. I thought it worked really, really well.
"Making a film is really hard as it is. Even if you're with sane people who are level-headed."
What did you think of Dave's portrayal of you? Was it really weird to watch someone play you?
I'd always envisioned the movie. I had always envisioned the story to be its own movie, so I had a cast list in my mind if it were to become a reality. It was kind of like a pipe dream. I thought Dave really captured the hope and the sincerity that the Greg character had in the experience and also looking up to Tommy.
What about James' interpretation of Tommy? 
I mean, that's just one of the best performances I've seen in years. I've seen it five times now and each time I pick up something that's even more brilliant, that's subtle and shows how well he knew the character, and just how much he put into it. It's an astonishing performance.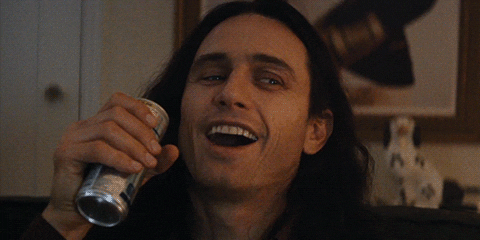 One of the major themes in The Disaster Artist movie was Tommy struggling with his identity. He's wanting to be this all-American hero and this is at odds with how everyone else sees him. Do you think he wanted to make The Room, casting himself as the lead, to kind of claim the identity that he wanted for himself?
Yeah, he had been misunderstood and rejected. He thought he was going to take matters into his own hands and show the world what he really was and what he has. It was a little bit like a cry out for help. It was like, "Hey, I have something to say. Nobody will listen. This is my vision of my life and my story and who I am. I can be the greatest actor ever."
In the end of the film, we see the audience's reaction to The Room. Tommy is upset over everyone laughing, and then very quickly he accepts that he needs to sell the movie as a black comedy. In real life, how did that all play out?
It was similar. He decided after the premiere to change the marketing to experience this quirky new dark comedy. He was pretty quick when he saw the huge laughter that it got. He rolled with it really quickly.
There are so many famous scenes in The Room. What's your favourite?
I think probably the rooftop scene. It's just so over the top. [Laughs]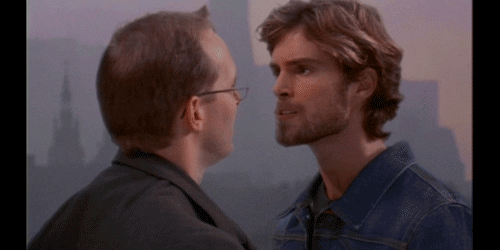 How weird was it watching people recreate these bizarre scenes?
It was hilarious. The amount of detail that went into the recreation of those scenes. I mean, they got the lighting to exactly what it was in The Room. It was apparently really tough to match that. They said it was much more difficult to light it poorly.
Were you surprised or humbled with how many actors just wanted to be involved, whether for a tiny cameo or an actual role?
Yeah. I mean, just the fact that Bryan Cranston, Bob Odenkirk, and Sharon Stone [were involved]…  What more could you ask for? They're three of my favourite actors. It's a testament to just not knowing what is ahead for you.
From an outsider's perspective, and from reading the book as well, it's easy to question why you stayed friends with Tommy for so long. What kept bringing you back to him?
I knew Tommy deep down was a good person who just was not a very good communicator. There were moments that were really unstable. He was someone you didn't really want to be around during certain times, but that was what I had at the time. You just had to make the best of it. It's not easy to kind of survive in that environment [acting in LA].
Do you still talk to Tommy after all this time?
Yeah, circumstances are different now, but it's very odd. It was a very dysfunctional bromance, a friendship that's just kind of endured because these two people want to be actors and make movies. It's hard to explain, but it's just something that you keep getting drawn back together.
The Disaster Artist is already getting a lot of award season buzz. Do you think that would be the perfect kind of full circle ending for Tommy and yourself?
Absolutely. I think it would be a great, incredible journey that has given us what we always wanted in a very, very strange way. Ultimately, it's given us a chance now to kind of go out and be creators.
---
The Disaster Artist is playing at Hayden Orpheum Picture Palace, Luna Cinemas and Cinema Nova now and will hit cinemas nationwide from December 7.
---
Tara Watson is a multi-media producer at Punkee, a self-described pop culture absorbent and cat-thropologist.