Culture
Clive Palmer: Goofy Eccentric Or Something Much More Dangerous?
The Queensland mining magnate might come across a bit like Tom Hanks in Big, but don't be fooled.
To understand Clive Palmer all you need to do is pretend you're eight years old and someone asked you what to do with billions of dollars. You'd buy dinosaurs. You'd recreate movies. You'd heavily influence the Liberal Party.
–
Who is Clive Palmer?
A former Nationals and LNP member, a mining magnate, a golf course owner, a dinosaur aficionado… Clive Palmer is an intriguing character. His recent spate of large-scale projects that walk the line between industrial genius and crazy ramblings of an old man at a bus shelter have catapulted Mr. Palmer into the public eye. He's threatened to take the Government to court over the carbon tax, funded large-scale anti-mining tax advertising campaigns, formed his own political party, and yet still finds time for some of the most incredible side-projects ever conceived. The New York Times labelled Mr. Palmer an "eccentric billionaire", suggesting that perhaps his problem is that he literally has more money than he knows what to do with. If you aren't aware of Mr. Palmer or if you still think money can't buy happiness, then it's time you learned of the exploits of Australia's Wackiest Billionaire!TM
–
The Titanic II
There's no serious way to say this: Mr. Palmer is resurrecting the Titanic. Yes, like the evil ghosts in Ghostbusters 2, he wants to see the Titanic ride again. So, he's building his own. The Titanic II, commissioned by Mr. Palmer, features three passenger classes but no mingling between them. Each passenger is presented with optional 20th century garb so as to not look ridiculous recreating the voyage of a doomed ship from a hundred years ago.
With a sense of dramatic irony, Mr. Palmer assured potential passengers that while sinkable, this vessel has no intention of sinking. When speaking of the dangers, he said, "One of the benefits of global warming is there's not as many icebergs in the North Atlantic." It's about time that someone was able to really see the lighter side of global warming. Just by running this monstrous luxury vessel and contributing to further global warming, Palmer's actually further reducing the number of icebergs and making the voyage even safer! Now that's service.
He has also indicated that First Class passengers will have access to their own casino. Third class passengers wishing to access this casino will have to undergo background checks to make certain they can afford it, and all pensioners will be banned. Mr. Palmer claimed legislation won't be a problem, as the Titanic II will be in international waters. This was fortunate as nothing fills passengers with confidence like a defence of policy that begins with, "We'll be in international waters, so…". Pensioners may be kept out of the casino but they can sure-as-hell marry a mule. It's international waters, baby.
Not satisfied with just owning the vessel, Mr. Palmer has set his sights on the English language as the next doomed artifact he can get his hands on. He has moved to trademark the words 'Titanic' and 'Gigantic', adjectives that I would love to use to emphasise the stupidity of the whole venture, if I could only afford the royalties.
–
Welcome to Jurassic Park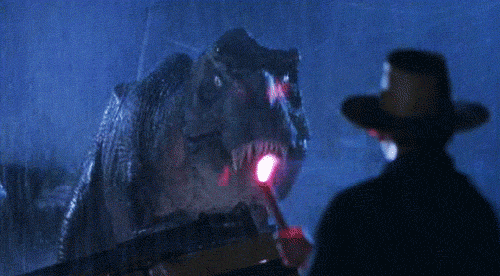 Sticking with the theme of giant attractions that ended in horrible disaster, Mr. Palmer is also creating a real-life Jurassic Park. It was reported this week that he's already ordered 117 giant robot dinosaurs to be imported from China to his resort on the Sunshine Coast. The dinosaurs will make sounds, move about, and even swoop down on a flying fox. You know, everything you need to make sure your child is never able to sleep comfortably again.
A spokesman for Mr. Palmer, Bill Schloch, said the park could be operational in under six months and that the dinosaurs "are as cuddly as a koala". Thankfully, there has never been a popular movie about robots disobeying their creators and taking over the world, so we're probably safe. The new creatures will join a 10-foot-tall robotic T-Rex named "Jeff", who sits at the 10th hole of Palmer's golf resort and presumably roars just before his opponents try to sink a putt. With so many robotic dinosaurs, it's not too hard to imagine that Mr. Palmer might soon be the greatest military force in Queensland.
Politics
Politics is something that could well be on Mr. Palmer's radar after he was asked to leave the LNP for referring to Campbell Newman's policies as a "rape on [the] state" of Queensland. Mr. Palmer, undeterred, trademarked the name "Katter's United Australia Party", dawning in a new era of politics that Bob Katter hadn't agreed to be a part of.
Not a fan of environmentalism, Palmer has also claimed that the CIA is funding the green movement in Australia to shut down the coal industry. This is an understandable position for someone who is about to open the largest coal export facility in the world. One would hope, though, that if the CIA, under instructions from President Obama, were really funding environmentalists in an attempt to shut down the coal industry, that they would have made some headway by now. Perhaps a tax that actually takes money from the coal industry. Super spy stuff.
Mr. Palmer has already invested great sums of money into running campaigns to stop further taxation on the mining industry. This is despite claims that his company hasn't paid tax in three years. Hey, at least he's putting it into things that are fun! Who needs better schools and hospitals when you can ride a robot dinosaur all the way to the desolate wasteland that was once your city? Sure, it's kinda odd for someone to both own the Titanic and believe they're being taxed too highly, but that's just the kind of cognitive dissonance that makes Palmer so interesting.
–
A wolf in dope's clothing? 
So, what's the harm in Mr. Palmer having a bit of fun and building a lot of bullshit? Well, there isn't really, but it's all a sideshow. Clive Palmer isn't dumb. As reckless as these expenditures may seem, there's a point to them. Through these exorbitant gestures, Mr. Palmer has garnered himself a public profile as a harmless eccentric. Things like Jurassic Park and the Titanic II act as shields, a goofy diversion against his more serious preoccupations like running an anti-mining tax campaign that opens with a Russian thanking 'Comrade Kevin' (the mining tax, I need not remind you, was the tipping point for the end of Mr. Rudd's leadership). The crazy billionaire with too much money to spend is a convenient narrative, because it's more enjoyable to hear about than a calculating businessman using his significant means to alter public policy. Unfortunately for us, Mr. Palmer is much more the latter than the former, no matter how many robotic dinosaurs he's sweet-talkin' us with.
_
James Colley is a writer/comedian from Western Sydney. He blogs at fineanimalgorilla.com and tweets at @JamColley.