Culture
Cate Blanchett's Epic InStyle Awards Speech Takes Aim At Fashion's Sexist Double Standard
Nothing but respect for Our Cate.
Our Cate, that straight-talking goddess of the screen and stage, was chosen as one of the 'Style Icons' to be honoured at this year's InStyle Awards. And, true to form, she has given a blistering speech calling out the sexist double standard around women who dress 'sexy'.
Blanchett addressed the audience at the awards last night, taking aim at the idea that women who dress sexy are "asking for it". (Donna Karan, take note!) She talked about assumption that women dress provocatively for male attention, pointing out that, actually, we dress for ourselves. Her speech has skewered the notion that fashion encourages women to dress provocatively, and then we're subsequently blamed for encouraging unwanted male attention.
"You know we all like looking sexy but it doesn't mean we want to fuck you," she said.
Blanchett described "true" style icons as "women who know how they look is not all of who they are, but just an extension of that … It's about women who feel free to wear what they want, when they want and how they want to wear it."
Blanchett is famous for elevating red carpets everywhere with her absolutely balling style. She always dresses with exceptional risk and impressive effortlessness, and imo she's one of the best A-Listers on every red carpet in Hollywood.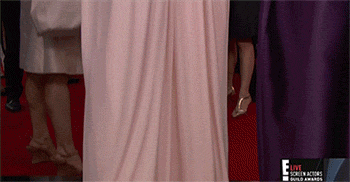 Although Harvey Weinstein and Hollywood's ongoing sexual harassment scandal were not explicitly mentioned, it's likely Blanchett is responding in part to the industry's current volatile climate, where more and more women are speaking out against the alleged abuse and sexual misconduct they experience at the hands of powerful Hollywood men.
As recently as last week, designer Donna Karan spoke controversially about the Weinstein scandal, suggesting that women should consider whether the way they dress is "asking for it". "I think we have to look at ourselves," Karan told reporters on a recent red carpet. "How do we display ourselves? How do we present ourselves as women? What are we asking? Are we asking for it by presenting all the sensuality and all the sexuality?
"You look at everything all over the world today and how women are dressing and what they are asking by just presenting themselves the way they do. What are they asking for? Trouble."
Karan is close friends with Weinstein and his fashion designer wife, Georgina Chapman (who has recently left the producer), whom Karan described as "wonderful people". Soon after her statements were reported, Karan walked them back. "It was not what I meant," she claimed. "I so regret that that came out of my mouth."
Blanchett's InStyle speech feels like a rebuttal of sorts to this attitude, which is still prevalent in many conversations about sexual harassment and assault of women. And Blanchett is right, women (and all people who are survivors of harassment and assault) do not "ask for it" by dressing in any way. So let's get that bogus backwards attitude right out of here!