TV
Start Petitioning Netflix, Because 'Brooklyn 99' Has Been Cancelled
NOOOOOOOOOOOO!!!
TV giveth, and TV taketh away. So it is that in the same breath that we announce that Rick and Morty has been renewed for 70 new episodes, we must sadly inform you that after five amazing seasons, Brooklyn 99 is no more.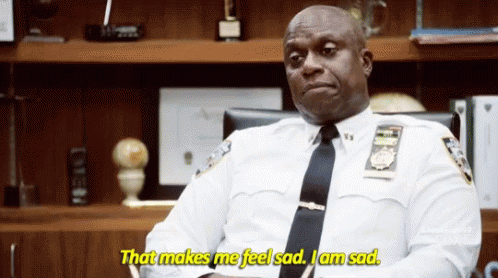 News of the police sitcom's untimely cancellation hit the web this morning. It means that the season five finale, which will air in the US next week, will also serve as the show's final episode (unless someone else picks up the rights *cough*Netflix*cough*).
In the meantime, fans have taken to social media to share their feelings on the matter.
RENEW BROOKLYN NINE NINE
I ONLY WATCH LIKE 4 THINGS
THIS IS ONE OF THE THINGS#RenewB99

— Lin-Manuel Miranda (@Lin_Manuel) May 10, 2018
Cancelling Brooklyn nine nine is like cancelling cheeseburgers

— ALISON WONDERLAND (@awonderland) May 10, 2018
May 10, 2018.

The day America died.

Brooklyn Nine-Nine has been cancelled.

— James O'Neil (@thatjamp) May 10, 2018
If only the cast of Brooklyn 99 were actual cops. There'd be nothing they could do to get fired.

— Robby Slowik (@RobbySlowik) May 10, 2018
fox: we're gonna cancel brooklyn nine nine!
me: pic.twitter.com/2KJuLNMd5A

— Brooklyn Nine-Nine (@brook99pics) May 10, 2018
@ fox for cancelling brooklyn nine nine pic.twitter.com/MivyuqTjJ5

— doctor who (@WhovianDW) May 10, 2018
The show's co-creator, Dan Goor, has since taken to social media to thank fans for their support.
Wow. Thank you all for this incredible outpouring of support. #brooklyn99 fans are the best fans in the world. It means the world to me and everyone else who works on the show.

— Dan Goor (@djgoor) May 10, 2018
As has Stephanie Beatriz, who plays fan favourite Detective Rosa Diaz.
Squad, we love you. What a gift this series has been: it's been my honor. Your sadness is noted. NINE- NINE! pic.twitter.com/qAcOYfpNZh

— Stephanie Beatriz (@iamstephbeatz) May 10, 2018