Politics
The Media Is Desperately Trying To Distract Us From The Black Lives Matter Protests
We must make sure conversations about racist statues, blackface comedies, and 'Gone With The Wind' don't distract us from abolishing the police.
Last week, in the light of the huge Black Lives Matter protests sweeping the globe, Netflix and other TV services announced they were removing shows that feature blackface and outdated cultural appropriation, such as the satirical comedy Little Britain, or over in Australia, a suite of Chris Lilley shows like Summer Height's High.
This article, however,  is actually about how to make sure we don't get distracted from Indigenous deaths in custody in Australia, instead of getting embroiled in another cancel culture war about Jonah from Tonga.
Shows like this being pulled from streaming services can be taken as a sign of cultural progress, as a result protests shining increased scrutiny on everyday racism inflicted on people of colour around the globe. And it's a welcome, if slightly belated, result. The call for blackface to be taken off screens is not a new demand — it's been called for by POC for many years.
It's inevitable that a protest and movement as huge and incendiary as Black Lives Matter would echo into other parts of society, including pop-culture. Already we've seen the conversation shift from the police brutality and deaths in custody that were originally highlighted by the protests, to demands for racist statues to be torn down, for confederate flags to be removed from NASCAR races.
These echoes are not unimportant. Racism comes from the same umbrella of structural inequality.
But, it's also worth pointing out that conservative voices and media are absolutely seizing on these ancillary issues, and using them for fodder in a distracting, and ultimately bad-faith culture war.
hard to draw a longer bow than "taking Gone with the Wind off a streaming service no one has is basically Tiananmen Square" pic.twitter.com/Oj2DsH0Pi1

— thomas violence (@thomas_violence) June 14, 2020
national media for the last several weeks pic.twitter.com/PyidhE1j8t

— Hannah Giorgis (@ethiopienne) June 13, 2020
Over the weekend we've had more media coverage in Australia about Chris Lilley, Gone With The Wind (still available on iTunes, you dipshits) and ugly colonial statues than we have about the protests, police brutality, and the continued and rising problem of Indigenous deaths in custody.
On Friday night, over 600 police turned up to a protest in Sydney to protect a racist statue, dispersing the protest immediately. The Indigenous organisers of the protest were so worried about police brutality, they cancelled it. On that same weekend, an Aboriginal mother in the Northern Territory was arrested and separated from her baby, who later died.
In the US, the overwhelming narrative is that the protests are "dying down" — which simply isn't true. Huge protests are still occurring, such as Brooklyn's peaceful Black Trans Lives Matter rally on the weekend. Justice is still being called for, such as Breonna Taylor, who was shot eight times by police in her bedroom. Those officers are still free.
We're not just going to call them "the cops who killed Breonna Taylor" and have them continue in anonymity. Arrest Brett Hankison, Jonathan Mattingly and Myles Cosgrove. Brett Hankison, Jonathan Mattingly and Myles Cosgrove killed Breonna Taylor. Remember who they are.

— Monica☀️ (@monicerrs_) June 14, 2020
Breonna Taylor was murdered 91 days ago. We are almost 3 weeks into her FBI investigation and no charges or arrests, just a bill banning no-knock warrants, like the one illegally used to murder her. These 3 officers still need to be brought to justice.

— RK Jackson | Atlanta 🛸 (@theerkj) June 12, 2020
It's almost as if without "rioting and looting" there's next to no coverage of the issue. https://t.co/8ZHD37OWja

— Sounds like Zuko (@miriodere) June 13, 2020
mainstream media was largely ignoring the story of Rayshard Brooks'murder until the wendy's burned down, so to me this does seem good https://t.co/otraL1ZBHI

— St. Vincent "ACAB" Price (@muddaub) June 14, 2020
It's not that these pop-culture or cultural events that happen because of BLM shouldn't be reported on — Junkee is equally as guilty of doing that, alongside our other coverage (but tbh, we are a pop-culture and entertainment publication, so it's definitely our beat, maybe step off, Daily Telegraph?) — but mainstream media centering these issues as front page stories not only misses the point, but wilfully obscures the important issues that Black Lives Matters protesters are trying to highlight in the US and Australia.
That statue is a bounder and a cad. pic.twitter.com/4haEmtu7QE

— Pauline Pantsdown (@PPantsdown) June 14, 2020
From the Telegraph front page tomorrow. Nelson Mandela was the head of an armed revolutionary movement. pic.twitter.com/FHUDpJ3XLW

— Dr Charlotte Lydia Riley (@lottelydia) June 10, 2020
Magnificent Daily Telegraph front page https://t.co/XhDm3KfcZp

— Michael Smith News (@mpsmithnews) June 12, 2020
As Bridget Brennan said on ABC Insiders this weekend, "I don't think we saw anyone at the Black Lives Matter rally calling for the end to Basil Fawlty… they were marching to end systemic racism".
News passes quickly these days — remember how hopeful people were in January, thinking the nightmarish bushfires would help hasten some positive decisions around climate change? That feels about 10,000 years ago in terms of coverage, and we'll go into another bushfire season soon, with no shift. We have to make sure we don't let this massive moment of social change from Black Lives Matter slip away too soon in Australia, without implementing some actual change.
The #BlackTransLivesMatter protest in Brooklyn right now is stunning. pic.twitter.com/glDticAc4o

— Joshua Potash (@JoshuaPotash) June 14, 2020
A note to media folks: If your newspaper or outlet is no longer covering the *enormous* BLM protests because they're peaceful now, question why the news business fetishizes blood and violence and ignores racial justice movements otherwise.

— Heidi N. Moore (@moorehn) June 14, 2020
It's also no conspiracy to point out that politicians and media employ distraction to help shape their own narratives — as queen Jaida Essence Hall put it, the "look over there" theory. This is not about people being stupid, or easily distracted — this is about something broken with our news and media, and about ways we can try to work through that problem.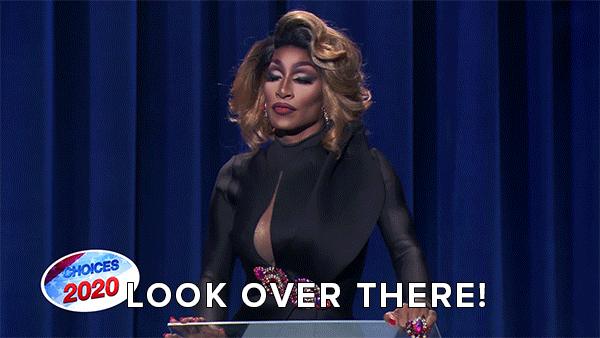 Basically, the point of all this is that we have to make sure we keep the energy, anger, and hunger for justice up — and don't let ourselves get distracted after Black Lives Matter stops trending, and gets replaced with something bullshit like #justiceforchrislilley (just buy the DVDs, dipshits).
"For me, what's so important is that people keep focus on what that core issue is around," says Luke Pearson, a Gamilaroi man and founder of IndigenousX" in this article for ABC Life. Pearson points out that in Australia, this is Indigenous deaths in custody.
It was great to see everyone donating, turning out to protests, boosting Indigenous voices. Here's some ways we can keep the pressure up and support Indigenous people over the next few weeks:
Turn up to the next protests — make sure this isn't a one off event!
Listen to, follow, and boost Indigenous voices.
So many great Indigenous voices to follow on Twitter- https://t.co/Nhuqmzufx7 @debbiebargallie @IndigenousX @TurnbullVanessa @hayden_seek94 @sandyosullivan @NACCHOAustralia @SNAICC @Utopiana @amymcquire – not enough space to list everyone sadly! @IndigStudiesMQ

— Dr Bronwyn Carlson (@BronwynCarlson) June 11, 2020
If you're wondering how you can make a difference, here are some current campaigns that you can follow:
First Nations Deaths in Custody Watch
You can donate to:
Justice for David Dungay Junior
---
Patrick Lenton is the Editor of Junkee. He tweets @patricklenton.