TV
Here's Your Weekend Binge List Because OMG There Is So Much TV Now
Hook it to your veins.
We live in a world where TV comes at us fast, like, all the time. There is so much new TV happening at our faces it can be hard to keep track of what we can binge, where and when.
This is a burden we all face. I face it, you face it, that person sitting next to you as you read this faces it. It's tough; I get it. So, I'm here to help. Here's a delicious list of shows you can (and should) be watching this weekend, and where you can find them.
Your time is now: drag your doona out to the living room, set up a comprehensive snack station and get watching!
---
BoJack Horseman
BoJack Horseman, Netflix's weird and wild (and sometimes wildly depressing) animated dramedy is back for a fourth season. And hoo boy, this one is an absolute doozy. BoJack is still trying to outrun his past, but now it's showing up on his doorstep, living as ghosts in his lake house, leaving voicemails on his mobile.
This season we finally learn about some of his family secrets, including the history of his brutally uncaring mother Beatrice. There's also a bonkers thread about a start-up business of clown-dentists (and dentist-clowns), an underground bottle episode and a killer Princess Carolyn ep (damn I love those). Grab the tissues and sob-laugh your way through twelve episodes of bizarro brilliance.
Ok, where can I find it? All four seasons of BoJack Horseman are now available to stream on Netflix.
---
Younger
There's a reason I keep putting Younger on these TV binge lists… it's so damn good! In its infinite wisdom Stan has bought the rights to stream Younger in line with the US, and last night was the explosive finale of this kicky bubblegum show's brilliant fourth season. Drama galore, friends.
If you haven't yet jumped on the Younger train, this weekend is the perfect time to wind it back and binge all four seasons in a row (this show is better when consumed in high volume). I am so jealous of you right now that you get to do this!
One of the best rom-coms on TV, as well as one of the best shows about women's lives, work and friendships in recent memory, Younger is high-concept hijinks and a shitload of fun. Plus, there are hot men and women positively spilling out of the screen. Get on it ASAP!
Ok, where can I find it? All four seasons of Younger are now available to stream on Stan.
---
Glitch
Holy crap, Glitch is back! Fans of the series (and they're now legion, thanks to the show's encore screening on Netflix) have been waiting two long years for answers and we finally have them… well, kind of. Last night, iView dropped all six episodes of the stunning, confounding new season, just in time for you to binge this weekend. Sweet!
The series, some of the best genre TV in recent years, picks up right where it left off, with the Risen residents of Yoorana (inexplicably back from the dead) trying to work out why they're back and what to do now. The first season of the show wowed with excellent performances, particularly from younger stars Hannah Monson, Aaron McGrath and Sean Keenan. This season is just as rich, layered, dramatic and terrifying. Jump in now.
Ok, where can I find it? All of Glitch season two is available to stream now on ABC iView. Season one is still available to stream on Netflix.
---
The Good Fight
Ok, cards on the table: The Good Wife is my favourite show of all time. So I was pretty trepidatious when I heard they were doing a spin-off series after the OG show's near-perfect seven-season run. But, as it turns out, The Good Fight is fabulous. It has all the drama, grit and wry, absurd humour of The Good Wife, without all the tedious Lochhart/Gardner firm drama. It's just… so, so great.
The new series follows three different women, each at various stages of her career, through the trials and tribulations of being a female lawyer in a male-dominated industry. It's a joy to follow and has more than enough drama and silliness to keep you entertained through a weekend binge. (Plus, there's a new flirtation that's just as hot as Will and Alicia, I promise)
Fierce and still as brilliant and topical as ever, The Good Fight absolutely continues The Good Wife's legacy for superlative (and sadly underrated) female-focused TV. It's a must-watch.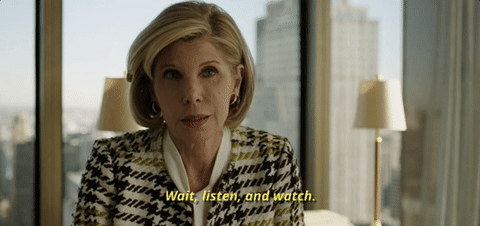 Ok, where can I find it? SBS is screening season one of The Good Fight one week at a time (blast!), but you can catch up on all the past episodes on SBS OnDemand.
---
Parks And Recreation

You literally cannot be unhappy while you're watching Parks and Recreation. This is my mantra. And now, thank the TV gods, you can binge ALL OF IT on Stan. All seven seasons.
Though the show has ended, it still leaves a mark as one of the kindest and sweetest shows on television. Full of good people doing good things for good reasons, Parks and Rec is bound to pull you out of any weekend slump. Precious and silly, with some of the best comedic performances of all time, you'll be surprised how much you adore the show again as soon as you revist Pawnee. (You just have to get past the Mark Brendanawicz seasons first!)
Ok, where can I find it? All seven wonderful seasons of Parks and Recreation are now streaming on Stan.
---
Rick And Morty
I'm not sure Rick and Morty is for everyone, but those who love it love it hard. Created by Dan Harmon (who also created the once-brilliant Community) Rick and Morty is discontented, cynical, jaded and… absolutely brilliant. Centred on the bizarro odd couple of a nervous teenage boy (Morty) and his genius, alcoholic, possibly sociopathic grandfather, each week is another super strange (and hilarious) space adventure through mutliple weird dimensions.
The show's masterful third season, which is the perfect mixture of new ideas and familiar call backs (only escalated to ten times their brilliance), is trickling out one week at a time on Netflix. But it's full of some absolutely bonkers good stuff: a Jerry vacation? Summer in a thunderdome? PICKLE RICK. It's all good stuff. Catch up, already!
Ok, where can I find it? Season three of Rick and Morty is currently streaming on a weekly basis on Netflix. Seasons one and two are also available to stream now on Netflix.
---
Will And Grace
So Will and Grace is returning to our screens! Is anyone else super excited/terrified by this prospect? If you're like me, you are, and so you need to sit down this weekend and cruise through the good old days of the OG gayest show on tv!
Will and Grace is sharp and witty as fuck, and damn, it holds up real well after just over a decade off the air. It's also straight up one of the funnest shows around… I mean, Will and Jack dancing to 'Footloose' with Kevin Bacon, "Just Jack", and literally everything Karen does. It's all wild and it's all on Stan. Park your butt and pour yourself a fun glass of prosecco — it's time for The Great Will And Grace Re-Watch Of 2017.
Ok, where can I find it? The whole of Will and Grace (the OG series) is available to stream now on Stan, and the revival is not far off — it drops (on Stan also) 29 September!
---
Harlots
Dear gods of TV, y'all, Harlots was a real find! I discovered the show last weekend on SBS, and it is soapy, rompy, sexy fun that I know you will all very much enjoy. The series follows two rival madams in 18th century English brothels, and it's a surprisingly modern and sex-worker-positive take on the nature of prostitution and the women (and men) who do the work.
It's also just bloody great time — totally silly, floofy, flirty and a little bit nuts. The women wear fabulous dresses, and bonus points for showcasing Downton Abbey's Jessica Findlay Brown in a much more interesting role than the thankless one she had on Downton. This very saucy and fun show should be enjoyed with your silliest friends, a box of macaron biscuits and also a cocktail, if that's your thing.
Ok, where can I watch it? Season one of Harlots is available to stream now on SBS OnDemand.
—
Matilda Dixon-Smith is Junkee's Staff Writer. She tweets at @mdixonsmith.