TV
The Best TV Characters Of 2016 So Far
Sorry, Barb is pretty good, but Joyce is GREAT.
If you're a low-key TV obsessive like me you'll know that next Monday is the 68th annual Primetime Emmys (some of us even might have it marked in our diaries :/). But with the whole thing playing out exclusively on Foxtel during a work day, everyone else may not have the time to give their favourite shows and actors the admiration they deserve.
In honour of this auspicious day, here's our own list to celebrate the actors we love, but also the characters they play. After considering shows from the US, Australia and abroad, here are the best drama queens, angst kings, vile villains and heavenly heroes of 2016 (so far).
–
Samantha Taylor (Rachel Griffiths) – Barracuda 
Only Rachel Griffiths, one of Australia's finest acting exports, could take a minor character from Christos Tsolkais' novel, Barracuda, and turn her into the lynchpin of the entire miniseries adaptation, which aired in July on ABC.
We all know a Samantha Taylor — with her tailored white capri pants, her perfectly manicured coif and her ridiculously affected Private School Mother accent. And, as played by Griffiths, Taylor (the mother of protagonist Danny's best bud/love interest, Martin) is note perfect, and the show's producer Tony Ayres and co know it. That's why they use her as much as humanly possible across the series' four gut-churning episodes.
Griffiths' steely gaze and her honeyed voice cooing "you don't belong here" to wrong-side-of-the-tracks Danny perfectly articulates the class divide that underpins Tsolkais' tense story. Griffiths adds a real punch of pathos to a series that was at times too introspective for its own good.
–
Phillip Jennings (Matthew Rhys) – The Americans
Thank goodness the Emmys has finally decided to reward Matthew Rhys for his compelling performance as American family man/cold-hearted Russian spy on the best TV show in the US (yeah, I said it), The Americans. Now we've slightly evolved from the whitebread TV anti-hero, we're blessed with Phillip Jennings: a kind and complex father and husband, who is also a terrifying trained killer.
The Americans is well-known for its powerhouse performances, but nothing else on TV is quite like Rhys's devolving Phillip. Each season Rhys appears to collapse further in on himself, crinkling up and singeing at the edges like dry newspaper caught in a lit fireplace. As a Russian spy in the 1980s, Phillip is called on to do some truly horrific things: folding the dead body of a former lover into a suitcase, and seducing a naïve teenager with unwitting access to the CIA to name a few. But in Rhys's hands these spy tasks don't seem sexy or scandalous; they're just sad.
Finally TV has a handsome, damaged hero who is tender rather than macho, who choses feeling over force. As dust from the most recent season of The Amercians still settles, Rhys's Phillip has emerged the definitive dramatic performance on television.
–
Rebecca Bunch (Rachel Bloom) – Crazy Ex-Girlfriend 
What do you do when the star of the show, the one you're supposed to root for, is kiiiinda the villain? In Crazy Ex-Girlfriend, the CW's bonkers musical comedy, creator/star Rachel Bloom explores this very question in a far more nuanced way than any whitebread male anti-heroes ever have on serious prestige dramas. Plus, Bloom's Rebecca Bunch, a neurotic lawyer from New York who stalks her high school boyfriend to West Covina, California, can sing and dance to boot!
Bloom's Rebecca is an impressive specimen: charming, funny, zany and a little bit evil, Rebecca is unashamedly out for herself in the first exemplary season of Crazy Ex-Girlfriend. But even though she's (at times) the villain of her own story, you root for her to succeed anyway, because Rebecca is just so damn appealing. Pulling triple duty as creator/producer, star and writer (of the script and one-third of the songs) Bloom's performance as Rebecca is an impressive blend of sharp comedy and affecting drama.
–
Marcia Clark (Sarah Paulson) – American Crime Story: The People v OJ Simpson 
The first season of American Crime Story is a veritable showcase of powerhouse performances, but none is more impressive than Sarah Paulson's wry, frustrating and sympathetic turn as beleaguered prosecutor Marcia Clark.
Clark, whose blinkered approach to OJ's trial cost her true justice against a probable domestic abuser and murderer, was perhaps the most unfortunate player to emerge from the earth-altering Trial of the Century. Women hated her; men hated her; and the media really, really hated her.
As portrayed by Sarah Paulson, the life force of Ryan Murphy's carnival cavalcade of actors, Clark is alternately vexing and appealingly tragic. Without a doubt, the series' best episode (and it's a tough choice, as it's brilliant from start to finish) is number six, where we're allowed a glimpse into Clark's pitiful life, and an insight into her doomed determination to nab OJ once and for all.
–
Joyce Byers (Winona Ryder) – Stranger Things
Stranger Things, that show the internet won't shut up about, is the resurgence of a great many things on TV: the revere of sci-fi genre TV, a move from pandering nostalgia to piercing retrospective, a renewed respect for TV that privileges mass entertainment above critical success. It's also the resurgence of '90s it girl Winona Ryder, here playing fragile, fading small-town mother Joyce Byers, in what some are calling a Winonaissance.
Rider's turn as Joyce Byers gives Stranger Things, which sometimes overloads on the weird and wacky for entertainment value, a much-needed heartbeat it its centre. Joyce, whose son goes missing at the start of the series, is quivering and queer, dogged and daring, and wears her tragedy like a mask on her gaunt face. Many of the show's most ridiculous scenes (such as when Joyce communicates with her missing son via the electricity in fairy lights) are made magical by Ryder's surprising and offbeat performance.
It's important, when "Strong Women" are only represented one way on screen, that our fictional females are allowed the space to experience emotional tenderness and allowed to stumble and fail. Joyce is one-of-a-kind on contemporary television.
–
Corrie (Madeleine Madden) – Tomorrow When The War Began 
You might have missed the ABC's recent reboot of Tomorrow When The War Began, but it's worth taking a look back to see Madeleine Madden's brilliant performance as guerrilla fighter/Gap Year wannabe Corrie. A radiant young performer (who puts in an equally affecting performance as Zoe in the ABC's Ready For This), Madden's take on Corrie is bolshy and bright, she draws in the other young actors and lifts their (at times patchy) performances.
For those who remember the books (or the 2010 film) Corrie was always a somewhat unexplored character, but Madden's infectious charm and her introspective performance give the character a real depth that packs a punch as the series' first season draws to a dramatic close. Madden's Corrie is proof positive of the value of diverse casting, and of encouraging young Indigenous talent on our screens.
–
Sharon Norris (Sharon Horgan) – Catastrophe 
If you haven't yet found Catastrophe, the hysterically funny British rom-com about an accidental romance between an Irish woman and an American man (Sharon Horgan and Rob Delaney, the show's creators), boy, are you missing out. With two delightful and mercifully short seasons available on the magic internet (and screened on the ABC), this series is perfect for a cheeky Saturday arvo binge watch.
The series, which follows Sharon and Rob as they fall in love backwards (pregnancy first, marriage proposal second, true love last), is a brilliantly biting take on modern love. Delaney, who is a US comedian famous for his "Twitter comedy" (which, yes, is apparently a thing) is hilarious on the show, but the true star is Horgan as the bright, acerbic Sharon.
The show's second season takes Sharon down the rabbit hole of post-partum depression with an unflinchingly honest portrayal of how lonely unexpected motherhood can be, made digestible and almost inappropriately funny by Sharon's quick wit and sharp realism. Even Delaney seems as genuinely dazzled by Sharon on-screen as we are watching from our couches. Without a doubt, Sharon is the quiet comedic performance of the decade.
–
Cersei Lannister (Lena Heady) – Game of Thrones
My well-documented difficult relationship with Game of Thrones has but one barrier: my unabashed love of the ultimate HBIC, Cersei Lannister. Cersei is self-possessed, gloriously charmless and deliciously evil. She holds a grudge, and she always, always gets even.
Certainly one of the most controversial characters on GoT, even the show itself can't bring her down, no matter how the writers try to punish her for the gall of being a woman with gumption. In this latest season especially Lena Heady plays Cersei with icy perfection — and she can slug a glass of red wine like an absolute pro.
–
Rogelio De La Vega (Jaime Camil) – Jane the Virgin 
Jane the Virgin, a charming telenovela/rom-com hybrid that challenges the absurdity of its name every week, is one of 2016's best shows. Funny, surprising and pleasingly meta, the show is always at its best when Jaime Camil's endearing narcissist, telenovela star (and Jane's father) Rogelio is on the screen.
A lavender-garbed, Twitter-obsessed dimwit, Rogelio has every reason to be grating but Camil plays him just right: silly but with an undercurrent of affecting sincerity. For line readings that are spot-on every time, look no further than Rogelio (or his pitch-perfect faux Twitter account).
What do you love most about me?

— Rogelio De La Vega (@RogelioDeLaVega) August 9, 2016
–
Mary Jane Paul (Gabrielle Union) – Being Mary Jane
Being Mary Jane is the definitive chronicle of contemporary singledom that you've probably never heard of, and it's inimitable ringleader is Mary Jane Paul — an ambitious cable news talk-show host living in Atlanta, Georgia.
BMJ actually shares a lot of DNA with Channel Ten's resurrected family drama Offspring. Like Nina Proudman, Mary Jane is an exemplary career woman with a messy personal life; and like Nina, Mary Jane is often hampered by her loveable but meddling family. But BMJ has the added advantage of Gabrielle Union at the helm.
That's right, your favourite naughties teen film star is back on the screen and she hasn't aged a day. The gorgeous, steely Union mixes humour and pathos flawlessly as Mary Jane, who is at once bolshy and tragically lonely. Whether she's killing it on her TV show or hosing down a cheating lover, MJ is always fierce and fabulous.
–
Chris Darden (Sterling K. Brown) – American Crime Story: The People v OJ Simpson 
The inaugural season of American Crime Story had a tough task: translating the real-life cast of the OJ Simpson trial into the semi-fictional characters of a scripted TV show. As with Marica Clark, the show did best when it revealed hitherto unknown depths of these accidental celebrities, and no journey was more underrated, or more affecting to watch, than that of prosecutor Chris Darden.
Played by (the very handsome) Sterling K. Brown, Darden is a tragic figure: a man fighting for justice at the expense of a different kind of victory, one that was closer to his community. As a black man burdened with prosecuting an African-American hero, Darden became a hated figure, one whose community believed he had betrayed them.
Still, Darden is tender, thoughtful and supremely sexy. He's the only prosecutor who sees the dangers ahead in the trial, and watching his shrewd warnings be ignored in favour of the opinions of the white prosecutors above him is heartbreaking in the extreme. Plus, the man can dance.
–
Bonus: Best 'Real-Life' Characters
The Kates – The Katering Show

The Katering Show, 2015's YouTube sensation, returned in 2016 on ABC iView, and if you were worried that Aunty might water down the Kates, well, you were wrong. With eight incisive new episodes, Kate McLennan and Kate McCartney took on Melbourne's ramen craze, heteronormative weddings and the bizarre ritual of eating your own placenta after birth.
As co-creators of the series, the Kates' razor-sharp writing keeps the show fresh and funny, but it's their deadpan delivery and the brilliant way these two comedians bounce off each other that really makes the show special.
–
Michelle Visage – RuPaul's Drag Race
Long-time devotees of RuPaul's Drag Race will know that a runway isn't a runway without Michelle Visage. If RuPaul is the best reality show on TV (and it is) then Michelle is officially crowned The Ultimate Reality Judge.
For the uninitiated, RuPaul is like American Idol meets America's Next Top Model meets Project Runway, where infamous drag queen RuPaul crowns America's next drag queen superstar. Wacky, witty and filthy af, RuPaul is the most fun you can have while watching TV, and a large part of that is down to runway judge Michelle Visage.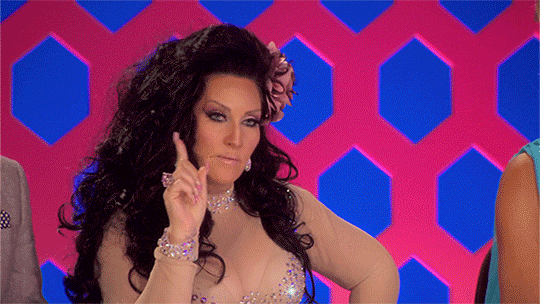 Visage has a cheeky sense of humour, an unshakeable sense of fun, and she's both firm and kind to the queens, who are battling in a high-stakes competition that launches mammoth careers in the drag industry. Before you watch the current season of Drag Race All Stars, do yourself a favour and catch up on Michelle's best moments on Stan (they have six seasons of Drag Race and the first season of Ru's ridiculous and brilliant game show, Gay For Play).
–
Sammy J – Sammy J's Playground Politics
Could we have made it through this year's dreary election season without Sammy J and his box of plush-toy pollies? Doubtful. Sammy J's unexpected and inventive take on federal politics, the Play School-style Playground Politics, was memorably wild and witty — taking aim at all the parties with equal-opportunity precision.
But it's Sammy J himself, his measured delivery and versatile comedic talent, that lifts the show to the loftiest satirical heights. Sammy J proves there's plenty of room for some new political satire on the box.
–
Matilda Dixon-Smith is a freelance writer, editor and theatre-maker, and a card-carrying feminist. She also tweets intermittently and with very little skill from @mdixonsmith.