Culture
Junk Explained: Are We Finally Getting Closer To Marriage Equality?
We're so far behind the rest of the world; why are we taking the longest route possible to catch up?
Over the weekend reports emerged suggesting that Malcolm Turnbull had locked in a date for a plebiscite on marriage equality. Despite promising that the vote would be held sometime this year it now appears as though the plebiscite will be held in February 2017. The timing of the vote, as well as other details including the wording of the question that will be put to voters, has attracted criticism from marriage equality campaigners. But many marriage equality activists are furious that the issue is being put to a public vote in the first place.
There are calls for Labor and the Greens to block any legislation that would enable a plebiscite from passing the Senate, killing off the whole thing. So even though Turnbull has finally announced some of the important details, it looks like there's still a lot of uncertainty around whether we'll get marriage equality in Australia anytime soon. But why are we proposing to hold a plebiscite in the first place, and happens if it passes, fails or isn't held at all?
–
The Fight For Marriage Equality Has Been One Long Campaign
Back in 2004 the Howard government amended the Marriage Act to explicitly rule out same-sex marriage. The amendment added a section to the Act that described marriage as "the union of a man and a woman to the exclusion of all others". It also stated that "a union solemnised in a foreign country between: (a) a man and another man; or (b) a woman and another woman; must not be recognised as a marriage in Australia". The amendment sailed through Parliament with the support of the Labor opposition.
The Howard government's changes to the Marriage Act had a significant practical and political impact on the fight for marriage equality. As a result of the change it became impossible for state and territory governments to legislate for marriage equality. In 2013, the ACT government passed legalising same-sex marriage, but they were struck down by the High Court within weeks. The court found that the federal parliament had jurisdiction when it came to marriage, and since it the federal Marriage Act explicitly ruled out same-sex marriage, it could not be legalised at a state level.
During its six years in office, the Labor party made no attempt to wind back the Howard-era amendment or fully legalise same-sex marriage, despite strong public support for the reform. This meant responsibility for updating Australia's archaic Marriage Act fell to… Tony Abbott.
–
Suprise! The Plebiscite Was One Of Tony Abbott's Great Ideas
Between 2013 and 2015, New Zealand, France, the UK, Ireland and the United States all legalised same-sex marriage, increasing pressure on the Australian government to finally take action. Unfortunately for us, our Prime Minister was an ultra-conservative who said he felt "threatened by homosexuality". But Tony Abbott wasn't able to completely ignore the public demand for change.
Some moderate Liberal party MPs agitated for a free vote in Parliament, where each MP could ignore party policy and vote according to their conscience. Abbott and the right-wing of the Liberal party managed to withstand that push, but as an overture he flagged a national plebiscite to resolve the issue. Unfortunately for Abbott, he was rolled out of the prime ministership a month later by Malcolm Turnbull. Despite hopes that Turnbull might ditch the plebiscite idea, he stuck with it all the way through to this year's election campaign.
After refusing to provide many details before the election, the government has now dropped some massive hints about the timing and nature of the plebiscite. The marriage equality movement is split on how to tactically respond to the plebiscite proposal and Labor and The Greens are hinting that they might oppose it altogether.
–
Why Are Some People Opposed To The Plebiscite?
In most jurisdictions, marriage equality has become legal due to either decisions of parliament or the courts. The exception is Ireland, where a referendum was held to change the constitution. In Australia we don't need a referendum to legalise same-sex marriage. All we need to do is update the Marriage Act — something that can only be done through the parliament. The proposed plebiscite isn't about changing the constitution either, it's basically just a method of testing what proportion of the country supports marriage equality.
High-profile marriage equality activist Rodney Croome has recently quit Australian Marriage Equality (AME) to lobby against the plebiscite. He thinks a divisive national vote could increase harm to LGBTI Australians and set back the campaign. Former High Court judge Michael Kirby also opposes a plebiscite and this week argued that "it's time Parliament did address itself to the issue of marriage equality".  "Giving it [over] to a plebiscite is simply an endeavour to delay or defeat the measure," he said.
Activists are opposed to the plebiscite because they think it's unnecessary, a waste of time and money, potentially harmful and is unlikely to have any meaningful impact since Liberal MPs will still be able to vote against marriage equality in parliament. Others think that the proposed plebiscite question has been deliberately designed to make it harder for the vote to succeed.
Draft plebiscite Q excludes intersex people non-binary people through the prescriptive wording "same-sex couples", also "approve" v loaded.

— Sally Rugg (@sallyrugg) August 20, 2016
But not everyone is opposed to it. The AME is worried that if the plebiscite is blocked there may be no clear pathway to marriage equality in Australia at all.
–
What Happens If There's No Plebiscite?
Before the plebiscite can actually go ahead, a law to enable it needs to pass the parliament. Labor, the Greens and the Nick Xenophon Team have all suggested that they could block the legislation. If they team up, the enabling legislation can't pass the parliament and there won't be a plebiscite.
What happens then? Well, no one is really sure.
If Turnbull allows Liberal Party MPs a conscience vote then marriage equality is likely to pass through both houses of parliament and become law. But there's no guarantee that Turnbull will allow that to happen if the plebiscite doesn't get up. The only other possibility for marriage equality involves waiting until the 2019 election and hoping Labor wins and changes the law. If only they'd done that sometime between 2007-13!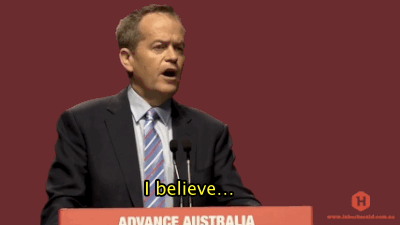 It's a pretty tricky situation for marriage equality campaigners. If they support a plebiscite they risk potentially losing the national vote (though polls suggest it should pass comfortably) and setting back the movement. But if they oppose it there's no clear path to marriage equality until at least 2019. It's an incredibly complex dilemma.
There is a simple solution though. If Malcolm Turnbull (a personal supporter of marriage equality) showed the kind of leadership that was missing when Tony Abbott, Julia Gillard and Kevin Rudd led the country, we could have marriage equality next week. If he granted his MPs a conscience vote, marriage equality would pass and Australia could catch up with the rest of the world. Until one of our Prime Ministers shows a bit of courage and actually tangibly supports a reform that has broad public backing, the marriage equality campaign is likely to remain divided and trapped in a difficult conversation about tactics.