Music
A Loving Look At Just How Ridiculous All Of The Lyrics On The New Arctic Monkeys Album Are
Looks like Alex Turner's seen 'Black Mirror'.
After a five-year sabbatical, the Arctic Monkeys returned last week with their much-hyped sixth album, Tranquility Base Hotel & Casino — and fans and critics alike are more than a little divided.
With no pre-release singles, it was difficult to know what to expect from the album. Would it be another arena-rock record, à la 2013's AM? Or would they return to the sounds of their angsty, decibel-busting debut, Whatever People Say I Am, That's What I'm Not? The heavier-leaning Humbug?
Instead, we've gotten what few could have guessed: a '70s inspired concept album set on a casino bar on the moon, the Arctic Monkeys playing the role of house band.
Sonically, Tranquility Base is light years from previous efforts, as the band swapped out their classic guitar riffs for retro keyboards and piano. The album's moody, introspective and just plain weird — perfect for the lonely souls slouched over late at night at the bar.
As fans and critics clamour to process the changes, one thing's stayed the same. Alex Turner's lyrics have remained peak Arctic Monkeys, an onslaught of codified one-liners equally abstracting and absorbing.
Sure, Turner has moved beyond relationships to cover easily hackneyed topics like gentrification, social media woes, and the ennui of the rich and famous. While writing, Turner also became obsessed with sci-fi classics, and references as many films on the album as you'd hear about on a terrible Tinder date. In a less charming lyricist's hands, this would be a disaster.
Luckily, Turner approaches things with the same balance of absurdity, word play and smugness of any other album — if not with maybe a smidgen too much Black Mirror moralism.
To ease into your stay at the Tranquility Base, we've taken a loving look at just how Alex Turney-y the lyrics to each song on the album are. For reference, we're taking the laughable menace of 'Don't Sit Down 'Cause I've Moved Your Chair' as the Arctic Monkeys' apex.
1. 'Star Treatment'
Thinkpieces could live and die by Tranquility Base's very first line: "I just wanted to be one of The Strokes/Now look at the mess you made me make".
Talking to Pitchfork, Turner said the line was originally a placeholder that stuck as it captures how fast his 12 years have gone since releasing debut album Whatever People Say I Am, That's What I'm Not. It'll probably strike a lot of longterm listeners, too — especially if they're among those calling the new sound a 'mess'.
The most boring album I've heard in a very long time. Completely heartbroken – you're one of my favourite bands of all time.WHAT were you thinking?! ??

— Jenna Adkins (@jennaadkins87) May 14, 2018
The meta move's classic Arctic Monkeys, echoing back to the self-mocking punk-posturing of their 2006 debut. You can hear Turner cutting himself down a peg later down the line when he accosts a date by asking quite possibly the most basic film bro question of all time: "What do you mean you've never seen Blade Runner?"
We're also partial to Turner's transformation of binge streaming into a cosmic act with vaguely Orwellian repercussions. Man, aren't we all just "floating down the endless stream of great TV, 1984/2019"?
Rating: 10/10, for all-time levels of Alex Turner absurdist arrogance.
2. 'One Point Perspective'
Here, Turner-as-lounge-singer gets continually distracted from performing, rambling in the verses about the likes of imaginary documentaries before looking up to realise where he is: "I've played to quiet rooms like this before/Bear with me, man, I lost my train of thought".
It's also a cheeky play on how we're all so distracted by new pieces of content and news, struggling to focus on any one thing at a time. Listening through the album, our rotting attention spans are clearly on Turner's mind.
Continuing the sci-fi trend, the song's named after an unsettling asymmetrical camera shot preferred by Stanley Kubrick. On the other side of cinema, we like to think he's merged together Risky Business and Love, Actually's dancing scenes together in the song's opening line, "Dancing in my underpants, I'm gonna run for government".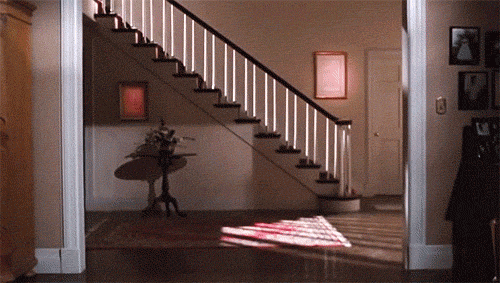 Rating: 6/10, for the jarring imagery and "high-brow" reference.
3. 'American Sports'
Westworld has nothing on this song's dystopian landscape, a view of a VR-addicted moon colony which mirrors our own constant need for content.
But the true horror isn't the abstracted reality. For the narrator, it's that tech issues continue to plague our distant future: "Can I please have my money back? My virtual reality mask is stuck on 'Parliament Brawl'". Then Turner almost runs out of batteries before a "weekly chat with God on video call". Geez, this future sounds pretty difficult, huh?
Rating: 7/10, for a return to petty gripes masked as social commentary, à la 'Perhaps Vampires Is A Bit Strong But…'.
4. 'Tranquility Base Hotel & Casino'
"Technological advances really bloody get me in the mood/Pull me in close on a crisp eve, baby/Kiss me underneath the moon's side boob".
By song four, you might be a little tired of the neo-luddite lines, but we've got to hand it to Turner: there's something really upsetting over someone getting hard over a new iPhone and anthropomorphising the moon to have a singular side boob. This is the future liberals want.
Rating: 10/10, for the lyric that'll haunt my dreams.
5. 'Golden Trunks'
If you could somehow ignore the half that's about egocentric US Presidents, this is the album's sweetest song. After Turner admit his feelings to a lover in the chorus, the moment's sandwiched by a pretty upsetting image of spandex-clad POTUS:
"The leader of the free world/Reminds you of a wrestler wearing tight golden trunks/He's got himself a theme tune/They play it for him as he makes his way to the ring".
It's a classic sweet-then-sour lyric combination, made even more odd given that Turner apparently wasn't aware that Trump once body-slammed his way through the WWE.
Rating: 7/10, for balancing romantic moments with a bit of Humbug-styled menace.
6. 'Four Out of Five'
Part hotel jingle, part diatribe against food-truck gentrification, this song's about a Taqueria opening at the hotel. It's called the Information-Action Ratio, a reference to pop-philosophy book Amusing Ourselves To Death. While you might find that reference a little gauche, there's good news to be found: the taqueria's getting some pretty great reviews, "four stars out of five".
It also doubles as a defence against the album's potential negative reviews. Get you a song who can do both.
Rating: 9/10, for the crooning of the word "gentrification".
7. 'The World's First Ever Monster Truck Front Flip'
Turner named this song after a viral video that does everything it says on the tin. This time, he's worried that our endless scrolling and clicking is a dopamine addiction we're getting all too reliant on, inspired by his own hours lost to the web:
"You push the button and we'll do the rest/The exotic sound of data storage/Nothing like it, first thing in the morning"
Rating: 9/10, almost purely for the laughable title à la 'Don't Sit Down 'Cause I've Moved Your Chair'.
8. 'Science Fiction'
If it wasn't clear Turner went hard on the sci-fi while writing Tranquility Base, this song is a semi-apologetic meta-meditation on the album's songwriting process:
"So I tried to write a song to make you blush/But I've a feeling that the whole thing/May well just end up too clever for its own good/The way science fiction does"
Rating: 10/10, for sincerity wrapped in a punchline, à la the seething disappointment of 'No. 1 Party Anthem'.
9. 'She Looks Like Fun'
While this is one of the few songs we could imagine slotting in smoothly on several Arctic Monkeys albums, the lyrics stick it firmly within Tranquility Base territory.
We're on the age-old critique of social media as an inane place of oversharing, as Turner lists off what he sees on an Instagram feed of someone he's stalking to the backing of a chanting chorus: "(She looks like fun), Good morning/(She looks like fun), Cheeseburger/(She looks like fun), Snowboarding".
Rating: 8/10, for the festival-ready sing-along.
10. 'Batphone'
Behold, the album's thesis:
"I launch my fragrance called 'Integrity'/I sell the fact that I can't be bought/Have I told you all about the time that I got sucked into a hole/Through a handheld device?"
Rating: 8/10, for the unapologetic pun about consumerism. 
11. 'The Ultracheese'
Starting with nostalgia, but ending on solace, for the album closer, Turner's focused on how fame has alienated him. But there's no tech to blame in sight. Instead, Turner's singing with self-mocking, making fun of his rock star posturing, "I might look as if I'm deep in thought/But the truth is I'm probably not/If I ever was."  Was the hand-wringing about social media a red herring all along?
Rating: 10/10, for sending mixed messages.
—
Jared Richards is a staff writer at Junkee, and co-host of Sleepless In Sydney on FBi Radio. Follow him on Twitter.