TV
How TV Got Broke For The Better In 2014
Our traditional idea of television, as a passive delivery system of evenly-timed, digestible nuggets, has been well and truly crushed. And TV is all the better for it.
2014 is the year television broke. No, not my TV, that thin black thing that sits and gets dusty while my laptop overheats on my stomach. If you're looking to grieve, then do so for the television model itself (although you'd have to be a network CEO to not see this death as a blessing).
The changes that new technology has brought to TV have been a long time coming, but more people watched television on their computers this year than ever before — and it resulted in riveting, touching, hilarious, and must-see programming. If the internet once promised all of the information for everyone, we might slowly be seeing a greater variety of entertainment to match. Our traditional idea of television, as a passive delivery system of evenly-timed, digestible nuggets, has been well and truly crushed.
Television now arrives in lumps and bundles, tonally askew and with episodes and seasons that are the length of the story, not just the timeslot. Who's there to meet it? An audience spoilt for choice, with their fingers firmly on the Twitter.
Was True Detective the new must-see television, or did it have the biggest woman problem? Was your viewing highlight the descent into the Yellow King's lair, or your warm welcome into the Pfeffernan clan on Transparent? Which shocked you more – some dude's head popping, or the fact that you got addicted to a miniseries about the political manoeuvrings between Palestine and Israel? Did you hole up in solitary with the entre season of Orange is the New Black, or take the odd hit of High Maintenance when you had a spare ten minutes?
Television broke last year – what we watched, and the ways we watched it, are more diverse than ever before. Here are a few more trends that got tossed.
–
The Bro-Zone Was Busted
It's a widely known fact that the best parts of the excellent The Good Wife aren't the legal cases or campaign strategies or the costumes (the costumes come close); it's when the characters kick back with a drink and relax. Watching steely Alicia let her hair down with the equally driven Diane or Kalinda is one of the show's great pleasures.
When hang-time on TV is normally all about dudes (The League, It's Always Sunny in Philadelphia, Silicon Valley, Workaholics), it's super nice to get to see ladies chill together. This year other shows got in on the tab, and television's way more fun because of it.
Orange is the New Black, for better or worse, became a full-on slumber party this season, complete with black-out sing-a-long. Girls' best episode of the season allowed the central four to actually spend time together – beach house dance sequences and long held grudges were equally satisfying. Some of Please Like Me's best scenes were between creator Josh Thomas' on-screen mother and her fellow female hospital patients (played brilliantly by Denise Drysdale and Hannah Gadsby). And all the hikes, brunches and vape shops in Transparent screamed Los Angeles, but led to some pretty chill conversations amongst the female heavy cast.
To top it all off, we were finally delivered the flipside to Apatow's stoner bros in the form of the horny, bumbling, goofballs of Broad City. Season two starts in a couple of weeks. This says it all.
–
The Sitcom Was Smashed
Death is declared every other week in Tinseltown (did you hear that SNL is having its worst season ever, at least since the last?). So to say that the sitcom has carked it is to prematurely bury some perfectly good examples — such as the lewd and hazy Broad City, the tartly engaging You're The Worst, or the underappreciated gem that is Veep.
But the big, brassy, commercial sitcom? The twenty-two minutes of non stop laffs, gags and zings? This year brought about no clear heir to the crown of Seinfeld, 30 Rock, Arrested Development or Community (the latter lost somewhere in the ether before it re-emerges on Yahoo, its new online home).
Instead, the best 'comedies' this year — like Transparent, Please Like Me, Louie, Girls and the aptly named re-emergent The Comeback — were slower and more meditative. They took cues from gentle indie filmmakers like Nicole Holofcener and Thomas McCarthy. Rather than poke and prod loudly at everyday inanities, they softly ruffled the feathers of deeper worries and woes.
With distributors accepting smaller audiences, and audiences watching shows in their own time, the topics explored can be a little more nuanced. Entertainment rarely deals with gender exploration, mental illness, and sexual boundaries, let alone the shades of grey that colour each issue. Somehow, this year, we got to watch all of that and more.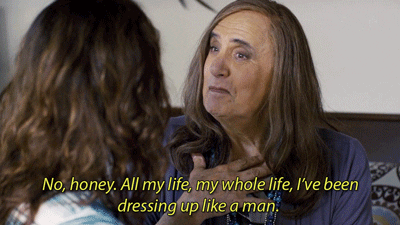 We're a hungry audience these days, with self-serve buffet greed and gourmet degustation demands. In an age of short -attention–spans, in which 'sharability' is a new value metric, it's little wonder that sketch comedy is having a moment. Kroll Show and The Birthday Boys pushed pre-existing TV tropes to their idiotic extremes, while Inside Amy Schumer, Key and Peele, Portlandia and Soul Mates offered highly sharp and skewed takes on social and cultural quirks. Each show has the pleasing ring of distinct creator focus, targeting glossy mag sex tips, black Globe Theatre goers, or yoga farts.
–
The White Male Genius Myth Was Shattered
Television, just like… oh, every aspect of the world, has long been seen as the domain of lone, genius white men. White men who just didn't have time to deal with women and people of colour, goddamit! That had geniusing to do!
You can see it in front and behind the cameras of our critically acclaimed shows – where Tony Soprano, Don Draper and Walter White rally against and right the fictional worlds that creators David Chase, Matt Weiner and Vince Gilligan put before them.
Three series, each focusing on explorations of discoveries past, took similar routes to disrupt this trope. Masters of Sex continued to give Lizzy Caplan as much meat to chew on as it did Michael Sheen, but, with Sheen's character absorbed with family drama, Caplan's character's career took centre stage, giving her the chance to play gutsy alongside big-hearted.
The Knick, promoted as a swagger-fest for director Soderbergh and star Clive Owen, instead expanded into an ensemble piece, with fantastic roles for André Holland and Juliet Rylance that became the emotional thrust of the series. 19th Century interracial hospital basement affairs just aren't the same if your show only has old white dudes…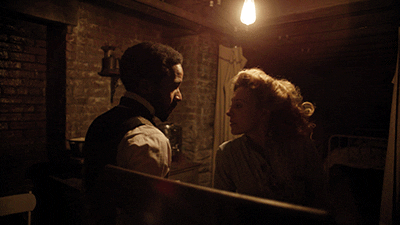 And catch up on Halt and Catch Fire, if you can. The show's story plays out like the show itself: In '80s tech-ville Texas, a group of go-getters plan to clone a success, the IBM, but end up creating the first ever laptop. You barely need to squint to pick up the trace marks of Mad Men in the pilot's plotting, but by around episode six you can see the beginnings of a weird and moody drama. It's about how computers connect misfits, and about how technology can feed the soul. Its best characters? Two fantastic and different female computer whizzes that continually keep the plot developing.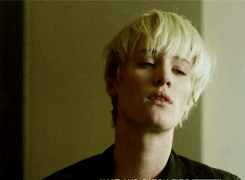 Behind the camera, women were creating the most acclaimed about shows, and having the most interesting conversations – Jenji Kohan (Orange is the New Black) and Jill Soloway (Transparent) both have fascinating views on representation in story, casts, and crews. Michelle MacLaren might just be the most famous television director at the moment, handing-in defining and iconic episodes of Breaking Bad and Game of Thrones, and now being given the big screen reigns to Wonder Woman. Meanwhile, the undisputed head honcho in television land is now Shonda Rhimes (Gray's Anatomy, Scandal, How to Get Away With Murder), doing all she can to disrupt our ideas of what makes great TV (the biggest melodrama and craziest twists since Twin Peaks) and who we see on it. Should we care if a gay Republican Vice President is realistic, if it means we get to watch one?
The Long Running Series Was Killed
Like a Canadian songstress' heart, Game of Thrones and The Walking Dead will warble on. But are any of our other favourites in it for the long haul? Once one-and-out was a sign of failure; now, it's creative moxxy and smart business sense. The ongoing series with stand-alone seasons was shocking when done by American Horror Story, but look to see True Detective, Fargo, and the soon-to-shoot American Crime Story follow suit, and that probably won't be the end of the trend. Should Australia's Party Tricks been called True Politics? Would the neat and twisty The Code have garnered more interest with a generically descriptive name and a promise to return next year? How about Canberra Computer Hacking: The Show?
High Maintenance, a self-produced video series that's now pay-to-watch on Vimeo, created some of the funniest, most affecting, and well-observed vignettes available. The peripheral characters of a weed dealer's existence are dragged into centre stage; the camera moves voyeuristically, but in each cramped Brooklyn apartment we're allowed full emotional access. It's a good thing the show can do so much with so little, as we've only got three episodes left of the second season, and no knowledge of when the third will arrive, how many episodes it'll contain, or how long they'll be.
And just to put a stiletto-heeled downer on all this newly adaptable watching comes Black Mirror, the BBC tech-horror satire: one and a half mini seasons and a Christmas special long, and terrifying if/when any of its predictions come true. Tightly scripted, well acted, beautifully produced and nightmarish in the extreme, Black Mirror's single-storyline episodes allow for no follow-up catharsis to its futuristic fables; the characters are left stranded in dystopias that seem all too close to our own current existence.
Black Mirror doesn't deliver on a regular schedule, and it certainly doesn't have the happy endings we've come to expect. It's unsatisfying in the best kind of way, like much of what we watched this year. Let's just hope that it points to the future of television, and not reality, otherwise we should probably expect all of our foreseeable viewing to end up something like this…
–
Matt Roden helps kids tell stories at the Sydney Story Factory, and co-hosts FBi Radio's film & TV show, Short Cuts, at 10am each Saturday. His illustration and design work can be seen here.
Feature image by Matt Roden.