Film
The Ten Best Films Of 2016 So Far
There have been too many good films to wait until the end of the year.
It's traditional to wait until the end of the year for 'best-of' film lists, but hell, you might as well check out (or revisit) some of 2016's finest cinematic fare while you wait for your new federal government.
Honourable mentions include Brooklyn, a sensitive story about identity and belonging told with satisfying humour and romance; the shaggy, black-hearted noir caper The Nice Guys, the unexpectedly funny and feminist Bad Neighbours 2, and The Revenant, which is nowhere as great as it (and Oscar) thinks, but is nonetheless absorbing and visually astonishing.
—
Carol
Even leaving aside its political urgency, Todd Haynes' romantic drama is exquisitely composed and impeccably acted. Appropriately for a film whose protagonist, Therese (Rooney Mara), is a photographer, it's stuffed with memorable, emotionally charged images that aren't sharp and shouty, but instead unfurl into the spaces of everyday life like sighs.
Because the eye has to travel, there's an almost overwhelming abundance of beauty, thanks to production designer Judy Becker and costume designer Sandy Powell. And so many shots involve windows and mirrors: spaces in which we become visible, and gaze at ourselves and others. This is cinema at its purest and most seductive.
—
45 Years
You might have skipped this because it's 'about old people', but Andrew Haigh's (Weekend) portrait of a marriage in quiet crisis is devastating. A deep crevasse opens up in the fabric of Kate and Geoff's (Charlotte Rampling and Tom Courtenay) contented country retirement, revealing long-buried discontents that make them strangers to one another.
Like Virginia Woolf's Mrs Dalloway – a novel it resembles in many ways – 45 Years focuses on Kate's preparations for a party that seems elegiac rather than celebratory. Its climax, in which Kate and Geoff re-enact their wedding waltz for their fond guests, is a breathtaking exercise in psychological horror.
—
Deadpool
I liked this a lot back in February, but the more superhero movies I've seen since this one, the more I've appreciated it. Back then I was fifty-fifty on its relentlessly self-referential tone, but in retrospect, the superhero genre still richly needs piss-takes. Despite the rumours that the forthcoming Suicide Squad underwent reshoots to make it Deadpoolier, the superhero genre remains both overstuffed and desultory, operating solely as a sequence of franchise placeholders.
Nimble and witty compared to the grandiose, fascistic nerd power fantasies of Batman v Superman: Dawn of Justice, Captain America: Civil War and X-Men: Apocalypse, Deadpool feels elegant for focusing on one guy who just wants to be with his girlfriend. And its best asset is Ryan Reynolds, who completely redeems his former superheroic stumbles.
—
Hail, Caesar!
While genre pastiche is Joel and Ethan Coen's key working method, this delightful collection of vignettes and McGuffins will never please those who prefer the Coens in grim and mordant mood. Perhaps in years to come, Hail, Caesar! won't be seen as one of their 'great' films. But it is a great commentary on the way cinema uses sensory pleasure as a mechanism to deliver ideology.
Hail, Caesar! is meltingly pleasurable to watch. The backstage action at Capitol Pictures both blurs into and exposes as false the emotional textures of the films being made: hard-edged noir; charming song-and-dance setpieces; drawing-room farce; self-righteous religious epiphany. This film conveys complex and ugly ideas of capitalist exploitation and socialist hypocrisy in ways that appear simple and joyful. That's showbusiness, and there's no business like it.
—
A Bigger Splash
Tilda Swinton's second collaboration with director Luca Guadagnino (I Am Love) is a stylish, evocative and unexpectedly funny examination of sexual power games. It's explicitly about physical presence. Harry's (Ralph Fiennes) shameless body provides the exuberant displacement of the title, troubling the calm waters of Marianne (Swinton) and her lover Paul (Matthias Schoenarts).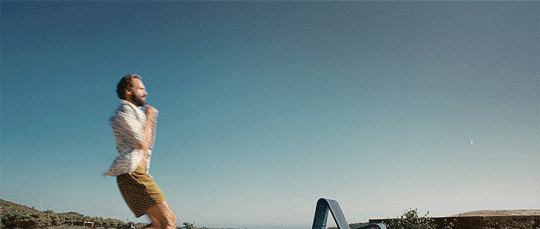 Sly and totally without vanity, Fiennes is the best I've seen him in years. Meanwhile, Dakota Johnson is ambiguously gestural as Harry's nubile maybe-daughter Penelope, who's just learning to use her body as a malicious erotic weapon. She slides through water, but ends the film miserably drenched, while Marianne and Paul laugh beneath an unexpected umbrella.
—
Midnight Special
The spell that Jeff Nichols' wonderful, mysterious family drama cast on me still hasn't vanished. But as I feared, it was widely, reductively interpreted as mere '80s kiddie-adventure pastiche.
Midnight Special is still my favourite film of 2016 so far because it's unlike other movies. It's an original, personal vision, not a reboot, sequel or adaptation – though Nichols has said he'd love to create his own franchise. It's a deep well of feeling – yearning, comfort, wonder and bewilderment – that invites and rewards equally deep consideration. And its soundtrack is just wonderful.
—
Miles Ahead
Set in the cocaine-addled wilderness years of jazz legend Miles Davis, Don Cheadle's formally innovative directorial debut captures something more vivid than your average stodgy, worshipful biopic. Sadly, it enjoyed basically no fanfare, but then Australia has a poor track record with stories of black musicians. Our cinemas never saw Gina Prince-Bythewood's superb Beyond the Lights, energetic James Brown biopic Get On Up, or even the contentious Nina.
Miles Ahead is just as funny, dissolute and action-packed a '70s buddy comedy as The Nice Guys, thanks to the invention of a white journalist foil (Ewan McGregor) for the irascible trumpeter. But it's also a knowing character study. Cheadle actually played trumpet for the role (though Keyon Harrold overdubbed his playing), and the clever ways the film blurs Davis's past and present also reminded me of jazz – loose, impressionistic, improvised, exhilarating.
—
Green Room
Oh my god, RIP Anton Yelchin. There's been a lot of intense grieving for celebrities this year, but for me cancer and drug overdoses weren't nearly as awful as a talented young actor being accidentally crushed by his own car. Yelchin's death was horrifying in a way Jeremy Saulnier's elegantly brutal horror film can never match, because in Green Room Yelchin was only pretending to battle murderous Nazis in a remote woodland bunker.
Green Room feels both filmic and realistic – Saulnier works with familiar slasher-genre tropes only to ruthlessly toy with pacing and plot. And it's full of disconcertingly quiet moments amid the intense gore. I'll remember Yelchin biking through a crisp morning. Not in a car. Just endlessly pedalling into the future with Alia Shawkat riding pillion.
—
Hunt for the Wilderpeople
Taika Waititi's rollicking adventure is kids' moviemaking at its best. Waititi should have adapted The BFG, not Spielberg, because he gets that kids love to mix the dark and profane with the flat-out silly. Wilderpeople doesn't shy from loss and abandonment, and its sentimental moments are honest and well earned. I was singing 'Trifecta' (aka Ricky Baker's birthday song) for days afterwards.
Julian Dennison and Sam Neill are adorable as mismatched travelling companions, but for me the MVP is Rachel House as Paula the social worker, who rivals Tommy Lee Jones in The Fugitive (or, indeed, the Terminator) in her maniacal dedication to duty. God, I laughed my head off at this. Why are Australian comedies so bad?
—
Goldstone
Ivan Sen seems to be crafting his answer to Mad Max in Detective Jay Swan (Aaron Pedersen): an enigmatic cop whose own damaged past is inextricable from the desert crime and corruption he's trying to take down. As an Indigenous policeman, Swan moves restlessly between two worlds: never quite at home anywhere, but ever alert to suffering and disempowerment.
Sen's striking visual language is as recognisable as Dr George Miller's. In Goldstone he revisits imagery I remember from 2013's Mystery Road: figures silhouetted against sunsets; birdseye views of cars navigating dusty roads; gun battles from high ridges; grotesque, kitsch interiors. Goldstone is often blunt and coarse, yet it's full of enigmatic, dreamlike moments and lyrical landscapes. It left me hungry for many more movies about Swan's self-redemptive outback justice.
–
Mel Campbell is a freelance journalist and cultural critic. She blogs on style, history and culture at Footpath Zeitgeist and tweets at @incrediblemelk.